Prime Minister Benjamin Netanyahu's crusade to overhaul Israel's judicial system has left the veteran statesman, and the country at large, on the brink.
The 73-year-old, now in his sixth term, is a national, regional, and global political giant. But in recent years, allegations of corruption and abuse of power, waning appeal among Israeli voters, and political alliances with the far right have all gradually eaten away at his credibility.
Netanyahu's efforts to reform the country's powerful Supreme Court—which supporters say is a long-overdue modernization of the body, and critics say is an effort to eliminate the court's independence—have prompted Israel's most serious civil unrest in decades.
Massive protests have forced Netanyahu to pause the controversial package of bills that would expand lawmaker control over appointments to, and the work of, the Supreme Court. The delay, he said, would provide "a real opportunity for real dialogue," though said reforms would be passed regardless of continued opposition, citing the need to "restore the balance" between Israeli government branches, according to the Times of Israel.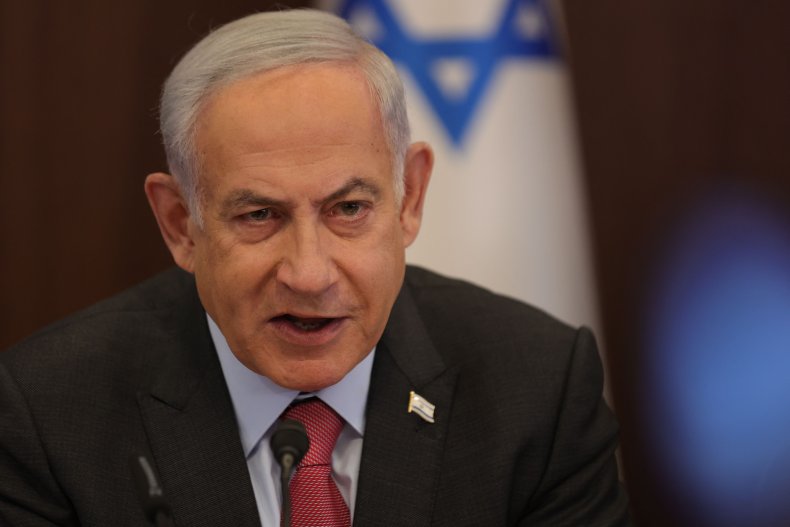 The issue will be revived in the next session of the Knesset. "If a pause ends up to simply be a tactical maneuver, then Israelis will be back out protesting—and shutting down the economy," wrote the Atlantic Council's Jonathan Panikoff.
David Daoud, a non-resident fellow at the Middle East Programs, noted that Netanyahu is under pressure from the public and within his own Likud party. "If the overhaul passes unchanged, the impact for Israel will be severe," Daoud wrote.
"Its direct effect will be to cripple Israeli democracy, effectively ushering in a majoritarian tyranny through the legislature, for the judiciary's unlimited power is currently the Israeli system's only check on the equally unlimited power of the Knesset."
"But the damage to Israel will be broader. Israeli societal rifts will deepen and widen, particularly the resentment of the secular majority towards the ultra-Orthodox—who refuse to serve in the army, enter the workforce, or teach core curriculum studies in their schools, and are backing the judicial overhaul to prevent the Supreme Court from forcing them to do so."
The Israeli Soul
Significant anti-Netanyahu protests have for years been a common sight in Israel, largely prompted by the prime minister's long-running trial over alleged fraud. His opponents say that handing the Knesset—in this case meaning Netanyahu's coalition—power to decide who sits on the court and what cases they hear offers the prime minister a way out of his personal legal troubles.
The protests over the proposed Supreme Court reform are the latest chapter of a long-running breakdown in the relationship between Netanyahu and broad swathes of Israeli society.
The unrest also speaks to a deeper, more existential debate about Israeli national identity, which in recent years—in no small part thanks to Netanyahu—has been veering to the right of the political spectrum.
"The dynamics have been building for years," Hugh Lovatt—a senior policy fellow at the European Council on Foreign Relations—told Newsweek. "This is a question about the identity of Israel, and the future identity of Israel."
"If you set aside the Palestinian issue, Israel's history has been predominantly a secular liberal, left-leaning history and body politic," Lovatt said. "When you look at demographics, Israel's future is going to be increasingly religious and increasingly to the right, also more leaning perhaps towards other Jewish groups which until now felt underprivileged and underrepresented."
"That very complicated aspect of Israeli identity is also coming to the surface, and that will continue regardless of Netanyahu, and regardless of what happens on judicial reform. Because this issue of identity and the balance affects every issue."
Netanyahu now finds himself in a tough spot, Lovatt said.
"He's not as ideologically committed to this as other members of this coalition," Lovatt said. "That's not to say he doesn't support it for his own reasons, but he's not an ideologue. I think he probably could approach this issue with a bit more pragmatism and flexibility. Ultimately, it's about how to reach a compromise between your opposition and your coalition allies. If that doesn't prove possible, then we're back where we were a few days ago."
Then, Lovatt said, "Netanyahu has to either force through the legislation to keep his coalition together—which is now his main priority—with the consequences that would come from that; likely a very profound constitutional crisis. Or drop it entirely, and lose his current government, which then creates huge issues for him politically and also personally because of his trial for fraud."
The Great 'Manipulator'
Netanyahu, a wily figure who has repeatedly weathered scandals that would have ended the careers of lesser politicians, now faces another enormous test.
"Netanyahu was always the biggest operator or manipulator in Israeli politics," Yossi Mekelberg, an associate fellow at the U.K.'s Chatham House think tank, told Newsweek from Tel Aviv. "For me, he lost his touch."
The protests climaxed on Sunday night after Netanyahu fired Defense Minister Yoav Gallant, one day after the former called on the prime minister to shelve the reforms citing security threats posed by the political chaos and civil unrest, according to Times of Israel.
"Gallant gave him a ladder to climb down," Mekelberg said. Instead, Netanyahu "came out of this in the worst possible way," Mekelberg added, losing his defense minister, sparking mass protests, and ultimately having to back down on the reforms regardless.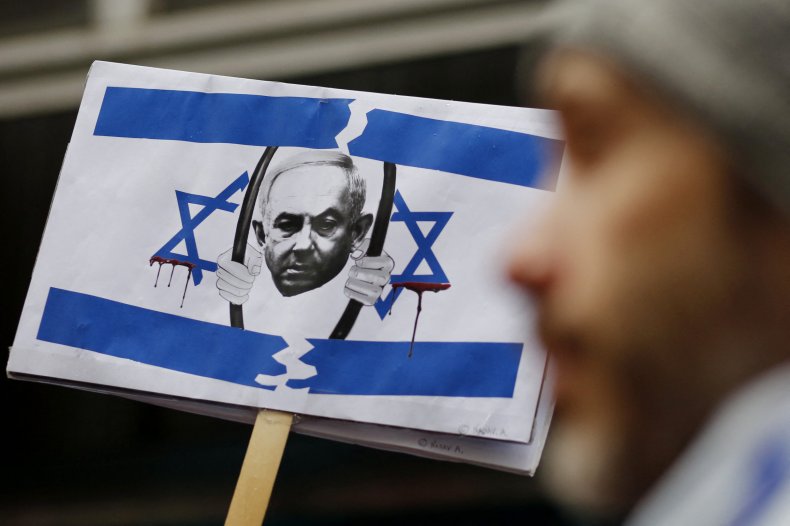 The protests, Mekelberg said, are unlikely to lose their drive against what he called Netanyahu's "judicial vandalism" in a few short weeks. "They're not taking the bait," he said of the demonstrators.
"There is no consultation and there is no national dialogue on this. Because at the end of the day, the far right knows that they hold Netanyahu hostage because of his corruption trial."
The prime minister's far-right coalition partners, Mekelberg said, have also misplayed their hand. "The far right entered into government like kids in a sweet shop. 'We want it all and we want it now.' And now everyone is sick," he said.
"If they'd done it incrementally, it probably would have worked, because you can kill democracy step by step [...] Because they tried to do it all at once in a brutal way, they brought people to the street."
Biden Bristles
Netanyahu's partnership with far-right politicians and allegations he has failed to reign in extremist groups linked to settlements—considered illegal by the United Nations—in the Palestinian West Bank have already somewhat soured Netanyahu's ties with President Joe Biden's White House.
Relations were already hamstrung by Netanyahu's open disdain for President Barack Obama—and by extension his two-time vice president—and the Joint Comprehensive Plan of Action nuclear deal with Iran, as well as the Obama administration's repeated condemnation of West Bank settlements, Reuters reported.
The proposed Supreme Court reforms, and the unrest they have unleashed, have further unsettled Israel's most important ally.
"Like many strong supporters of Israel, I'm very concerned," Biden said Tuesday. "And I'm concerned that they get this straight. They cannot continue down this road. And I've sort of made that clear [...] Hopefully the prime minister will act in a way that he can try to work out some genuine compromise, but that remains to be seen."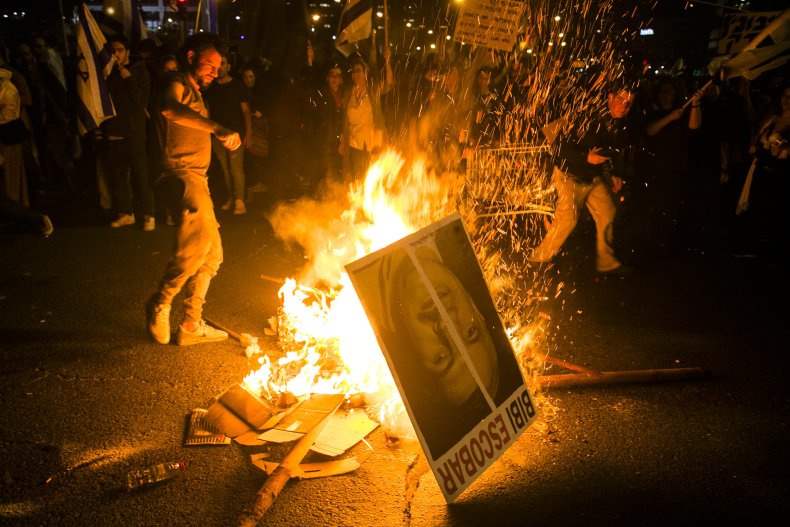 Netanyahu's response was characteristically bullish. Israel, he said, "makes its decisions by the will of its people and not based on pressures from abroad, including from the best of friends."
The prime minister added: "I have known President Biden for over 40 years, and I appreciate his long-standing commitment to Israel [...] The alliance between Israel and the United States is unbreakable and always overcomes the occasional disagreements between us."
The decision to pause the proposed reform was met with approval from the White House. "We welcome this announcement as an opportunity to create additional time and space for compromise," White House Press Secretary Karine Jean-Pierre told journalists at a press briefing. "A compromise is precisely what we have been calling for."
"Democratic societies are strengthened by checks and balances, and fundamental changes to a democratic system should be pursued with the broadest possible base of popular support," Jean-Pierre added.
Biden's intervention will be an unwelcome addition to Netanyahu's travails. "I think it's extremely significant," Lovatt said. "Will it change the dynamics? Maybe not. But it's nevertheless something that does play and is playing in Israeli media and politics, given the centrality of the U.S. relationship to Israel."
"It's an opportunity for the opposition to say: 'Look not just at how as unreasonable and extreme Netanyahu is, but also at how reckless he is by endangering Israel's long-standing relationship with the U.S.'"
Newsweek has contacted Netanyahu's office by email to request comment.