Istanbul Nightclub Attacker 'Fought for ISIS in Syria'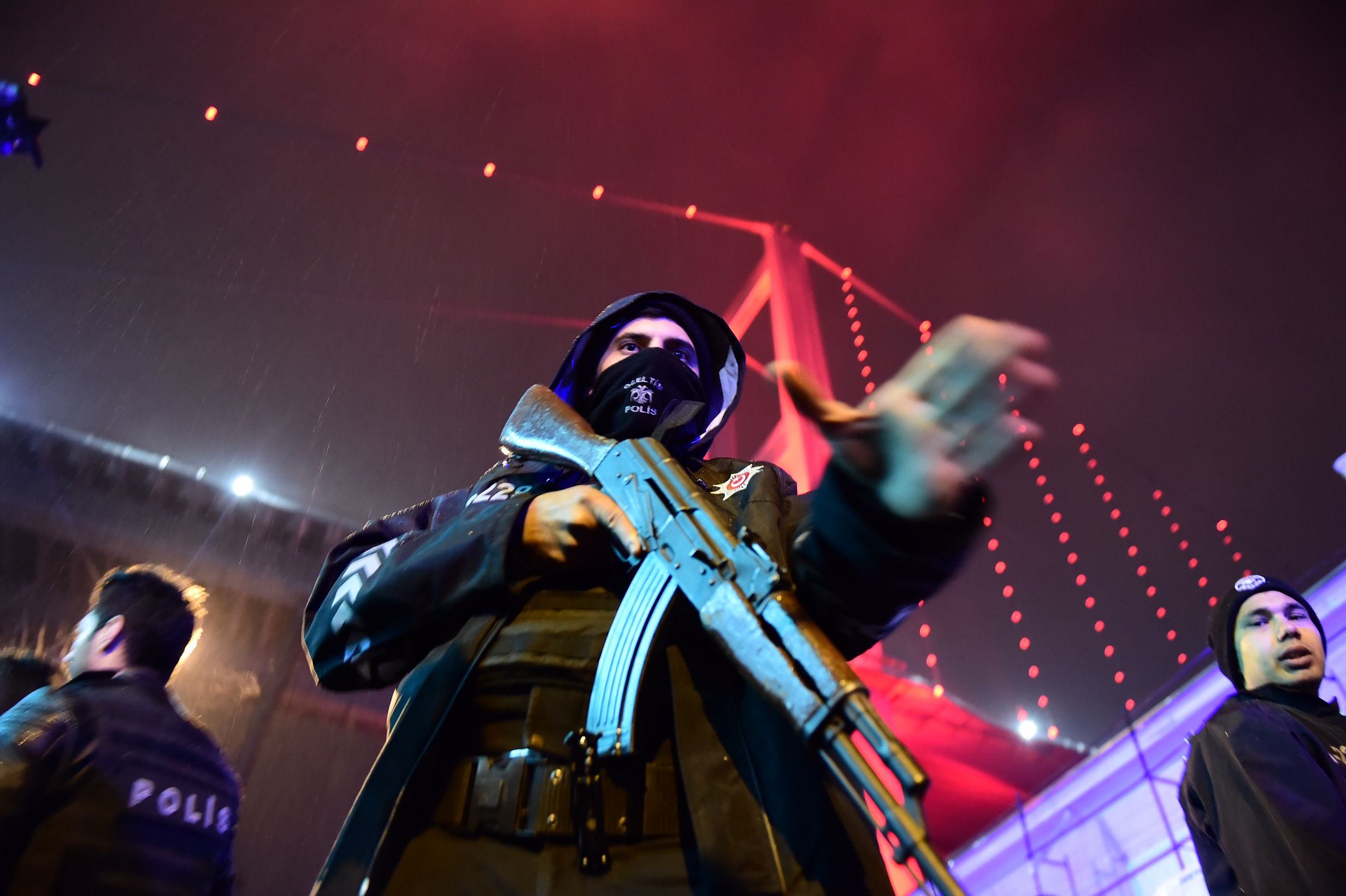 The main suspect in the Istanbul nightclub attack had previously fought in Syria for the Islamic State militant group (ISIS), according to a Turkish media report Tuesday.
The gunman remains at large following the New Year's Eve attack at Reina nightclub that killed 39 people. ISIS has claimed it was behind the assault.
Prominent columnist Abdulkadir Selvi, who writes for Turkish newspaper Hurriyet and has extensive contacts in the ruling AKP party, said that the suspect had now been identified internally and that he had received training with ISIS through street fighting in Syria. The gunman had used tactics garnered in Syria in the nightclub attack, such as shooting from the hip, Selvi said.
Selvi added that the man had been "specially selected" to carry out the assault. "This specially trained terrorist has still not been detained and is still wandering dangerously among us," he wrote.
Hurriyet's English-language site cited security expert Abdullah Agar who said that the attacker was most likely a professional assassin because of the demeanor and conduct he displayed in the attack. He called him a "determined, faithful, practical, coldblooded expert" who "knows how to get results" and has "probably fired bullets in real clash zones."
Turkish authorities are continuing to hunt for the suspect, identified in CCTV images, who they believe carried out the rampage with a long-barreled weapon before fleeing amid the carnage.
Deputy Prime Minister Numan Kurtulmas told a news conference Monday that authorities had found the suspect's fingerprints and arrested eight other people in connection with the attack.
Kurtulmus did not specify where the fingerprints were discovered.
Turkish media reports have speculated that the gunman is from Central Asia or the restive Xinjiang region of China where Uighur Muslims are waging an insurgency against Chinese authorities. Haber Turk newspaper reported that he had arrived in the Turkish city of Konya with his wife and children on November 20, when his wife was detained and allegedly taken to Istanbul under investigation.
Authorities have yet to release the identity, age or nationality of the suspect but have published images of him, clean-shaven and dressed in a dark coat. Turkish media released a selfie video, in which a man is seen walking around Istanbul's Taksim Square recording himself and looking into the camera.
Selvi added that ISIS had planned a double strike for New Year's night, with a second plot in Ankara foiled with the arrest of eight ISIS suspects in the Turkish capital. He did not provide further details about their intended target.
ISIS claimed the Istanbul nightclub attack in a statement released on social media, which said that one of its "soldiers" had carried out the attack. It said the operation was in response to Turkey's operation against the group in Syria, also accusing it of being a defender of Christians.
It said that "the government of Turkey should know that the blood of Muslims, which it is targeting with its planes and its guns, will cause a fire in its home by God's will." It remains unclear, however, if ISIS directed the attack or inspired it.
ISIS operates across Turkey's southern border in Syria and many of its operatives are believed to have—or have had—a presence in the country. The group has chosen to claim only several attacks that the Turkish government suspects it has been responsible for, mostly the targeting of individuals such as activists.
ISIS did not claim the twin bombing of a peace rally in Ankara in October 2015 that left more than 100 dead, or the Istanbul airport attack in June that left 45 people dead, despite being widely suspected of orchestrating both attacks.