Jack Harlow and Saweetie's BET Awards Interaction Sparks Wave of Memes
BET Awards viewers are still thinking about the flirtatious encounter between Jack Harlow and Sweetie on Sunday's red carpet.
The two became trending topics on Twitter after legions of viewers watched Harlow seemingly shoot his shot with the rapper on camera before the ceremony.
Harlow, a 23-year-old rapper and songwriter known for the track "What's Poppin," approached the "My Type" rapper as she was about to be interviewed on the red carpet.
Harlow took the 27-year-old by the hand and introduced himself, saying, "I'm Jack," to which she responded, "I know."
"You don't like getting caught off guard," Harlow added, before Saweetie asked why he was shaking.
Harlow replied, "Nobody's shaking," before walking off, leaving viewers questioning who was the nervous one in the equation.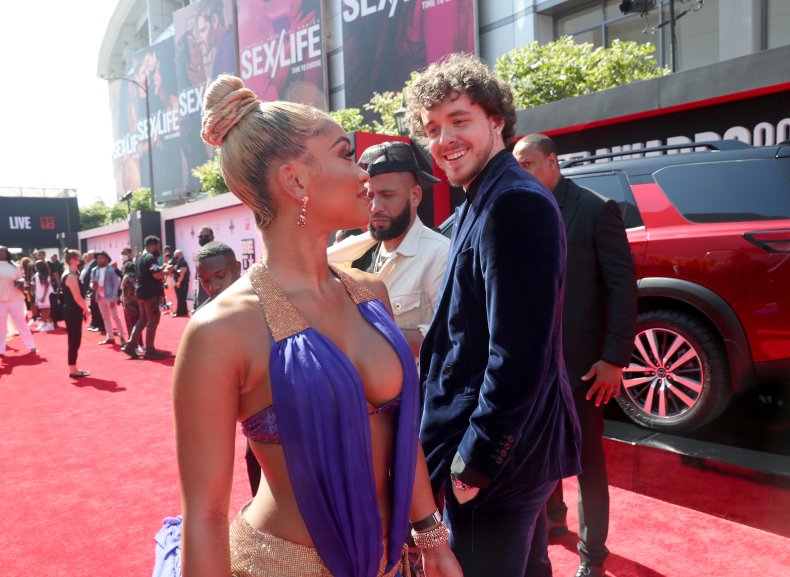 Saweetie—whose real name is Diamonté Quiava Valentin Harper and is related to both MC Hammer and Gabrielle Union—previously dated Quavo from Migos. Harlow has been linked to TikTok star Addison Rae.
The Shade Room, which originally posted the video of the interaction, asked Saweetie if Harlow was "shooting his shot." She replied: "I don't know, but y'all better not be messy with this s***."
Harlow was asked about the interaction a few hours later and told reporters he was "just saying hello."
"You can't say hello these days, I guess," Harlow continued, describing himself as a "nice person."
He added: "That's a friend—that's a friend vibe."
The Shade Room's footage has gone viral, garnering a huge reaction from fans who are speculating whether romance is on the cards.
"this is so funny Saweetie really had Jack Harlow nervous," one tweet reads.
Another joked: "who tryna be the jack harlow to my saweetie."
One Twitter user posted: "Saweetie said Jack Harlow was shaking but in actuality sis was the one that was SHOOK."
"saweetie and jack harlow?? chile i would not be mad at it," reads another tweet.
The biggest news at this year's BET Awards was the announcement by Cardi B and Offset that they are expecting their second child, revealed while they were performing on stage.
The couple already have a 3-year-old daughter named Kulture.
Posting on Instagram on Monday, Cardi spoke about her excitement at the bond Kulture would have with her younger sibling.
"I just know these two will love each other soo much and argue soo much since they're 3 years apart…just like me and Henny," she wrote. "But one thing for sure is they'll have each other's back like no one else ever will."