Black TikTok creators had finally reached the point where enough is enough: It was time to strike.
After a recent trend saw an influx of white TikTokers creating content to Nicki Minaj's "Black Barbies"—a song about Black women—appropriation-weary Black creators took action. Over the past few days, the hashtag #BlackTikTokStrike buzzed on Twitter.
These Black creators sought to deprive TikTok of one of its biggest engines of creativity; one that was not always, or even often, getting the credit it deserved.
They have shunned choreographing new dances to trending songs, leading to mismatched, off-the-cuff routines under fresh music such as "Thot S***" by Megan Thee Stallion.
"Black creators are tired of white people profiting off our work and appropriating Black culture," Amanda Bennett, co-founder and director of creative vision at define&empower, a Black feminist consulting collective, told Newsweek.
"Unfortunately, many white people and white-led organizations that consume Black culture have little respect or compassion for the Black people who are producing that culture.
"In my work, I find that a lot of Black people are demanding that the bar for white allyship be raised. It's not enough to 'appreciate' Black culture anymore. Black artists and intellectuals deserve to be cited and compensated for their work."
She added: "I would say the strike is gaining a lot of ground, particularly among younger Black creators. We've seen the way older generations of Black creators have been disrespected and erased, and we aren't having it anymore."
This moment was a long time coming.
The Rise of D'Amelio
At 2020's NBA All-Star Game, fresh-faced influencers Charli D'Amelio, her older sister Dixie, and Addison Rae Easterling—who skyrocketed to social media stardom via the video-sharing app TikTok—bopped energetically on the glimmering court of Chicago's United Center.
The trinity of Gen Z darlings occasionally left their courtside seats to perform popular dances, at times alongside NBA star players and cheerleaders, before a constellation of cameras. Seconds-long footage of the cultural crossover would later be viewed by millions on TikTok.
The NBA's endeavor to capitalize on the TikTok craze was initially met with backlash on the previous night, when social media users noticed the three white influencers' presence at the All-Star Weekend's Slam Dunk Contest.
The D'Amelio sisters and Easterling owe their celebrity to executing viral dance routines, a significant portion of which were conceptualized by Black TikTok users whose creativity often goes uncredited.
And so, the NBA hastily extended a last-minute invitation to Jalaiah Harmon, then 14 years old, to perform her "Renegade" dance at the All-Star Game.
A New York Times profile of Harmon had fatefully coincided with the beginning of All-Star Weekend, holding up the teenager's infectious choreography as a prominent example of Black creators' unsung original work.
Harmon had watched her dance to K Camp's song "Lottery" performed by millions, from tween bedrooms to celebrity mansions, without so much as a username mention.
Perhaps most controversially, it was a "Renegade" video that precipitated the meteoric rise of Charli D'Amelio, who is dubbed the "queen of TikTok."
TikTok, owned by Chinese company ByteDance, became a global networking sensation after a 2018 merge with its predecessor, lip-sync video app Musical.ly. It was once primarily known as a "dancing app," on which teens mouthed along to songs and participated in dance trends.
Today, TikTok has grown to approximately 700 million monthly active users and hosts a near-encyclopedic amount of cultural content, which includes music, comedy, tutorials, activism, as well as embittered millennials longing for the era of skinny jeans.
However, dance remains the reigning art form on TikTok, having crowned the app's first class of influencer royalty.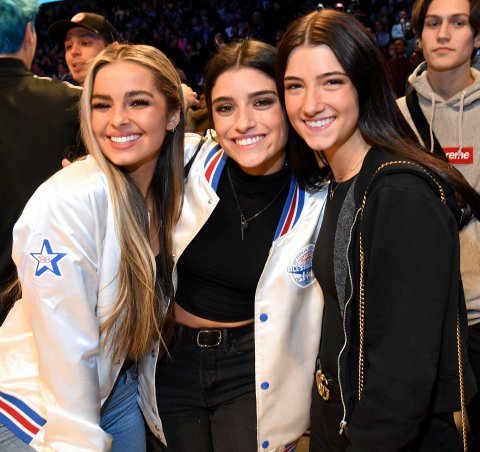 Though initially marketed as an outlet for juvenile frivolity, TikTok's user base is mainly composed of an increasingly politically-cognizant demographic. A March survey by Statista found approximately 25 percent of TikTok's U.S. users are between 10 and 19 years old—a generation marked by movements such as Black Lives Matter and digital landscapes rife with social justice debates.
Many of its users appear receptive to calling out injustice where they see it. But TikTok's user culture is not immune to perpetuating deep-rooted social issues.
Harmon is one of many Black TikTok creators snubbed as their dances went viral. And despite its belated invitation to the talent behind "Renegade," the NBA's bid to sanitize its event was not entirely successful.
On the day of the All-Star Game, college student Nicole Bloomgarden reacted to a Twitter video of Easterling and the D'Amelio sisters performing a courtside dance before professional cameramen. The routine could easily be recognized as a viral dance to "Out West" by Travis Scott, Young Thug and record label JackBoys.
"It's honestly crazy these ppl personally invited by the @nba to perform MY DANCE," Bloomgarden tweeted. Her post subsequently racked up hundreds of thousands of likes and retweets.
"I was like wow that's crazy, like I created this dance out of the creativity of my own mind, and now these people are being invited to do it, all of these celebrities are doing it, and people have no clue it was me," Bloomgarden told Newsweek.
"I honestly think that tweet is what made creators, now, they're literally scared to not put idea creds," she added, acknowledging Easterling has since credited her for the dance.
Bloomgarden is a 21-year-old public relations student and aspiring actor in Richmond, Virginia. When she first joined the app, she said, "dancing was all it was." And that was the medium she chose to grow her following, sifting through music albums for songs to concoct routines.
She first shared the "Out West" dance to the app in December 2019. At the time, hers was only one of two videos under an upload of the song to TikTok: "Some white boy had posted a video of him dunking and had used the 'Out West' sound."
Bloomgarden's dance—not her video—went viral two months later, she said.
Influencers performing the dance attracted likes by the millions, while likes on Bloomgarden's original video currently remain in the thousands. Even celebrities such as Kylie Jenner and Shaquille O'Neal took part in the trend.
"My video never went viral viral," Bloomgarden said. "I would get creds sometimes, but as it started getting bigger, the creds started getting less and less and less."
In August 2020, television host Jimmy Fallon staged a game on his talk show during which he and actor Joseph Gordon-Levitt attempted popular TikTok dances—all of which were demonstrated by Easterling's videos.
Until Newsweek had mentioned it to her, Bloomgarden said she had "no idea" her famed routine was featured on that episode of Fallon's show.
Fallon had recently made his own TikTok dance gaffe, renewing buzz over elusive recognition for Black creators. In a March segment, Fallon invited Easterling to perform a series of viral dances. Ensuing criticism led the talk show host to follow up by showcasing the dances' original creators, most of whom are Black: Mya Nicole Johnson and Chris Cotter ("Up"), Dorien Scott ("Corvette Corvette"), Camyra Franklin ("Laffy Taffy"), and Keara Wilson ("Savage".)
The host's team also revisited YouTube uploads of TikTok-related segments, editing their descriptions to feature lists of dance credits. The damage-control segment was still met with dismay, as the featured TikTokers appeared virtually when Easterling had performed on set.
Before her viral tweet, Bloomgarden had debated calling out uncredited iterations of her dance. "I was like: This is a seven-second dance, it doesn't take that much skill," she told Newsweek. "'Am I just being annoying by wanting my credit?'"
In the aftermath of making herself known, Bloomgarden said she found support, but also experienced attacks on her credibility, including "a lot of comments being like, 'You didn't make this dance,' 'Addison Rae made this dance,' 'Charli [D'Amelio] made this dance.'"
Her experience, she said, was "not any different" from other Black users whose dances went viral without a nod towards their creators, an issue she "saw happen a lot" before it had affected her.
Today, Bloomgarden feels good about the profile she cultivated. Her delayed accreditation has earned her an acting gig on an upcoming streaming show and a deal with online game Fortnite to render her dance into an emote.
However, she still feels like she "missed out" on a number of opportunities during the dance's popularity: "Cause while it was popping, no one knew it was me. But now that it's kinda, like, sizzled out and it's in the past, people know it's me now."
Newsweek has contacted the D'Amelio sisters' management, Easterling and a representative for Fallon for comment.
Lost Money
After seeing others profit from moves they came up with, economic damage persists even after TikTok's Black dancers eventually earn their recognition. In addition to missed opportunities for lucrative offers at the height of their dances' popularity, pay disparities have also trickled into the realm of influencer marketing.
A recent report by Bloomberg found marketers pay Black TikTok influencers significantly less than their white counterparts, even if the latter merely mimic content that originated from Black users' creative heavy-lifting.
This phenomenon of Black artists having their work mimicked by white people who go on to be substantially more successful is not a new one, particularly in the musical world. For example, talented white stars such as Elvis Presley and Eric Clapton outshone the Black musicians on whose creativity their massive careers were founded.
In the wake of George Floyd's killing at the hands of Minneapolis police in May 2020, TikTok announced a number of measures to champion racial justice, including pledges to tackle algorithmic bias and elevate Black creators.
The company also announced Mutale Nkonde—founding CEO of communications firm For The People—as a member of its Content Advisory Council. Nkonde, whose work revolves around the racial justice implications of technology, does not work for TikTok. Her capacity involves examining activity on the app and making non-binding recommendations for improvements.
Since joining the Council, Nkonde said she has seen "more awareness" surrounding Black internet culture, especially the role of dance among Black communities.
"I don't know that that was necessarily being discussed before I got there," Nkonde told Newsweek, pointing to a new development on TikTok's U.S. interface wherein users who choreographed viral dances feature prominently in the list of videos under relevant songs.
"There is this history of dance being a liberatory force when Black people weren't allowed to speak honestly. We're still not allowed to speak honestly, we are still punished when we discuss racism—dance may be a way that we can communicate with each other while staying safe."
Nkonde said the appropriation of Black creators' dances not only poses an economic problem, but also inflicts "deep cultural wounds." However, she noted a trend among Black creatives seeking to reclaim their content, either by using TikTok's "duet" feature for a split-screen performance next to users who popularized their routines or filming an in-person collaboration.
"Black TikTokers are resisting through this way, and that is really in the tradition of dance being a form of resistance generally," Nkonde said. "I think this is a uniquely Black thing, in the sense that we're always having to resist, we're always having to shape-shift."
The depth of Black people's creative impact on popular culture cannot be underestimated. Take country rap, which in 2019 ushered Southern drawls against trap beats into Gen Z playlists. Country music itself, while widely associated with white artists, finds its early origins in instruments and songs by Black people.
Fresh off the leather heels of Lil Nas X's wildly popular "Old Town Road"—the success of which was jumpstarted by TikTok virality—artist Blanco Brown released "The Git Up" in May 2019. Set to acoustic guitar strums and an upbeat tempo, Brown sang about performing the Cowboy Boogie and a hoedown, making sure to "grab a sweetheart" for a spin in between.
"The Git Up" dance soon emerged on TikTok, with its most popular incarnation being a June 2019 video by Harvey Bass, then a 16-year-old student based in the United Kingdom. Bass, who is white, was filmed performing the dance in his school uniform to Brown's song.
"I was suspended for this," the video's caption reads. The deft choreography, paired with Bass' striking resemblance to "Superbad" character Fogell (AKA McLovin), was met with rousing success and catapulted him to social media glory.
To this day, Bass is widely—and falsely—believed to have come up with the dance. Its creator is actually 20-year-old Ajani Huff, a Black Los Angeles-based influencer.
"I didn't expect it, cause I did the dance and I posted it, it took me a few times for the dance to start trending," Huff told Newsweek. "So when I saw [Bass' video], I was actually more happy in the sense of the fact that people were gonna be doing my dance now."
Huff and his brother Davonte House, 22, came up with the dance and posted their TikTok video days after Brown released his song. In an attempt to make the dance blow up, Huff "duetted" his own video several times, creating a "Git Up"-ception until he reached his 300,000 follower goal.
After Bass posted the video that "blew up overnight," Huff said the brothers decided to make themselves known by posting a new video of their dance with the caption: "Our dance is trending so why not do it again?"—that was the post that went "insanely viral."
"That's when people actually started commenting saying, 'This is not your dance,' 'Harvey did it first,'" Huff told Newsweek. "Like, people were commenting on my video of my dance saying it's not my dance."
Following the dance's popularity, Brown later invited Huff, House and Bass to feature in a music video for "The Git Up" released in September 2019.
However, the music video depicted a noticeable contrast between the young creators. While Bass was given an early solo shot to dance in his trademark school uniform, the brothers appeared amid a crowd of people in subsequent scenes.
"I get it, I get how the industry is, it was the most viral video, putting that in there is going to make the music video do better cause that's the video that most people have seen that's connected to the song," Huff said. "But it did kinda suck, because it was also my dance and I did that, but it's, you know, no hard feelings."
And there were no hard feelings: Huff, House, and Bass joined forces for a TikTok video in which they performed the dance together, captioned: "The collab you've all been waiting for."
Huff currently boasts upwards of 4 million TikTok followers and has expressed gratitude towards the company. TikTok had previously recommended him to perform on The Ellen DeGeneres Show and invited him to speak at a Black History Month event.
However, the problem of uncredited choreography persists. Huff faulted TikTok's algorithm, as well as an apparent reluctance by larger influencers. He said some wait until their content had already gone viral before adding credits, while others tag original creators in their videos' "flooded" comments sections.
Huff believes he remains virtually unknown as the creator behind "The Git Up" dance, and said that this was not an isolated incident. The young influencer reported creating "many dances" that have gone viral and uncredited. He has also noticed several of his Black creator friends had experienced the same issue.
However, Huff appeared galvanized by devoted fans keeping popular TikTokers in check.
"The fans will comment 'Dance credits,' 'This is not your dance,' 'This is this person's dance, get it right'," he said. "So it sucks, but in the end it also feels good that we have loyal fanbases that will actually go and attack these bigger creators."
There is indeed a reckoning surrounding TikTok's long-unrewarded Black dancers. This was recently illustrated by the app's revival of British singer Natasha Bedingfield's 2004 hit "Unwritten," after a remix by TikTok user @escoupp engendered viral dance trends.
Bedingfield herself gleefully acknowledged the dances on her TikTok account, and initially emulated one of them by "duetting" a video featuring an all-white line-up of famous influencers, which included Noah Beck, the D'Amelio sisters and now-disgraced make-up guru James Charles. The singer subsequently saw her comments section packed with criticism, as neither she nor Beck—who posted the first video—had acknowledged the dance's Black creator Rony Boyy or the Black dancers who had performed it with him.
Following the backlash, Bedingfield collaborated with the dance's original crew, filming videos that saw her singing a live rendition of "Unwritten" while the dancers performed in the background, as well as the group teaching her the routine.
Digital Blackface?
While dance is the art form that practically defines TikTok, the app is powered by audio that ties viral content together. Users can post content using uploaded sounds, and one tap on a popular sound unfurls an endless scroll of related videos, giving rise to audible memes that are reused to fit a variety of visual posts.
Much of TikTok's sound-based memes feature music and dialogue by Black people, from celebrities uttering phrases deemed iconic to anonymous voices clearly speaking in African-American Vernacular English (AAVE). When countless users adapt a Black's person's disembodied vocabulary and cadence, who benefits from its popularity?
Julia Burks said her nephew certainly hasn't.
Not many TikTok users will recognize Burks by name, but that of DeMarcus Smith may ring a bell. In late 2019, several versions of the "Go DeMarcus" sound spurred millions of videos lip-syncing and dancing along.
The usual influencer suspects have made use of it, and lesser-known creators have earned overwhelming clout thanks to it. The sample's TikTok fame even led to artist Trippie Redd featuring Smith's verse in the opening of his song "The Way."
The audio originates from a now-removed 2008 YouTube video filmed and posted by Burks. She said her nephew, who was around 10 years old at the time, had written a song and asked his aunt to record him singing it to his younger sister Justice.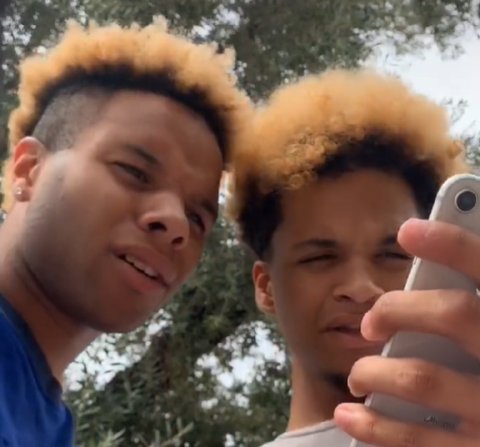 The video had become a meme across social media platforms even then, recently experiencing a resurgence on TikTok in its original form and through a 2016 remix of the song by Prince Brundall.
In the video's viral portion, DeMarcus Smith sings a verse from his song, before planting a kiss on his sister's forehead. As the boy walks off and dances, Burks can be heard repeatedly cheering "Go DeMarcus" from behind the phone camera.
Burks—a 36-year-old nurse assistant based in Lake Charles, Louisiana—told Newsweek her nephew, today a 24-year-old aspiring rapper, has expressed resentment for TikTokers using his song without attribution.
"He gets angry sometimes, he's like 'I know a lot of people get paid for this video,'" Burks said. "He's like 'Where is my money, where is my money, when I'ma get paid, when I'ma get recognized?'"
The "frustration part," Burks said, particularly emerged from Smith remaining unknown despite his name having been on the lips of millions of TikTok users: "That's what makes me mad, because they're not putting a face behind who we are."
The phenomenon of non-Black internet users using Black people's voices and aesthetic has been referred to as "digital blackface." The term, referring to the racist caricaturesque make-up first popularized by 19th century minstrel shows, was coined in a Teen Vogue op-ed by writer and academic Lauren Michele Jackson.
Black women are particular favorites for online spoofing. On TikTok, users can be seen mouthing along to dialogue by female celebrities such as Nicki Minaj, Wendy Williams, and NeNe Leakes. In one widely-memed phrase, Leakes can be heard exclaiming "Oh child, the ghetto!"
However, unwitting non-famous women are also used as source material. In an incensed and expletive-laden voicemail message heard (and remixed) around the world, a woman named Jasmine Collins accused her manager of racism and ended up memed into oblivion for it.
Apryl Williams, assistant professor in the Department of Communication and Media and the Digital Studies Institute at the University of Michigan, cautioned against the term "digital blackface."
The concept of performing Blackness for white laughter, she told Newsweek, is similar in essence regardless of medium.
"Maybe today it doesn't have the same undertones of racial terror as it did back then, because those times were extremely segregated," Williams told Newsweek. "But at the same time, the underlying idea of making a mockery of Blackness for white entertainment is the same."
She continued: "By using those words, those sounds, AAVE, people are sort of relying on these tropes of Blackness and taking them out of context, which is why they're funny. We're making something humorous about their lived reality and their actual real life experience that may or may not have been intended to be humorous."
The widespread practice of reducing Black people's lived experiences to a vehicle for comedy did not pump its brakes when faced with their pain and suffering. Some have seen their profound trauma mocked by millions on TikTok.
In April, retired MMA fighter Joey Cassanova, who is Black, posted a TikTok video in which he feigned being sprayed with bullets, Rolling Stone magazine reported. Some text appeared with each resounding gunshot in the song used, recounting past traumas such as sexual assault and mental health issues.
The format of Cassanova's video was soon parodied by TikTok users who used it for self-deprecating jokes and relatively minor inconveniences.
Another example is the "Double Homicide" meme, which stems from a teaser clip for the second season of reality television show Joseline's Cabaret.
In the video, host Joseline Hernandez (of Love & Hip-Hop fame) spoke to a cohort of female contestants, before noticing one is crying. Hernandez asked the young Black woman, who went by Aqua, to step out to the front and express herself.
Aqua complied, then tearfully recounted having previously terminated a twin pregnancy. After listening to the emotional testimony, fellow contestant Big Lex blurted out: "Damn. Double homicide." The clip ends with Aqua, visibly shocked and her voice breaking in sobs, responding "B****?"
The scene soon prompted endless mockery from users who found Big Lex's comment appallingly funny. On TikTok, the clip's audio was used as an instrument for dark humor. "Double homicide" was recycled to poke fun at being bisexual yet rejected from men and women, belonging to two marginalized groups, and having partners cheat with your best friend.
When Newsweek spoke with Aqua, a 22-year-old Detroit native whose real name is Kasie McCalvin, she said she was homeless and sleeping in her car. McCalvin said she departed Joseline's Cabaret around the fifth episode, owing it to a "toxic" environment.
During the infamous scene, McCalvin recalled being overcome with emotion when Hernandez spoke of growing up poor in her native Puerto Rico. McCalvin had undergone the abortion just before her 21st birthday about a year prior, an emotionally scarring procedure that "felt like yesterday" in the moment. She said the decision was made after the babies' father, who had initially told her he wanted the children, had abandoned her throughout her pregnancy.
"I was so sensitive, if a pin dropped, I was crying," she told Newsweek. "I was still very torn up."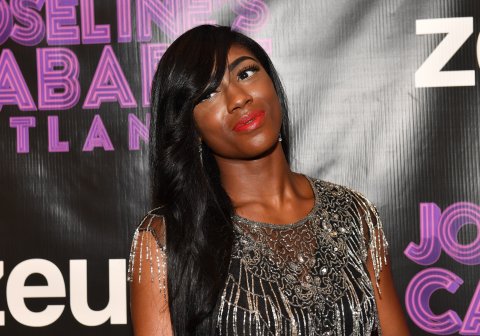 McCalvin recalled feeling "weak" after opening up before cast members and rolling cameras. Then came the flippant remark. "I didn't even have the energy or the physical strength to even respond to her fully," McCalvin told Newsweek, adding she automatically began "just bawling."
Following the incident, McCalvin said she was inundated with outreach from "everybody who had my number" once the clip had gone viral on social media.
"I'm not gonna lie, I did have a moment where I did shed some tears because it's just like 'Wow, the world is really laughing at this,'" she told Newsweek. "I was appalled about how rude half the world is. And just disgusting. It's disgusting."
McCalvin does not have TikTok, but said the exchange's mass reincarnation on the platform "shows the immaturity of at least three generations."
"I don't see how that's funny. I really don't."
McCalvin sees her appearance on Joseline's Cabaret as a "stepping stone" to empower women by normalizing their deep-rooted traumas.
She told Newsweek of her plans to "retire" at her five-year mark in the adult entertainment industry, hoping to eventually return to school and become a podiatric doctor. "I'm ready to go elsewhere," she said.
Appropriating Activism
An ecosystem of race-based appropriation verging on cruelty has proliferated on TikTok, but so too has an appetite for social justice activism and accountability for problematic behavior. While this type of content is meant to highlight the voices of marginalized people, Detroit-based activist TikToker Denise Bradley said it is not immune to being appropriated.
Bradley, a 30-year-old Black creator whose TikTok handle is @auntkaren0, runs an account under a "Good Karen" persona, highlighting individuals alleged to have peddled bigotry. Bradley told Newsweek she spends around 40 to 50 hours a week researching the incidents she covers, reviewing source materials, verifying information, and keeping up with local news.
Despite her labor, Bradley said she has seen non-Black activists go viral after speaking on issues she had previously broached. TikTok has not helped by stifling her content, she said, as a number of her videos have been muted or taken down, citing the app's community guidelines. Bradley also reported being rejected from TikTok's Creator Marketplace, which connects users with potential sponsors.
"Black creators face their content being stolen and without credit, we face our content being hidden, we face people that generally want to use the Black narrative but without giving the credit to the Black influencers," she said. "And then it's the same thing with activism."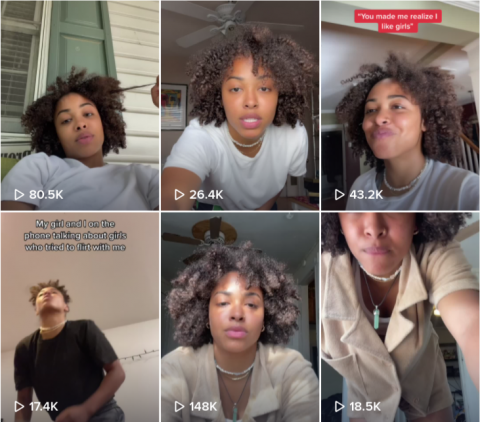 In April, Bradley was at the center of a TikTok debacle with white influencer Isabella Avila—dubbed "psychology facts girl"—prompting debates over the authenticity of larger non-Black creators' proclaimed allyship with the Black community.
In February, Avila—who goes by @onlyjayus on the app and uses they/them pronouns—posted a two-part TikTok apology after leaked messages from 2016 revealed they had used the N-word in an argument.
In their apology, Avila, 22, also vowed to "take a step back and share my platform with some amazing Black creators who are going to tell their story to try and educate others on the trauma that happens when we use this kind of language."
Bradley saw an opportunity and reached out to Avila. Both creators began discussing a potential collaboration in March, until Avila allegedly stopped responding to Bradley while continuing to post on social media.
After following up several times to near-constant silence, Bradley decided to pursue the matter through the very essence of her platform: public accountability. In TikTok videos posted on April 8, she called out Avila for failing to deliver on their promises.
"So... are Black people just tokens for you to use when you're ready to play?" Bradley said in the video. "Because I can tell you one thing: if you were really, truly sorry about what you said, you would not have lied and said you were going to do something you clearly aren't trying to do."
A public scuffle ensued when Avila waived their apologetic stance, instead airing frustrations on an alternative account named @notjayus, posting a now-deleted video depicting an apparent meltdown in their car.
"I forgot to respond to an email from this creator that wanted to collab with me and instead of just, like, hitting me up again, they made seven f***ing videos about it," Avila screamed. "Can you please leave me the f*** alone?!"
At that moment, Bradley said she felt Avila attempted to portray her as an "angry Black woman" and themselves as the "white victim."
"They are still obviously, in my opinion, still the same person they were when they were 17, and they still haven't lifted up the Black voices and truly did what they say they were going to do," Bradley told Newsweek.
In their response, Avila also referred to their diagnosed ADHD as the reason they "forget things" and "procrastinate." While she did not disclose it at the time, Bradley told Newsweek she also suffers from ADHD and believed Avila to be using her diagnosis as a "crutch" to "weaponize" against criticism.
Avila's combative reaction was met with widespread backlash, with multiple TikTok creators accusing them of exhibiting racism and hollow allyship. Beyond "duetting" two videos by Black people—only one of whom discussed race—no other Black creators can be found on Avila's profile since their apology.
In one video, Avila asked TikTok to "stop silencing Black voices" after five Black TikTok users who discussed social justice issues allegedly had their accounts taken down.
While the first part of their apology video is still up, the second part—which includes the promise to share their platform with Black creators—appears to have been removed. Bradley said Avila has blocked her since the dispute.
However, the controversy did not seem to have put a dent on Avila's large platform, as they boast 13 million followers and continue to attract millions of views on their famed "fun fact"-type videos. This led Bradley to believe they have "not really faced the true consequences of their actions."
Because of this, Bradley said, she believes her accountability work is not over. In late April, she reached out to learning company Emile after finding out it had begun sponsoring Avila. This led to the deal's termination and the company stating they "adamantly denounce all racism."
Newsweek has contacted Avila for comment.
'Keep Doing What I'm Doing'
Confronted with the widespread appropriation of their work and apathy towards their intellectual property, many Black content creators have elected to reclaim their voices, highlight their peers and change the face of social media influencing.
Kahlil Greene, a Secretary John Kerry Fellow at Yale University's Jackson Institute for Global Affairs, runs a TikTok account that educates users on Black history and Black internet culture.
In early May, he kicked off a video series titled "How everything on this app originated with Black people," which has attracted views in the hundreds of thousands.
Greene stated the series was created because "Black American culture dominates the nation yet is rarely credited, or worse, is whitewashed and just called Gen Z culture so often."
In February, the first all-Black influencer house was created. Influencer houses, typically L.A.-based lavish residences paid for by marketing agencies, double as collaborative content hubs for groups of popular social media creators. The Crib Around The Corner, with its roster of prominent Black TikTokers such as Challan Trishann and Layla Qasim, disrupted a tradition of lofty influencer residences featuring predominantly or exclusively white occupants.
And in a move that may pave the way for Black creators to recoup their popular content, Louisiana car salesman Durell Smylie—whose "Where the money reside" Twitter video went viral across social media platforms—filed to trademark his famous catchphrase. "Whenever I blew up, I was like, 'I need to own this because I'm going to get paid,'" he told Complex in December 2020.
Moreover, it remains a fact that many of the most popular TikTok users are Black, and it is a powerful platform to showcase and amplify Black talent.
"TikTok is an inclusive space for positive, creative expression. Our community of creators is vibrant and diverse, and Black creators are a vital part of it," a TikTok spokesperson told Newsweek.
Still, the experiences of some Black creators, like Bradley, left them feeling disillusioned.
"The main reason I utilize TikTok is because that's where my main following is," she told Newsweek. "If I can utilize a different platform, I would."
"I just have to keep doing what I'm doing, and I feel eventually I'll get the recognition."
This article was updated with a comment by Amanda Bennett.
Update 09/03/21, 3:30 a.m ET: This article was amended to clarify that Joey Cassanova's TikTok video, not the Rolling Stone report, came out in April.