Jackson Mahomes Police Investigation: What Are the Allegations Against Him?
Patrick Mahomes' brother, Jackson, is under police investigation after a bar owner accused him of "forcibly kissing" her.
The 22-year-old has denied the allegations, and his lawyer issued a statement on his behalf addressing the claims.
Mahomes is the younger brother of Super Bowl winner Patrick, who helped Kansas City Chiefs to a 38-35 win over the Philadelphia Eagles in the NFL's showpiece game on February 12.
The incident with the 40-year-old woman is said to have taken place on February 25 at Aspen's Restaurant and Lounge in Overland Park, 12 miles south of Kansas City, near the Missouri border.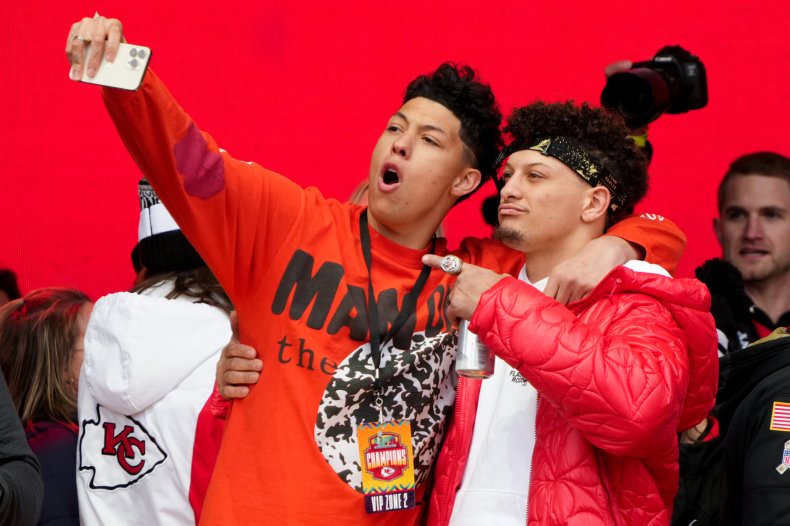 Mahomes is a social-media influencer with more than 1.1 million followers on TikTok alone. He has posted late in February that he is a vilified character at the moment.
Mahomes has faced intense trolling on social media for his celebrations of the Chiefs' big win. There have been accusations that he's been trying to steal his brother's limelight.
What Has Been Alleged Against Jackson Mahomes?
The Kansas City Star reported that Mahomes has been accused of forcibly kissing the female owner of Aspen's Restaurant and Lounge.
The 40-year-old, named as Aspen Vaughn, has said that Mahomes forcibly kissed her on a couple of occasions. She has a video of the alleged incidents, which she said took place on February 25.
A 19-year-old male waiter has also said that Mahomes "shoved" him while at the venue.
What Has Aspen Vaughn Said?
Vaughn has spoken out about the incidents to the Kansas City Star, telling the media outlet: "He forcibly kissed me out of nowhere. And I'm telling him, pushing him off saying, 'What are you doing?'
"Then he proceeded to do it two more times where the last time I was pushing him off and I can see on the cameras that somebody was outside the office door and I was yelling for them to come help because he's big and massive."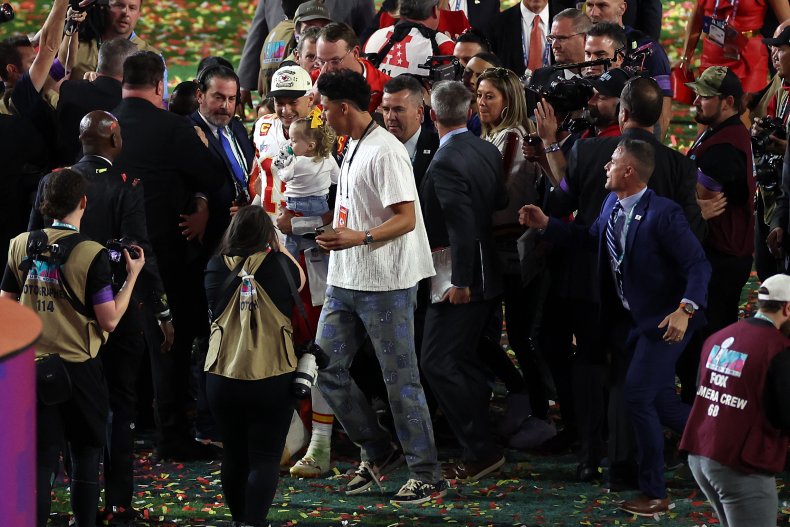 Vaughn said that she told Mahomes: "It's disgusting. Like you're a child and he was trying to say, 'We should be a power couple,' and I'm like, 'Clearly you're out of your mind right now.'"
Newsweek has reached out to Vaughn and Aspen's Restaurant for comment.
What Has Jackson Mahomes' Lawyer Said About the Allegations?
Brandan Davies, the lawyer representing Mahomes, has vehemently denied the allegations.
Speaking to the Star, Davies said: "Jackson has done nothing wrong. Our investigation has revealed substantial evidence refuting the claims of Jackson's accuser including the statements of several witnesses.
"We have reached out to law enforcement to provide the fruit of our investigation so that they may have a complete picture of the matter," he added.
Newsweek contacted Davies for further comment about the allegations, and he said in a statement that the interactions need to be taken in "the proper context."
Davies added: "We have provided law enforcement with the tools and evidence they need to evaluate the claims against Jackson.
"Every interaction between people needs to be placed in the proper context. Releasing a short clip of any video does not provide proper context.
"We have faith in the process and look forward to a swift resolution of the matter," Davies said.
What Have the Police Said?
The local authorities gave the following statement to the Star about the allegations: "The Police Department is aware of an incident that occurred on Feb. 25, 2023, at a business near 151st and Metcalf. The department is still investigating.
"Releasing any additional information would be inappropriate at this time. Anyone with information should contact the TIPS Hotline at 816-474-TIPS."
Do you have a tip on a sports story that Newsweek should be covering? Do you have a question about the Mahomes family? Let us know via entertainment@newsweek.com.