Jada Cried on Wedding Day, 'Never Wanted to Be Married' to Will Smith
Jada Pinkett Smith cried on her "horrible" wedding day and admits that she "never wanted to be married."
During an episode of Red Table Talk released on October 22, 2018, Jada sat down with husband Will, daughter Willow Smith, and her mother Adrienne Banfield-Jones, and openly admitted that she "never agreed with the construct of marriage" and still doesn't.
The latest revelation comes amid huge speculation about the nature of Jada and Will's relationship since the infamous Oscars slap moment on Sunday March 27. Will walked on stage during the 2022 Oscars and hit Chris Rock for a joke he told about Jada.
Reflecting back to their wedding day on December 31, 1997, Jada openly stated how she felt about becoming pregnant (with Jaden) and getting married.
During the episode of Red Table Talk, she said after finding out she was pregnant she, "cried all night long" because she didn't want her life to change. "I really didn't want to get married," Jada said. Will added, "We only got married because Gammy [Banfield-Jones] was crying."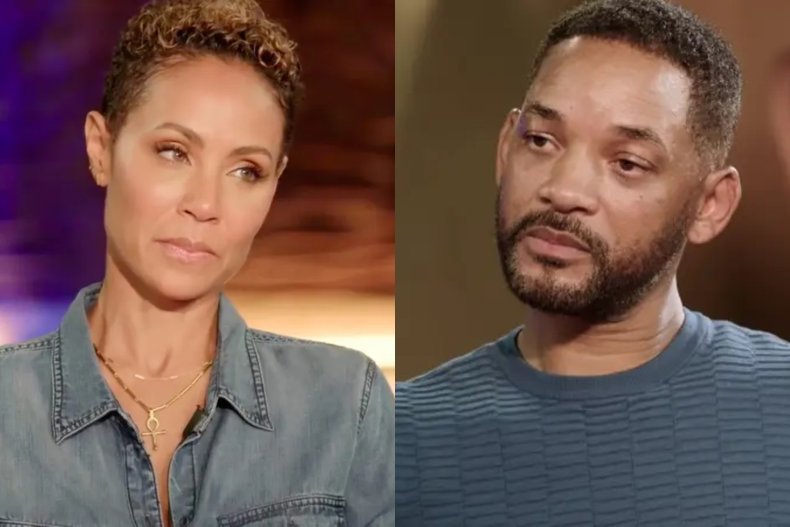 During the discussion Jada reiterates several times that she never wanted to be married, while Banfield-Jones explains how strongly that she felt the two should be wed.
"I was under so much pressure, being a young actress, being young and pregnant," Jada added, "I didn't know what to do, but I just knew I never wanted to be married."
She continued, "I didn't want to get married, and now Gammy's gone runnin' to Will, cryin' about how I don't want to have a wedding, now I'm being forced to have a wedding when really I just wanted it to be the two of us [her and Will] on a mountain, because this is serious business." Jada's mother apologized for not respecting her wishes at that time.
Jada, Will and Banfield-Jones all recalled how "horrible" the wedding day itself was, partly due to the fact that Jada was three months pregnant at the time. Banfield-Jones said, "The wedding was horrible. It was a mess, Jada was sick, she was very unpleasant. When she was sick she didn't cooperate."
"I was so upset that I had to have a wedding. I was so p*****," Jada said. "I went crying down the freakin' aisle. I cried the whole way." Meanwhile Will, who says all he'd wanted since the age of five was to get married and have a family, was excited on the wedding day.
When the episode of Red Table Talk aired, Jada and Will had been married for more than twenty years. Will asked Jada, "What was the fundamental bump about the idea of marriage in general that you were against?"
She replied, "I just never really agreed with the construct. I just don't agree with it. I never have, I still don't. Till death do us part is real for me. It's just all of the rules and ideas." She's then asked if it's the construct of a wife that she disagrees with, and Jada confirms it's things you "can't do" as a wife that she doesn't like.
This latest revelation comes in a long line of unearthed material from Jada and Will's past. Recovered footage shows Will pleading with Jada to stop discussing their marriage in an old Instagram Live clip, another Red Table Talk moment revealed that throwing a party for Jada's 40th birthday was a "low point" for Will.
Will and Jada are approaching 25 years of marriage now, and over the years Jada has publicly sung the praises of her husband on many occasions. In August 2009 she told Shape that it's important for a couple to "be friends first."
"Will knows more about me than my girlfriends." She added, "Passion and fire come and go, but friendship lasts forever."
She also discussed why she thinks her and Will work so well together. She explained, "Will and I are yin and yang. He's all sky, vast and bright and soaring, and I'm all earth. I'm here to ground him, and he's here to help me fly."
Jada told the same publication in December 2014 that mentally challenging each other is a bonus in a relationship. "It's a big turn-on for me to be spiritually and intellectually challenged by Will. To me, it's like foreplay," she said.
Adding to the speculation on their marriage, rapper August Alsina has released a new song which features lyrics detailing his fling with Jada while she was married to Will.
After the slap, Will publicly apologized to Rock on social media, and has since stepped down as a member of the Academy of Motion Pictures Arts & Sciences.