Who Is Jade Carey? Olympic Gymnast Replacing Simone Biles in Individual Event
Jade Carey will replace Simone Biles in the women's individual all-around final at the Tokyo 2020 Olympics after Biles pulled out of the event.
USA Gymnastics confirmed earlier on Wednesday that the 24-year-old will not defend the title she won at Rio five years ago on Thursday, after a medical evaluation determined she was not ready to compete.
"After further medical evaluation, Simone Biles has withdrawn from the final individual all-around competition," the federation said in a statement.
"We wholeheartedly support Simone's decision and applaud her bravery in prioritizing her well-being. Her courage shows, yet again, why she is a role model for so many."
The most decorated gymnast in history, Biles withdrew from the team's event mid-competition on Tuesday, citing mental health concerns.
Her absence opens the door for Carey, who finished ninth in qualifying.
International Gymnastics Federation rules limit countries to two athletes per event in the finals and Carey would have missed out as she was the third-ranked American behind Biles and Sunisa Lee.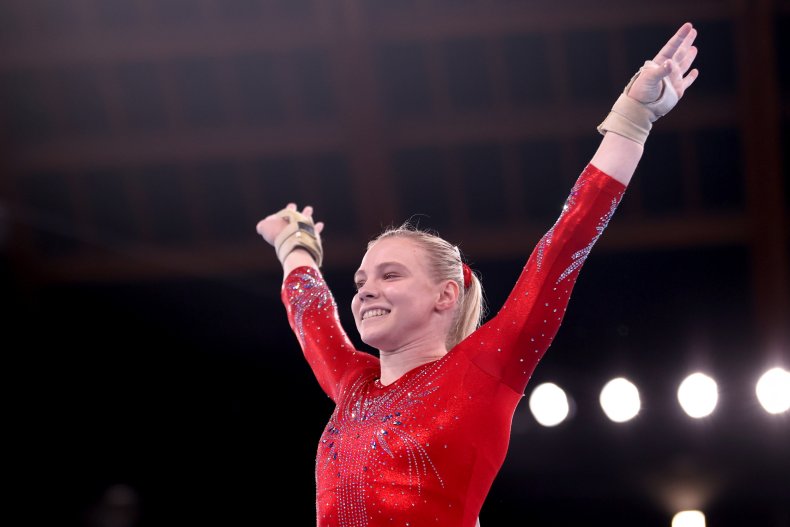 A vault and floor specialist, Carey was not part of the Team USA's quartet that finished second in the team all-around competition on Tuesday as Biles and Lee were joined by Jordan Chiles and was selected to compete in the individual events at the Olympics.
A native of Phoenix, Arizona, the 21-year-old has won a combined four world championships medals in her career, including gold in the team competition in Stuttgart two years ago when she also finished second on vault.
A three-time gold medalist at the Pan American Championships, the Oregon State alumni won silver at the 2021 Winter Cup vault earlier this year.
Carey can also execute the layout triple-double, the hardest tumbling pass ever performed by woman. The move consist of a double back flip with three twists, similar to the one Biles also performs.
However, while Biles does it with her knees tucked towards her chest, Carey keeps her body straight throughout it.
It remains to be seen whether she will attempt the pass during the floor event, as the degree of difficulty is such that she could be penalized if she doesn't execute it perfectly.
Progressing to the final because of Biles' absence will be bittersweet for Carey, who last month spoke or her admiration for her teammate.
"She definitely just reminds us to have fun and she's just really awesome," Carey told People.
"Like we know that we can go to her for anything because she's been there and she's done it all so she knows exactly how everything goes."
Biles scored 13.766 on the vault—the lowest score of her Olympic career—in the opening rotation on Tuesday, before leaving the floor with a trainer. She subsequently returned to the floor with her right foot wrapped but took no further part in the competition and was seen cheering on her teammates.
Following Biles' withdrawal, Team USA finished second in the team event, 3.432 points behind the Russian Olympic Committee, which became the first team to defeat the U.S. in an international competition since 2010.