Jameela Jamil Under Fire for Making Herself Center of Misgendering Incident
Actress Jameela Jamil is under fire for allegedly putting herself at the center of a misgendering incident on Twitter, many people online have said.
According to the She-Hulk: Attorney at Law actress, she recently misgendered a nonbinary person online and took to Twitter on Friday to ask her 1 million followers to start putting their pronouns next to their Twitter names.
"I accidentally misgendered someone who was rude to me on here because I did not know they were NB. I instantly corrected myself but NOBODY reads your bios people. *PLEASE* include your pronouns in your name on here to prevent misunderstandings/offense if it's important to you.🙌🏽," she tweeted.
She followed up with another tweet, writing: "OBVIOUSLY sorry for making this innocent mistake. But if we don't do more to prevent this mistake it will likely keep happening, which is bad for everyone. Put pronouns in your names. I've just done that with mine. It took two seconds."
However, her request for fans to place their pronouns next to their names was met with criticism, with some saying she was "centering" herself in the issue.
Twitter user @Tanishaevonne replied: "Your centering yourself in this issue and then giving people advice on how they can make it easier for you not to make a mistake. Many of us do check bios. Speak for yourself."
Jamil then responded to the tweet and said, "Many of you don't have a lot of followers. This makes it easier for everyone and mostly protects the person with the sensitivity around how they're gendered. So that they aren't triggered when interacting."
Twitter user @janethesloth asked: "why are you centering yourself in this conversation? youre not the one who got misgendered."
"Lol. I'm not centering anyone: I'm making a helpful suggestion as to how to prevent this rather than hiding them from it or pretending it didn't happen to 'save face,'" the actress said in response.
User @spicy_pecs tweeted: "I read the bio of most people even the ones I argue with so I don't misgender them, if you happen to make a mistake because that time you didn't read it sorry but on that part it's your fault, just apologize and move on."
Jamil clapped back, once again justifying her claim: "That's great. And when I had 300 followers that was much more realistic. I think my suggestion works for everyone."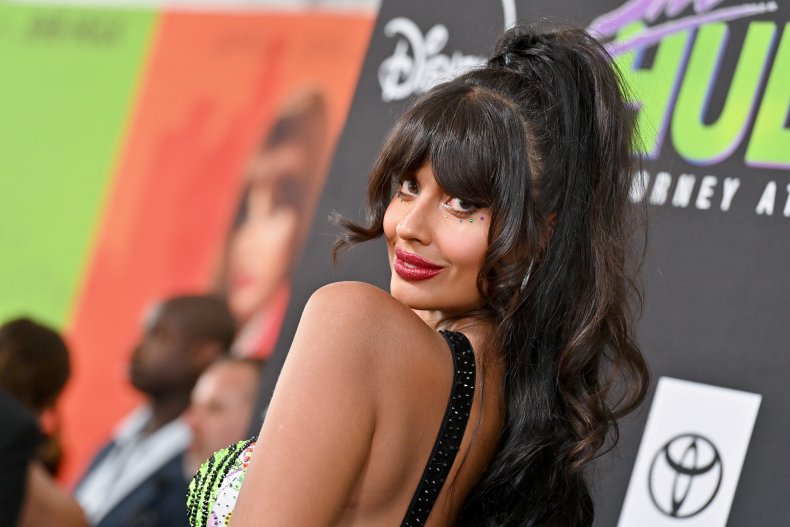 The Good Place star has previously been vocal on social media about her opinions, more recently commenting on Game of Thrones actor Sean Bean's statements about how he prefers sex scenes that are filmed without intimacy coordinators.
She also previously urged people online to stop making memes out of Kanye West, vouching that the rapper's mental health wasn't conducive to the jokes people were making.
Newsweek reached out to a representative for Jamil for comment.