While Senator Joe Manchin (D-W.Va) has drawn the ire of progressives for blocking voting rights and social spending legislation, a prominent Democratic Party strategist said the moderate senator's critics need a reality check.
James Carville, a consultant and author who served as Bill Clinton's 1992 presidential campaign manager, defended Manchin in an interview with Vox's Sean Illing published Thursday.
"Look, I'm a liberal Democrat," said Carville. "Always have been. But some of these people bit**ing about Manchin can't see political reality straight."
Manchin and Senator Kyrsten Sinema (D-Ariz.), have been accused of thwarting the agenda of congressional Democrats and President Joe Biden. The pair cast key votes earlier this month against changing the Senate's filibuster needed to advance voting rights legislation. The vote followed Manchin's announcement in December that he couldn't support the Build Back Better social spending package, dooming the key legislative priority in the evenly divided Senate.
Now, Manchin and Sinema face backlash for bucking the party. Senators Elizabeth Warren and Bernie Sanders, two of the chamber's most left-leaning members, have suggested primary challenges for the pair of moderates. Missouri Democratic Representative Cori Bush said on Twitter that "the legacy of Jim Crow is alive and well in 2022," referring to the two senators after the block on voting rights legislation.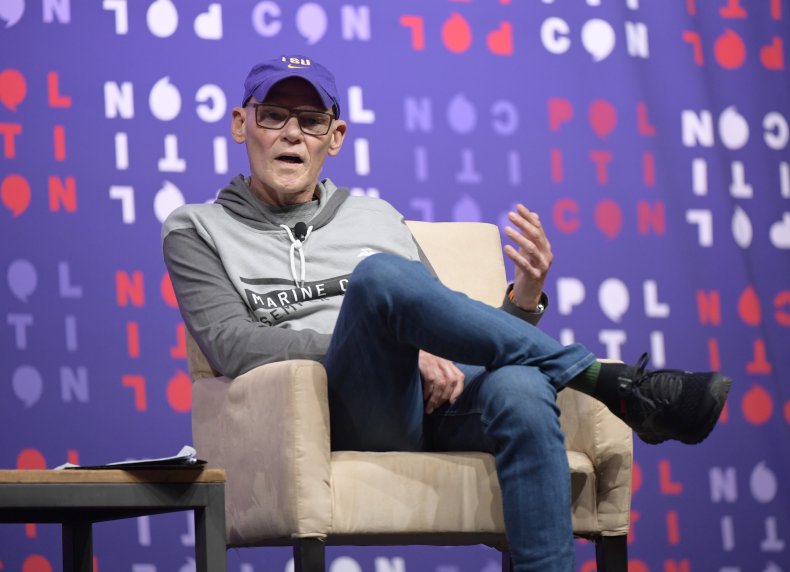 Carville said in the interview that only 6 percent of adults and about 12 percent of Democrats identify as "progressive."
"Someone like Manchin is closer to the mainstream than a lot of these people think, and pretending like he isn't won't help the cause," Carville said.
The political landscape of West Virginia, which President Donald Trump carried by 68.6 percent in 2020, means limitations for Democrats, Carville argued. He pointed out that Manchin represents a state where not a single county has voted for a Democratic candidate for president since 2008.
If Manchin runs for re-election in 2024, Carville said, the race won't come down to a choice between a moderate Democrat and a more liberal Democrat, like Massachusetts Senator Ed Markey. Instead, it'll be a choice between a moderate Democrat and a conservative Republican in the mold of Marsha Black of Tennessee, he said.
"But I'll just keep saying it: If we don't have Senator Manchin, we're going to have somebody really, really, really extreme in his seat," said Carville.
During negotiations over the Build Back Better package, Manchin raised objections to extending child tax credit payments that provided monthly assistance to 30 million families and are credited with lifting millions of children out of poverty.
Illing suggested to Carville that the exasperation over Manchin isn't his opposition to "ultra-progressive policies," but "mostly centrist policies," which are widely popular.
"OK, fine, but I'll go back to my earlier point," responded Carville. "If we want to pass more liberal policies, we need to elect more Democrats. Period. End of story."
Newsweek has reached out to Warren and Sanders for a response.