Comey's Early Clinton Draft Said She Should Face 'No Charges'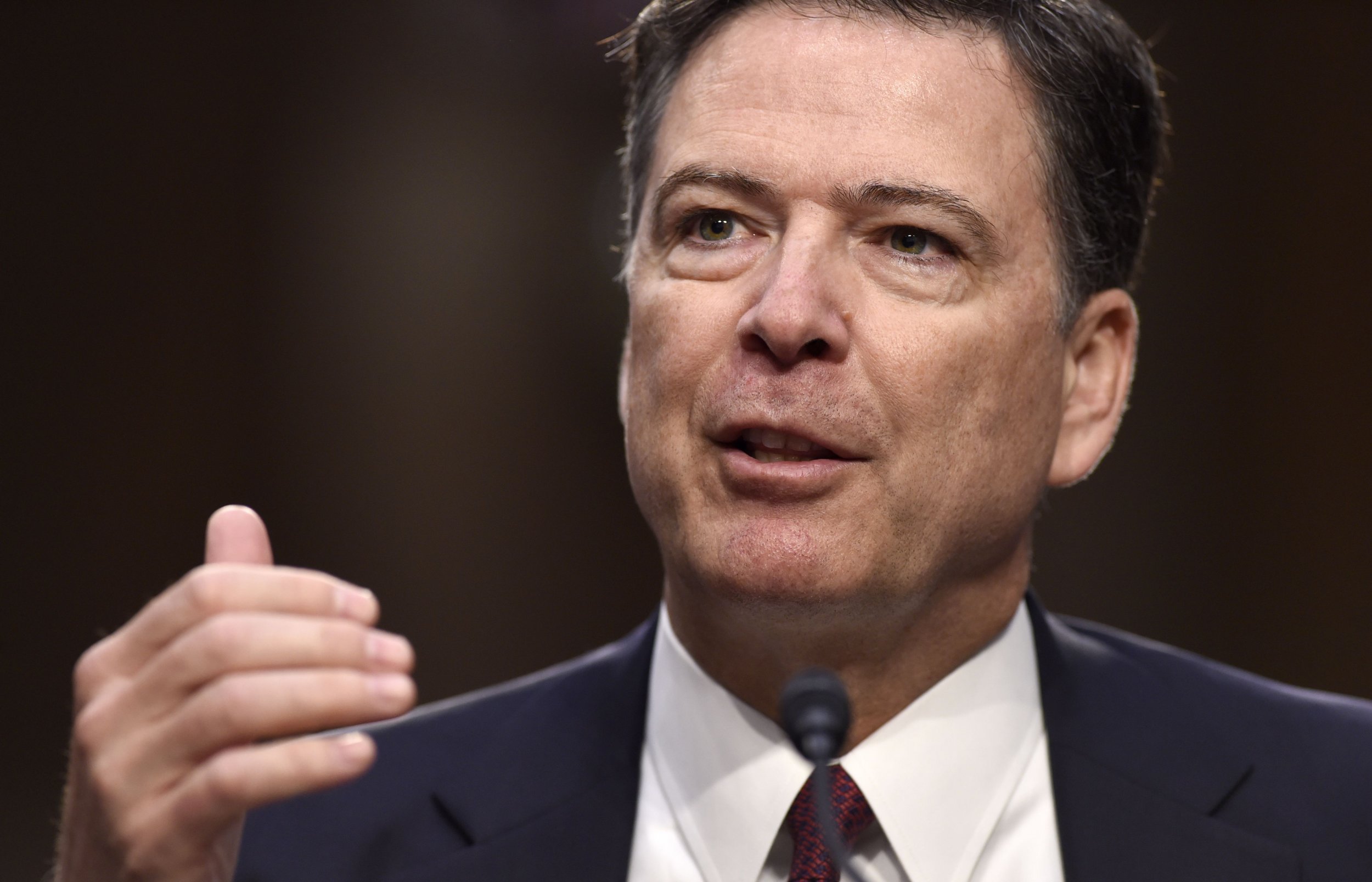 Months before announcing the conclusion of the Hillary Clinton email investigation, then-FBI Director James Comey began drafting the statement he would make. On Thursday, Senator Ron Johnson, chairman of the Senate Committee on Homeland Security and Governmental Affairs, made the full draft public for the first time.
The text of the May 2, 2016 draft, with edits from a later date or dates, suggests that Comey anticipated not recommending charges against Clinton for using a personal email server while secretary of state. The FBI did not interview Clinton until July 2, 2016, and three days later, Comey gave a press conference announcing the conclusion of the investigation. Top Republicans on the Senate Judiciary Committee first indicated in August that a draft of the statement existed, and the FBI confirmed it in October.
Related: FBI releases docs from after Clinton-Lynch tarmac talk
"I'm been trying to imagine what it would look like if I decided to do an FBI only press event to close out our work and hand the matter to DOJ," a note at the top of the draft says. "To help shape our discussions of whether that, or something different, makes sense, I have spent some time crafting what I would say, which follows."
Newsweek subscription offers >
The draft contains much of the same language that Comey would use in the July 5, 2016 press conference. As critics of Comey and Clinton have pointed out, someone with access to the draft edited the crucial line announcing the recommendation to the Justice Department. That person, reportedly FBI official Peter Strzok, changed a line saying, "There is evidence to support a conclusion that Secretary Clinton, and others, used the private email server in a manner that was grossly negligent with respect to the handling of classified information." The edited line said: "Although we did not find clear evidence that Secretary Clinton or her colleagues intended to violate laws governing the handling of classified information, there is evidence that they were extremely careless in their handling of very sensitive, highly classified information." Strzok is under review by the Justice Department inspector general for exchanging text messages critical of President Donald Trump.
Also significant is what did not change between the early draft and the final press conference. "Although there is evidence of potential violations of the statutes regarding the handling of classified information, my judgment is that no reasonable prosecutor would bring such a case," the draft said. Comey would use that exact language months later, except substituting "our judgment" for "my judgment." The draft continued, "I am completing the investigation by expressing to Justice my view that no charges are appropriate in this case." Comey would later instead say, "We are expressing to Justice our view," leaving the end of the sentence the same.
Drafting such a statement announcing a result in advance is unusual, according to a former FBI official. "It certainly suggests that they're reaching the conclusion that she ought not to have been charged, two months beforehand," said Ron Hosko, an assistant director at the bureau until 2014, and now president of the Law Enforcement Legal Defense Fund, a nonprofit. "What seems to be, essentially, missing are just some of the details—how many of the emails contain top secret [designations], how many contain secret [designations]." He added, "You tend to reach final conclusions as the investigation is logically ended. Not months before."
But prior to Thursday's release, Matthew Miller, a former Justice Department spokesman, had defended the drafting of the statement, tweeting, "The decision is never 'made' until the end, even when there's a 99% chance it is only going to go one way."
Newsweek subscription offers >
Since around the time of the July 2016 press conference, President Donald Trump and his supporters have accused Comey and the FBI of treating Clinton too favorably—even after Clinton has blamed Comey for her losing the 2016 presidential election. The Justice Department inspector general is investigating the bureau's handling of the Clinton probe, as are multiple committees in the House of Representatives. Trump's lawyers and Republicans in Congress have called for a special counsel to look into conflicts of interest at the FBI and Justice Department.
On Friday, perhaps referring to Thursday's release of the Comey draft, Trump told reporters, "Well it's a shame what's happened with the FBI, but we're going to rebuild the FBI, it will be bigger and better than ever." He continued, "But it is very sad when you look at those documents and how they've done that is really, really disgraceful. And you have a lot of very angry people that are seeing it. It's a very sad thing to watch, I will tell you that."
Comey's Early Clinton Draft Said She Should Face 'No Charges' | U.S.