Comey Testimony Live Updates: Former FBI Director Addresses Russia, Trump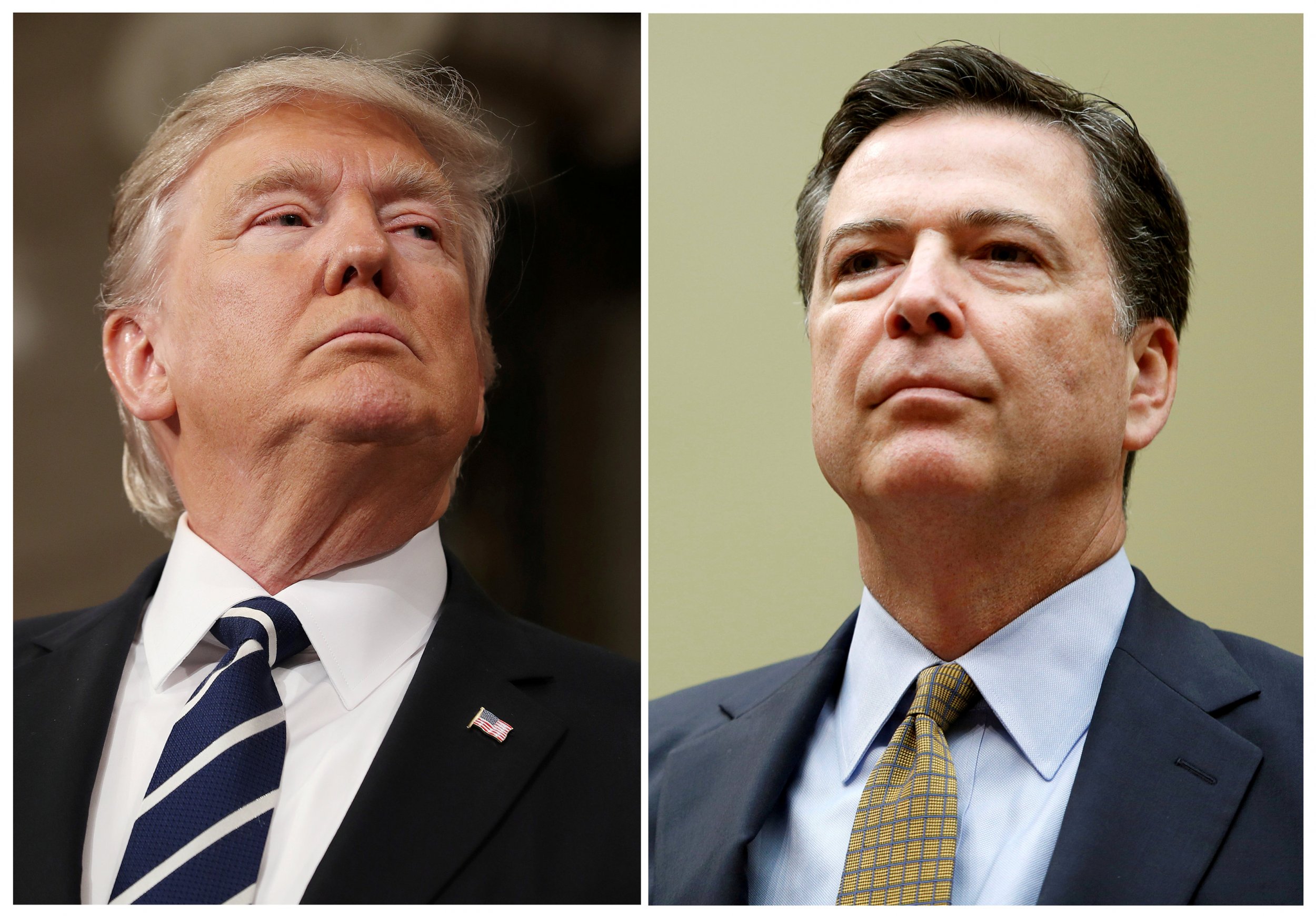 1:48 p.m. EDT | Former FBI Director James Comey's public testimony to the Senate Intelligence Committee on possible collusion between the White House and Russia during the 2016 U.S. presidential election is now over, and a closed-door Senate Intelligence Committee hearing started at 1 p.m. The White House still hasn't released an official statement, and neither President Donald Trump nor Vice President Mike Pence addressed the testimony in their speeches at the Faith & Freedom Coalition event on Thursday.
Here are a couple of key quotes from Comey during the three hour-long hearing.
"The president surely knows whether he taped me, and if he did my feelings aren't hurt," said Comey. "Release all the tapes, I'm good with it." And on Russian interference, Comey said it's "continuous" and that "they'll be back."
Democratic and Republican Senators quickly started tweeting their thoughts on the hearing. Democratic Senator Kamala Harris of California said the fact that Comey felt the need to document his conversations with Trump because he thought the president might lie about their meetings "is stunning." But despite Comey telling Rod Rosenstein, the deputy attorney general, about his concerns, Rosenstein penned a memo justifying Comey's firing. Harris tweeted, adding that she is "concerned" that Rosenstein is now overseeing the special investigation.
Other senators were busy during the hearing. Republican Senator James Inhofe of Oklahoma told ABC News' Ali Rogin: "I've been in a Bible study."
12:55 p.m. EDT | Sarah Huckabee Sanders, White House spokesperson, responded to former FBI Director James Comey's testimony in front of the Senate Intelligence Committee, saying that President Donald Trump "is not a liar, and I think it's frankly insulting that questions would be asked." Addressing reporters on Thursday, Sanders also said that the White House will continue existing executive branch sanctions against Russia.
Trump has not yet responded to the hearing, and is currently speaking at the Faith & Freedom Coalition conference. "As you know we're under siege, you understand that. But we will come out bigger, better and stronger than ever," Trump told the audience. Speaking about Democrats, Trump said on Thursday: "They're bad for the country...they've gone so far left ...selfishly, I love where they've gone."
12:41 p.m. EDT | Former FBI Director James Comey said after President Donald Trump tweeted about the possible existence of "tapes" of their conversations, he "woke up in the middle of the night" and realized he might be able to use memos he had written and share his version of events with the public. He said he provided a memo to a friend who is a professor at Columbia University. That person is Columbia Law School professor Daniel Richman, whose faculty webpage says he is an adviser to Comey. Richman has spoken on the record about Comey with The New York Times and other outlets. He confirmed to reporters on Thursday that he was the person to whom Comey referred in his testimony.
"Did I miss something or did Comey just say he asked a friend to leak information to the press?" Donald Trump Jr. tweeted following Comey's revelation. "Is this a joke?" — Max Kutner
12:35 p.m. EDT | Newsweek has been following all the developments from former FBI Director James Comey's Senate Intelligence Committee hearing on Thursday.
12:20 p.m. EDT | Comey, who's Comey? That seems to be the attitude as conservatives gather for the Faith and Freedom Coalition's Road to the Majority conference, where President Donald Trump is speaking in about a half an hour. Even as the nation's attention is riveted on the former FBI director's Senate testimony a few miles down the road, conservative leaders kicked off the event at a D.C. hotel by urging Christian activists to focus on Republicans' policy agenda, and ignore the hullabaloo over Trump's tweets and his administration's ties to Russia. "Ignore the political circus and let's focus on delivering results," Texas Senator Ted Cruz urged the audience. — Emily Cadei
12:15 p.m. EDT | What about Attorney General Jeff Sessions? Former FBI Director James Comey did not tell him about the president's alleged request that be back off Former National Security Advisor Michael Flynn. And he confirmed that he asked Sessions to be there for meetings with the president after he began to feel uncomfortable with the president. But the good news for the Alabaman is that nothing Comey said suggested that the attorney general was part of a pattern of obstruction of justice. Richard Nixon saw no fewer than two three attorney generals lost their jobs during Watergate. If there's a conspiracy here, at least at this point, it doesn't involve Sessions. — Matt Cooper
12:00 p.m. EDT | Former FBI Director James Comey is adamant that the Russians interfered in the 2016 U.S. election. During Thursday's testimony to the Senate Intelligence Committee, Comey said: "There should be no fuzz on this whatsoever. The Russians interfered in our election in the 2016 election cycle.... it is a high-confidence judgment...it's not a close call."
"This is about America, not about any political party."
In a particularly bombshell moment on Thursday, Comey said a Columbia Law school professor friend of his shared a key memo with a reporter shortly after he was fired. That memo included details about Trump asking Comey to drop the FBI investigation into Flynn. "The president tweeted on Friday after I got fired that 'I hope that there's not tapes," said Comey; that tweet made him realize he had to get his own version of the story out.
The friend was confirmed on Thursday as Columbia Law Professor Daniel Richman.
Comey also hinted at a possible conflict involving Attorney General Jeff Sessions, but said he is unable to discuss details about why Sessions might have recused himself from the Russia case in an open hearing.
Ron Wyden, Democratic senator of Oregon, told Comey that he believes "that the timing of your firing stinks."
"The odor of presidential abuse of power," Wyden said, "is so strong."
11:46 a.m. EDT | "They will be back," Former FBI Director James Comey said of the Russians and their electoral interference. As much as this hearing is about Comey's interractions with President Donald Trump and any possible obstruction of justice on the president's part, it's also about the Russian hacking--what we know, what we don't and the degree to which it is an ongoing threat to the integrity of American elections. Given Comey's 100 percent confidence that the Russians directed hacking and this week's revelation about a report showing that Moscow sought to not only spread "fake news" and spearfish campaigns but also sought access to voting machines, it's important to keep that in mind. What we still don't know is how the U.S. will combat this threat in the future when it bedevils other candidates and presidents. — Matt Cooper
11:20 a.m. EDT | Former FBI Director James Comey told Senator Dianne Feinstein, that he "was so stunned by the conversation that I just took it in... I was playing in my mind" when President Donald Trump requested that Comey let the FBI investigation into Mike Flynn go. He continued: "I saw the tweet about the tapes, Lordy I hope there are tapes," he said. "I remember saying 'I agree he's a good guy,' as a way of saying 'I'm not agreeing with what you asked me to just do.'" Comey also told Feinstein that his colleagues "were very concerned" that the president of the United State asked him to stop an investigation.
Instead of Trump's tweets, which will no doubt start soon after the end of the public hearing, the president's sons have taken to Twitter. Donald Trump, Jr., tweeted: "Knowing my father for 39 years when he "orders or tells" you to do something there is no ambiguity, you will know exactly what he means." That was in response to Comey saying that Trump did not order him to let the Flynn investigation go. Trump said "I hope" he will let it go, said Comey.
"The reason I keep saying his words is, I took it as a direction," said Comey. "This is the president of the United States. I took it as a direction."
11:10 a.m. EDT | How are the Senators doing? For the most part, pretty well. In a setting like this you don't want an overt display of partisanship lest you seem uninterested in the facts. Republican Senators laid the groundwork for a Trump defense. Sen. Mark Risch of Idaho asked if anyone had ever been convicted on an obstruction charge for merely saying they "hoped" a prosecutor could "see their way clear" to dropping an investigation. Marco Rubio established that their had been lots of leaks in the investigation but not of the exonerating fact that the president, at least at the time of his conversations with Comey, was not himself the target of any possible collusion. Call this the Gurney factor. The late Florida Senator Ed Gurney, a Republican, was one of Nixon's strongest defenders on the Senate Watergate Committee. His being a supplicant didn't wear well over time. No current Republican wants to seem obsequious towards the White House even while they lay out the basis for a defense. — Matt Cooper
10:56 a.m. EDT | Former FBI Director James Comey has testified to the Senate Intelligence Committee about why he felt the need to take detailed notes after his meetings with President Donald Trump. He gave three reasons—"The circumstances, the subject matter and the person I was interacting with"—and said "I was honestly concerned that he might lie about the nature of our meeting."
"I knew there might come a day where I would need a record of what happened," Comey said. Comey added that he didn't feel the need to document his conversations with President Barack Obama and President George W. Bush in the same way. IIn his opening statement, Comey recalled a one-on-one meeting with Trump, after the president dismissed Jared Kushner and Attorney General Jeff Sessions from the room. "I knew something was about to happen that I needed to pay very close attention to," Comey said. "I remember thinking that that was a very disturbing development."
Comey also said the White House and the Trump administration attempted to "defame" him and the FBI using "lies, plain and simple." Comey says there is "no doubt" that the Russian government was responsible for intrusions in the election.
10:49 a.m. | In the coming weeks and months, the question of what Donald Trump expected of James Comey is likely to be scrutinized minutely. Comey reiterated today that Trump made him uncomfortable in the extreme. After their first meeting, during the presidential transition, he concluded that the president might lie about their encounter. In later meetings he became convinced that the president was trying to develop a "patronage relationship" with him in which he'd feel "loyalty"--Trump's word. This worried Comey in the extreme. "The Statue of justice has a blindfold on so you're not peaking out to see whether your patron is pleased with what you're doing," said Comey. The overall effect is one of a creepy, ominous president with no sense of propriety. — Matt Cooper
10:27 a.m. EDT | As a matter of stagecraft, Comey was wise to hold back significant details rather than repeat his opening statement. He is accusing the president of "lies, plain and simple." He is accusing the president of having "defamed" the FBI. "I want the American people to know this truth: The FBI is honest." His I'm-sorry-I-didn't-get-to-say-goodbye to the bureau was quite effective, a seeming act of humility that also buoyed his own case. Likewise his terse answers to Chairman Richard Burr's questions seemed direct, crisp and confident. — Matt Cooper
10:20 a.m. EDT | Richard Burr, chairman of the testimony and a Republican senator from North Carolina, gaveled the hearing and thanked Comey for his presence. Burr said "allegations have been swirling in the press... and today's your opportunity to set the record straight." Mark Warner, Democratic senator for Virginia and ranking member of the committee, calls Comey's opening statement "very disturbing." He also spoke of Trump's "odd and unexplained affection for the Russian dictator."
"We're here because a foreign adversary attacked us right here at home," said Warner. "It's plain and simple." Meanwhile, New York Senator Kirsten Gillibrand called on Comey to provide "more context" for his "extremely disturbing" testimony.
A reminder that a closed hearing will be held at 1 p.m. today.
10:07 a.m. EDT | Virginia gubernatorial candidate Tom Perriello is using the Comey hearing as a peg to launch a new ad in his hotly contested Democratic primary contest with Lt. Governor Ralph Northam. Though he never mentions Comey explicitly, Periello talks in the ad about standing up to authoritarians overseas, but not expecting "to face this moment back home." And he adds, "Donald Trump's abuse of power is real." The clock is ticking down in the primary race—voters go to the polls Monday, June 13, to pick their nominees for the general election — Emily Cadei
10:02 a.m. EDT | Ahead of Comey's testimony, the Republican National Committee has gone into overdrive with efforts to discredit the former FBI director. After the opening statement was published yesterday, the RNC's Twitter account published a much-mocked tweet and began floating talking points aimed at discrediting Comey. Republicans have tried to paint Comey as a partisan figure and have questioned why he took detailed notes on conversations with Trump and not other officials.
On Thursday morning, the RNC sent a "research briefing" declaring "James Comey plays fast and loose with the truth."
Already seated for Thursday's showdown is Preet Bharara, former U.S. Attorney for the Southern District of New York, who was fired by Trump earlier this year. Pete Souza, the White House photographer for President Barack Obama, has also put his stamp on the day. Souza is known for responding to developments in the Trump presidency with photos from the Obama era. On Thursday, Souza posted a photo of Obama standing at "the door by the grandfather clock," a reference made in Comey's opening statement.
9:30 a.m. EDT | Comey is currently en route to Washington, D.C. for his testimony, according to reporters who were staked outside his Virginia home this morning. Comey's opening statement in his testimony was published on Wednesday afternoon, causing an explosion on social media. Comey's statement detailed one-on-one meetings with Trump, who told Comey he expected total loyalty. Trump also referred to the Russia investigation as a "cloud" that impeded his ability to run the country.
Not everyone was convinced. Eric Trump, one of the president's sons, called the testimony a "charade" in a tweet on Thursday morning.
9:15 a.m. EDT | Former FBI Director James Comey's hearing in front of the Senate Intelligence Committee (find out how to watch it here ) starts at 10am. Earlier this morning we learned that President Donald Trump will also be spending the morning watching the hearing, which is shaping up to be one of the most crucial moments in recent U.S. political history.
According to NBC News, Trump will monitor the hearing in a White House dining room with his legal team and close advisors. Trump was originally scheduled to speak at the Faith & Freedom Coalition, a conservative religious organization, during the hearing.
Original post is below:
James Comey, the former FBI director who was fired by President Donald Trump last month, is set to testify in front of the Senate on Thursday morning, in what is turning out to be one of the most highly anticipated moments of the Trump administration.
Beginning at 10 a.m., Comey will appear at a Senate Intelligence Committee hearing to discuss his interactions with Trump and the FBI investigation into the White House's relationship with Russia. Comey, who was leading an investigation into the Trump campaign's possible collusion with Russia over the outcome of the 2016 U.S. presidential election, was fired by Trump on May 9. That move fueled speculation that Trump attempted to interfere with the FBI's investigation, and there were immediate calls for a special prosecutor to be appointed to lead the case.
As Trump was in Ohio speaking with what his administration termed victims of the Affordable Care Act on Wednesday afternoon, Comey's opening statement for his Thursday testimony was published. It's a damning read: Among the allegations Comey details is that Trump invited him to a one-on-one dinner, the pretense of which, Comey felt, was "an effort to have me ask for my job and create some sort of patronage relationship. That concerned me greatly, given the FBI's traditionally independent status in the executive branch."
Trump allegedly told Comey: "I need loyalty, I expect loyalty." Afterward, Comey said, "I didn't move, speak, or change my facial expression in any way during the awkward silence that followed. We simply looked at each other in silence. The conversation then moved on, but he returned to the subject near the end of our dinner." On another occasion, on February 14, Comey said Trump asked him to stay behind after a meeting and told him: "I want to talk about Mike Flynn." That was the day after the former national security advisor resigned. Comey said Trump added, "I hope you can let this go," referring to an investigation of Flynn.
Related: Comey testimony opening statement: Read full prepared remarks
Comey said Trump called on March 30 and "described the Russian investigation as 'a cloud' that was impairing his ability to act on behalf of the country." Additionally, he said Trump said "he had nothing to do with Russia, had not been involved with hookers in Russia, and had always assumed he was being recorded when in Russia." The last time the two men spoke, on April 11, Comey said Trump told him: "I have been very loyal to you, very loyal; we had that thing you know." Comey said he "did not reply or ask him what he meant by 'that thing.'" Perhaps we'll discover what "that thing" is on Thursday.
Comey also said in his opening statement that he typed detailed memos immediately following his conversations with Trump, and that he shared them with the FBI senior leadership team. Trump's lawyer, Marc Kasowitz, said on Wednesday after Comey's statement was published that "the president feels completely and totally vindicated."
Follow Newsweek's live updates as the testimony gets under way.