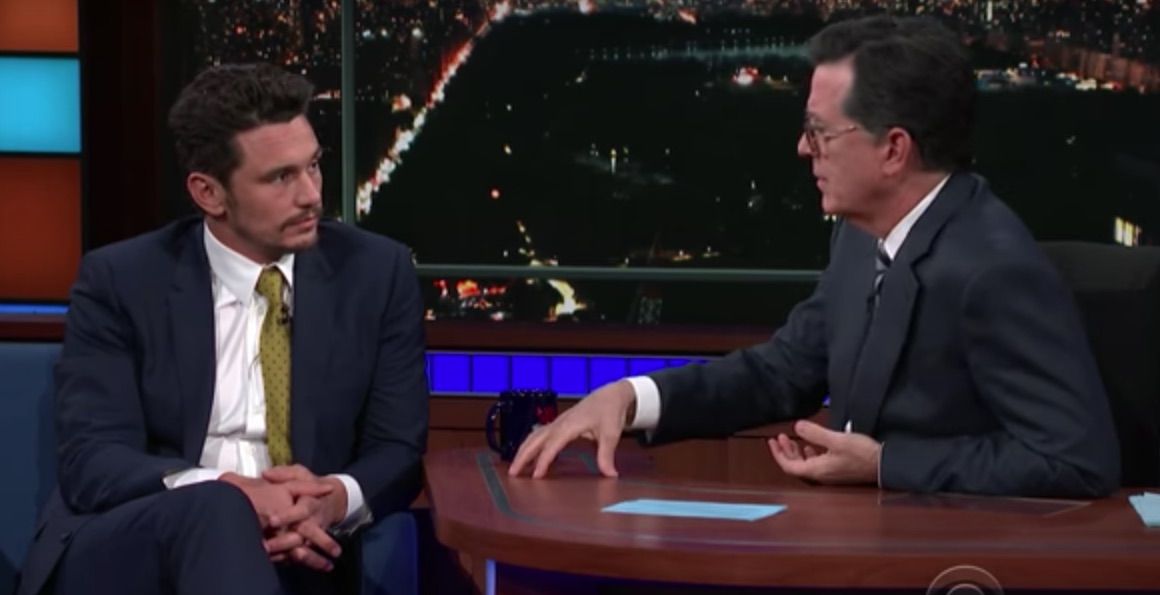 James Franco addressed allegations of sexual misconduct against him on Tuesday's The Late Show With Stephen Colbert, telling the late-night host that the claims are "not accurate."
After Franco won big at the Golden Globes Sunday, winning best actor in a musical/comedy for The Disaster Artist, actor Ally Sheedy—who appeared in an off-Broadway play directed by Franco—and other women alluded to inappropriate behavior by the actor.
The Golden Globes were notable this year for fighting back against the rampant abuse and harassment of women in Hollywood in the wake of the Harvey Weinstein scandal in October. Several people, including Franco, wore a Time's Up pin to show their support to the efforts.
Colbert noted that Franco was criticized for wearing the pin and invited him to address the controversy that stirred Twitter Sunday night.
"There were some things on Twitter," Franco said. "I've heard about them. First of all, I have no idea what I did to Ally Sheedy. I directed her in a play off-Broadway. I had nothing but a great time with her, total respect for her. I have no idea why she was upset."
Franco continued: "In my life, I pride myself on taking responsibility for things that I've done. I have to do that to maintain my well-being.
"The things that I heard that went on Twitter are not accurate. But I completely support people coming out and being able to have a voice, because they didn't have a voice for so long. So I don't want to shut them down in any way."
As well as Sheedy's now-deleted tweets about Franco, another woman claimed Franco tried to coerce her into an unwanted sex act and others pointed out the actor once tried to seduce a 17-year-old fan on Instagram.
In 2014, Franco made headlines when he sent direct messages over Instagram to a Scottish teenager, inviting her to his hotel room.
The actor addressed the situation on Live With Kelly and Michael, telling Kelly Ripa and Michael Strahan, "I used bad judgment, and I learned my lesson."
"In my position, not only do I have to go through the embarrassing rituals of meeting someone, but sometimes if I do that, it gets published for the world, so it's doubly embarrassing," he added.