James Giannakos Jr. Allegedly Threatened Prosecutor for Trying Proud Boys Leader Enrique Tarrio
South Carolina resident James Giannakos Jr. has been arrested for allegedly leaving death threats for Vanessa Singh Johannes, a former federal prosecutor who had pursued charges against Proud Boys leader Enrique Tarrio in 2014. During that time, Johannes and Tarrio's then-defense attorney mentioned Tarrio's past cooperation with federal and local law enforcement agencies, including the FBI, during his sentencing hearing, which was located in publically accessible court filings.
Near the end of January, media outlets began reporting on Tarrio's past cooperation with legal authorities. In response, Giannakos worried that Tarrio's past cooperation with legal authorities in 2014 would potentially mark Tarrio for retaliatory violence. So on January 28, Giannakos allegedly left threatening voice messages on the voicemail of the law firm where Johannes worked, stating that she, her family and coworkers would be in "danger" if anything happened to Tarrio.
"I just wanted you to know that if anything happens to Mr. Enrique Tarrio, the same thing will happen to you and your family," Giannakos allegedly said, according to an FBI affidavit. "I cannot believe you released the (information about his confidential cooperation), if that's even true. If anything happens to him, I promise you and your associates will pay for it. You will be held responsible."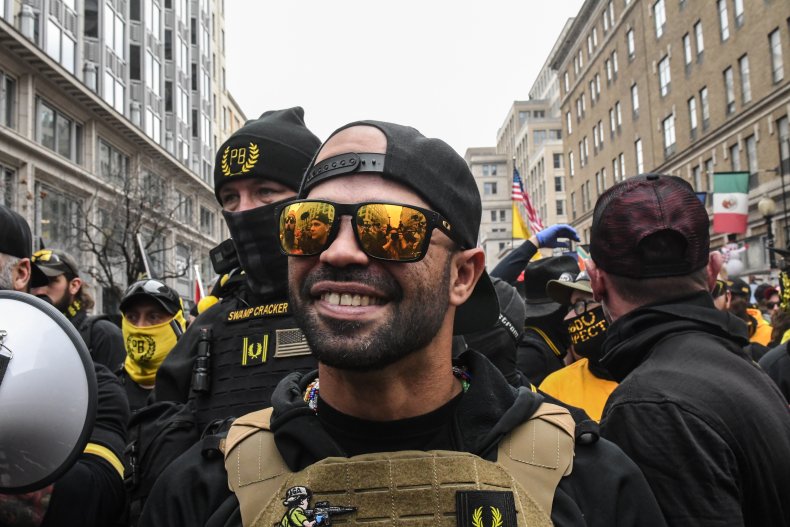 The FBI affidavit identifies the Proud Boys as "an extremist right-wing group that has gained a reputation for leading protests that often turned violent in cities such as Washington, D.C., and Portland, Oregon." However, the affidavit doesn't say whether Giannakos identifies as a member.
Tarrio offered his cooperation to legal authorities after being arrested in 2012 for fraud. His work helped prosecute 13 people for offenses such as drugs and human smuggling. While Tarrio has said he has no recollection of his cooperation with legal authorities, his lawyer in his 2012 arrest, Jeffrey Feiler, mentioned it while seeking a sentence reduction for Tarrio.
The Proud Boys touts itself as an anti-feminist men's group. Although Tarrio has claimed it's not a white supremacist organization, a former member, Jason Kessler, helped organize the 2017 Unite the Right rally in Charlottesville, Virginia which was attended by neo-Nazis and white supremacists.
Tarrio was arrested on January 4 for tearing down and burning a Black Lives Matter (BLM) banner from Asbury United Methodist Church, a historic church with a predominantly Black congregation. Tarrio bragged about it on social media, calling BLM "a racist movement that has terrorized the citizens of this country."
Leading Proud Boys member Joe Biggs and others were present at the deadly insurrection at the Capitol in Washington, D.C. on January 6. On the now-defunct right-wing social network Parler, Tarrio told Proud Boys to go incognito while attending former President Donald Trump's January 6 "Stop the Steal" rally.
On February 3, Canada designated the Proud Boys as a terrorist organization, alongside ISIS and al-Qaeda.
Newsweek contacted the FBI for comment.
Correction (2/5/2021, 4:33 p.m.): This article has been updated to more accurately identify Enrique Tarrio's role in the investigation.