James Holzhauer Takes Another Swipe at Aaron Rodgers Over Vaccine Stance
Jeopardy! star James Holzhauer took an apparent swipe at Aaron Rodgers on Twitter, after it was revealed that he has not taken the COVID-19 vaccine.
Green Bay Packers quarterback Rodgers recently faced backlash when, after testing positive for the disease, he revealed that he had not been vaccinated, citing skepticism about the shots' effectiveness.
The sportsman had told reporters in August that he had been "immunized" against COVID-19, but did not detail how. He tested positive for the virus earlier this month.
After 10 days of isolation, Rodgers returned to the football field on Sunday, when he was reunited with his teammates for a 17-0 victory over the Seattle Seahawks.
And Holzhauer appeared to be watching the game on Sunday, when he took to Twitter to make a thinly-veiled dig at Rodgers.
"Many people will say it's healthier not to throw the ball up for grabs in the end zone but it's up to each QB to make his own personal choice to immunize himself from interceptions," he wrote.
Holzhauer, who won 32 games on Jeopardy! back in 2019, mocked Rodgers in another Twitter post shared on November 5, as he branded the athlete a "peddler of pseudoscience."
Attributing fake quotes to Rodgers and Dr. Mehment Oz—both of whom were guest hosts on Jeopardy! earlier this year— Holzhauer wrote: "Dr. Oz: I'm the only peddler of pseudoscience to ever guest host Jeopardy! Aaron Rodgers: Hold on a minute playa."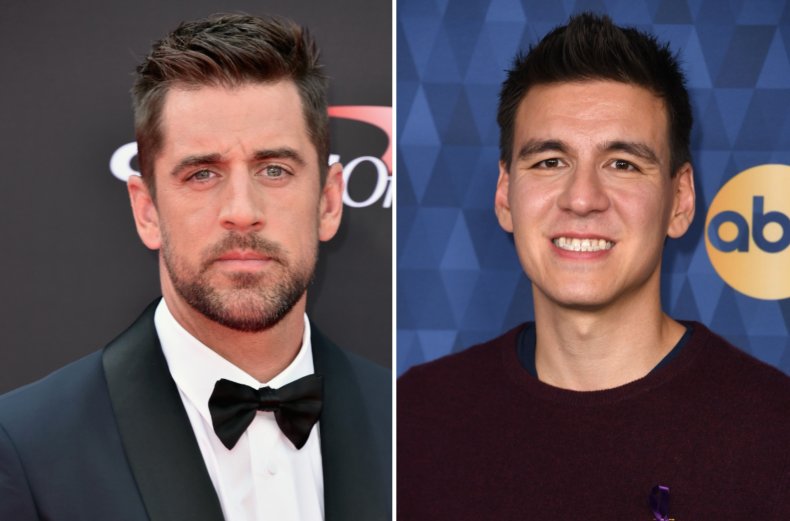 In March, a faction of fans and former contestants criticized Oz's appointment as a Jeopardy! guest host. A petition was also launched online, urging then-executive producer Mike Richards (who was later ousted as host) to cut his stint short.
The petition accused Oz of promoting "supplements that do nothing, legitimizing gay conversion therapy (which is banned in California, as well as 19 other states), dangerous 'cures' for autism, and, most recently, the use of hydroxychloroquine as a treatment for COVID-19."
Rodgers had not cited any studies to back up his claim that taking the COVID vaccine could affect his fertility. The U.S. Centers for Disease Control and Prevention (CDC) has stated that no clinical research has linked any of the vaccines approved for use in the U.S. to male infertility.
The Johnson & Johnson COVID-19 vaccine has been linked to cases of blood clots in adult women younger than 50, though the CDC has said that blood clots in male vaccine recipients are rare.
An Oxford University study published in August found that the risk of developing blood clots is "substantially higher" from COVID-19 infections than from side affects of taking the vaccine.
Following his positive diagnosis, Rodgers revealed that he had been taking the anti-malaria medication hydroxychloroquine and the anti-parasite medication ivermectin to treat his symptoms. Medical authorities have stated that neither medication has any proven effect on alleviating COVID symptoms.
Amid the backlash, Rodgers spoke out against vaccine mandates, insisting that whatever happens to his body should be his personal choice.
"I'm not some sort of anti-vax, flat-earther," Rodgers said on The Pat McAfee Show earlier this month. "I believe strongly in bodily autonomy and the ability to make choices for your body, not to have to acquiesce to some sort of woke culture or crazed individuals who say you have to do something."
He also stated that he was allergic to an ingredient in the Pfizer or Moderna vaccines, while he said that he had avoided the Johnson & Johnson vaccine for fear of blood clots.
"Some of the rules are not based in science at all," Rodgers said of COVID safety protocols. "They're based purely in trying to out and shame people."
Returning to the same podcast last week, Rodgers admitted: "I made some comments that people might have felt were misleading and to anyone who felt misled by those comments, I take full responsibility for those comments."
The NFL announced last Tuesday that it has fined the Green Bay Packers, Rodgers and his teammate Allen Lazard, for violating COVID-19 protocols. The Packers organization was fined $300,000, while Rodgers and Lazard were ordered to pay $14,650, according to NFL Vice President of Communications Brian McCarthy.