Russia's 'Bad Strategy' Leading to Embarrassing Defeats: Admiral Stavridis
Retired U.S. Navy Admiral James Stavridis knocked Russia's Ukraine strategy and the "bad design" of its military equipment, contending that this is a driver behind embarrassing defeats for President Vladimir Putin's forces.
Putin ordered a full-scale invasion of Ukraine nearly six months ago, drawing swift and widespread international condemnation. Although the Russian leader reportedly believed that his forces would quickly take control of much of the Eastern European nation's territory and topple the government in Kyiv, Moscow's troops failed in the first phase of the war. Russia has since refocused its efforts on southeastern Ukraine but still has struggled to make substantial military gains.
During a segment of MSNBC's Morning Joe, Stavridis, who previously served as supreme allied commander Europe, commented on design flaws in Russian tanks and ships. The retired military officer said that these issues made the Russian vehicles easier to destroy.
"You remember when the flagship of the Black Sea fleet blew up and sank? Killing 500 Russians," Stavridis said. "That's a Slava class cruiser. It has dozens of cruise missiles topside around its bridge, if you will. This is like driving around in your car with 5-gallon jugs of gasoline surrounding you in the front seat. What do you think's gonna happen?" the retired admiral asked.
Ukraine managed to sink Russia's flagship Moskva guided-missile cruiser in mid-April. The ship was carrying 510 crew members at the time. It was seen as a deeply embarrassing loss for Russia and a major victory for Ukraine, as it was the largest Russian warship sunk in combat since World War II.
"Just bad design, bad tactics, bad strategy," Stavridis said. Although he noted that Russia still has "a lot of fire power and a lot of capability," he said that he assessed that Putin's "hand of cards [is] not enviable at this point."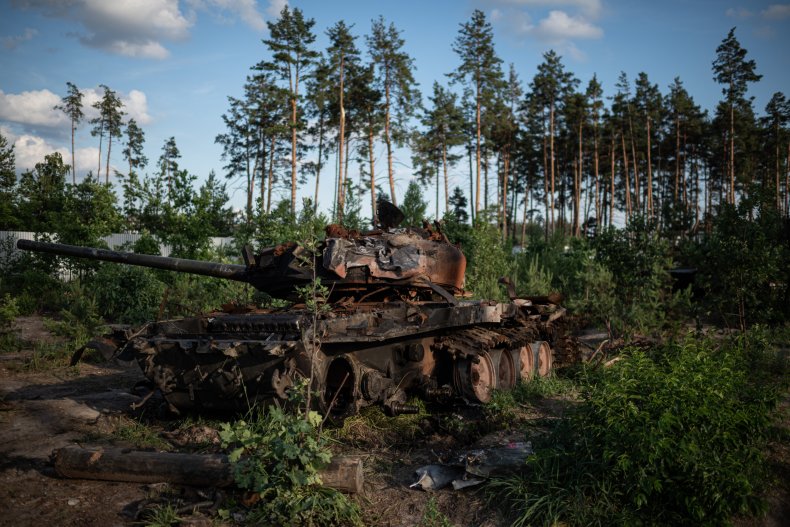 Prior to the retired admiral's remarks, Morning Joe shared a report on Russian tanks in Ukraine. It overviewed the "design flaws" that have made them easy targets for Ukrainian fighters defending their country against the invasion.
Newsweek reached out to Russia's foreign ministry for comment.
Putin and other Russian officials maintain that the so-called "special military operation" is going according to plan. They bizarrely claim that Ukraine is led by "neo-Nazis" and needs to be "de-Nazified," while Putin also claims there is a "genocide" of native Russian speakers in the Eastern European country.
In reality, Ukraine's President Volodymyr Zelensky is a native Russian speaker and Jewish. Members of Zelensky's family died during the Holocaust perpetuated by the German Nazis during World War II. He was also elected with about three-quarters of the vote in 2019, when Ukraine's prime minister was also Jewish, which would appear to counter Russia's claims that Ukrainians have adopted a "Nazi" ideology.
Putin has also referenced the former Russian Empire and the Soviet Union, suggesting that Moscow has a right to Ukraine and other territories that were previously part of its historic empire. Meanwhile, Ukraine is about to celebrate its independence day on August 24, which marks 21 years since it declared its independence from the now-defunct Soviet Union.
Although Ukrainians have put up strong resistance to Russia's invasion, they have also seen substantial support from the U.S. and its NATO allies. The U.S. and NATO have transferred billions of dollars in weapons and humanitarian aid to support the Eastern European country.
In particular, High Mobility Artillery Rocket Systems (HIMARS) have given Kyiv's forces a boost in their efforts against Russia. Analysts have described HIMARS as a "game-changer" for Ukraine.