Jane Fonda Floats 'Murder' as Response to Abortion Laws
Actress Jane Fonda said she had "thought of murder" when asked during a television appearance about what people who are upset about abortion laws can do aside from protesting.
Her comment prompted backlash from conservative lawmakers such as Representatives Marjorie Taylor Greene and Anna Paulina Luna.
Fonda has long been known for her political activism and has been arrested previously for civil disobedience.
Actress Jane Fonda on Friday created controversy by saying she had "thought of murder" during a discussion on abortion laws in the United States.
The Oscar-winner made the remark during an appearance with her Grace and Frankie co-star Lily Tomlin on ABC's The View when the topic of protesting the Supreme Court's decision to overturn Roe v. Wade was brought up.
In June, the Supreme Court released a ruling that overturned the nearly 50-year-old decision of Roe v. Wade that protected a pregnant woman's right to have an abortion. Following news of the ruling, large crowds gathered to protest in Washington, D.C. and in cities throughout the country. The Court's decision also resulted in so-called trigger laws on abortion policies going into effect in several states. More recently, the fight has shifted to access to abortion pills.
The View co-host Joy Behar asked Fonda what else she would suggest for people who disagree with the Court's decision aside from marching and protesting.
"Well, I've thought of murder," Fonda said.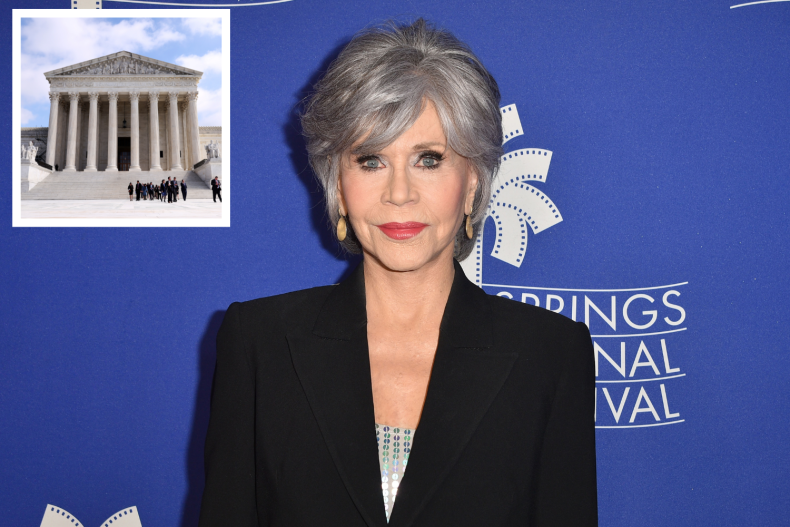 When Tomlin asked her co-star to repeat herself, Fonda replied: "Murder."
"She's just kidding," Behar said before implying certain people could take Fonda's comment and "just run with it."
Fonda has long been known for her political activism, which has led to her being arrested for civil disobedience. In addition to the Netflix hit Grace and Frankie, she also recently starred in the 2023 comedy film 80 for Brady, which reunited her with Tomlin.
When contacted for comment, a representative for Fonda provided a statement from the actress.
"While women's reproductive rights are a very serious issue and extremely important to me, my comment on The View was obviously made in jest. My body language and tone made it clear to those in the room—and to anyone watching—that I was using hyperbole to make a point," Fonda told Newsweek in the statement.
She continued, "Women across the country are facing real threats when it comes to our bodies, and people lose faith in our mission to protect women when others choose to focus on tangential issues and passing jokes instead of the actual problem at hand."
However, several conservative lawmakers on Twitter indicated that they saw nothing comedic about her "murder" comment.
"Today on @TheView, Jane Fonda called for the murder of pro-life Americans," Representative Byron Donalds, a Florida Republican, tweeted. "The hosts claimed Fonda deserves a Nobel Prize & laughed-off her heinous remarks. To the pro-life Americans all across our great country, stay strong & know I will always have your back on Capitol Hill."
Representative Anna Paulina Luna, a Florida Republican, wrote that she had notified the U.S. Capitol Police of Fonda's "call to murder pro-life politicians." Luna also called on Fonda and The View "to issue public retractions for giving such repugnant behavior a platform."
"Jane Fonda (and many Democrats) want you and me 'murdered' for fighting to protect the most innocent in the womb," Representative Marjorie Taylor Greene, a Georgia Republican, tweeted. "Believe Democrats when they say the quiet part out loud. Sounds like they want us dead."
Fonda did have defenders on Twitter, including Michael J. Stern, a journalist and former federal prosecutor.
"Only a half-wit could not figure out that Fonda was joking," Stern wrote in response to Greene's post. "And aren't you the one who goes nuts about people not being able to joke in today's 'woke' environment?"
Newsweek reached out to The View via email for comment.
Update 03/10/22 5:05 p.m. ET: This story has been updated to include a statement from Fonda.