Janet Jackson has addressed the child abuse allegations that were leveled at her late brother, Michael Jackson, in a trailer for her upcoming documentary.
Michael Jackson, who passed away in 2009, was accused of child molestation in 1993, though never charged. In 2005, he was acquitted of seven counts of child molestation following a high-profile trial.
The King of Pop, who had always maintained his innocence, was also posthumously accused of molestation by Wade Robson.
In a newly unveiled trailer for her upcoming two-part documentary, Janet, "Rhythm Nation" singer Janet Jackson has addressed the allegations, admitting that she felt as though she was deemed to be "guilty by association" over the years.
Midway through the trailer for the documentary, which is set to air on Lifetime and A&E on January 28, the star was seen asking Jackson matriarch, Katherine Jackson: "Mother, how do you feel talking about Mike?"
"I can't," Katherine Jackson said in response, before her famous daughter later admitted: "There's a great deal of scrutiny that comes with having that last name."
A person off-camera asked the singer if the accusations directed at Michael Jackson had affected her career, prompting her to respond: "Yeah, guilty by association. I guess that's what they call it, right?"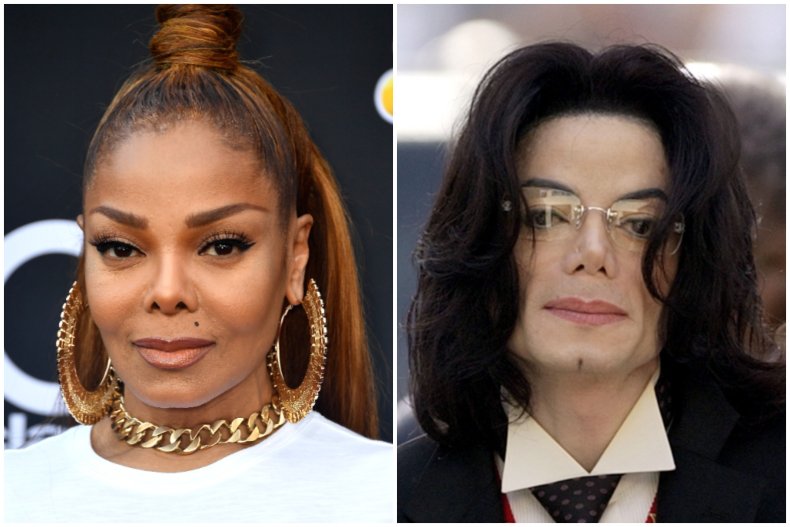 "They build you up, and then once you get there, they're so quick to tear you down," she was later heard saying in the trailer.
While the star has largely remained silent on the allegations, she did address the accusations made by Evan Chandler, who had accused Michael Jackson of molesting his then-13-year-old son back in 1993.
An out of court settlement was later reached.
Speaking on Amazon Prime's 2016 documentary Unmasked, Janet Jackson said: "Now if this really went on, do you think a father would accept money?"
"Do you think that would make everything OK? It doesn't make any sense," she continued. "If that was my son, I don't care if he gave me a billion dollars, I want to see you either behind bars or dead for doing that to my son."
She concluded: "It's crazy—the guy was after money—that is all he wanted."
Elsewhere in Janet Jackson's upcoming documentary, the controversy surrounding her notorious "wardrobe malfunction" at the 2004 Super Bowl was also covered.
As her half-time performance at the sporting event came to a close, guest performer Justin Timberlake tore away a part of her costume, briefly exposing her breast. Janet Jackson bore the brunt of the resulting backlash, while Timberlake's career continued to thrive.
A number of stars appear in the trailer for the documentary Janet, including Missy Elliott, Whoopi Goldberg, Mariah Carey, Ciara, Tyler Perry, Samuel L. Jackson, Regina King, Janelle Monáe, Q-Tip, Teyana Taylor, and Paula Abdul.
"This is my story, told by me. Not through someone else's eyes," Janet Jackson said when announcing her documentary last year. "This is the truth. Take it or leave it. Love it or hate it. This is me."
The documentary's release has been timed to coincide with the 40th anniversary of her eponymous debut album first hitting shelves.