Political leaders and senior defense officials in Tokyo have upped their concerns about the potential for conflict across the Taiwan Strait, further linking an attack on Taiwan to Japan's own national security this week.
China's Foreign Ministry said it expressed its "strong dissatisfaction and firm opposition" to Japanese counterparts on Thursday following remarks by Japanese Deputy Defense Minister Yasuhide Nakayama, who spoke on the mutual threat faced by Tokyo and Taipei during a forum hosted by Taiwanese think tanks the day before.
Nakayama likened the geographic and cultural proximity between Taiwan and Japan to his nose and mouth. "People say we are like friends, but we are not, we are family," he said, according to a report by the online newspaper Taiwan News. Nakayama made a similar analogy with his nose and eyes during a discussion with the Washington-based Hudson Institute in June.
The outspoken official said Taiwan was now a "key issue" in internal discussions in Japan's ruling Liberal Democratic Party (LDP). "The next leader's approach toward the Taiwan issue will be a major factor in determining whether they're fit for the job, no matter who they are," he was quoted as saying.
During the event co-hosted by the Taiwan NextGen Foundation, the Taiwan Foundation for Democracy and the Taiwan Society of Japan Studies, Nakayama reportedly repeated his opinion that Japan should reconsider its diplomatic arrangement with China. Tokyo switched allegiances from Taipei to Beijing in 1972—seven years before the United States—and unofficial ties with Taiwan have been guided by Japan's own "one China" policy.
At a regular press conference in Beijing, China's Foreign Ministry spokesperson Zhao Lijian called Nakayama's remarks "extremely ridiculous."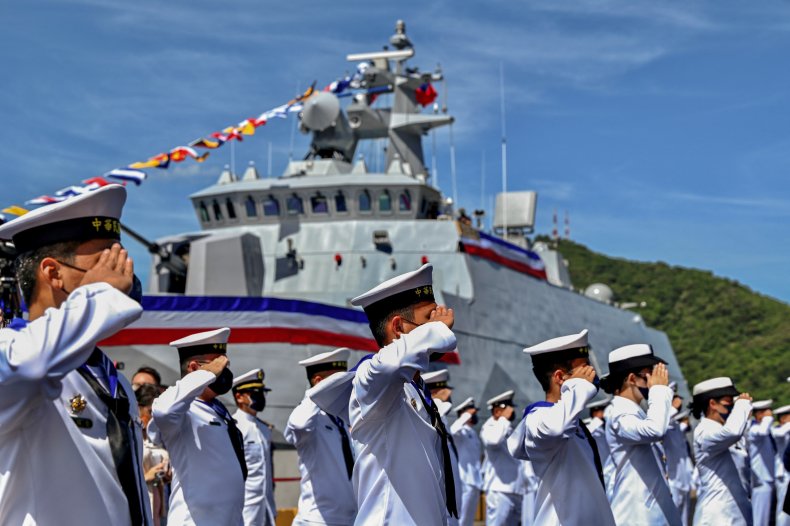 Also on Wednesday, LDP foreign affairs official Masahisa Sato told Taiwan's Institute for National Policy Research that Chinese leader Xi Jinping intends to seize Taiwan and would increase military pressure on the island between 2022 and 2027, said a report by the Central News Agency (CNA) in Taipei. The period indicated by Sato would come after Xi secures a likely third term and before the 100-year anniversary of the People's Liberation Army (PLA).
The U.S., Japan and Taiwan needed to "quickly establish" a mechanism for trilateral defense cooperation before it becomes "too late" to act, he was quoted as saying. Sato said the August security dialogue with Taiwan's ruling Democratic Progressive Party marked the beginning of intelligence sharing between the two governments.
According to the report, Sato described in some detail how a hypothetical Chinese attack on Taiwan would affect Japan. To strike military sites in eastern Taiwan, he said, PLA forces would need to cross the Miyako Strait and attack facilities including the Kadena U.S. Air Force base in Okinawa, where the majority of American troops in Japan are stationed.
The official said a blockade of Taiwan by China would threaten commercial shipping lanes in the Taiwan Strait and Bashi Channel that carry oil supplies to Japan and South Korea. Sato also stressed the importance of interoperability between the U.S. 7th Fleet and the Japan Maritime Self-Defense Force, CNA said.
On Tuesday, Japanese Defense Minister Nobuo Kishi told The Mainichi Shimbun that Japan would not be able to remove itself from developments in Taiwan, the stability of which is important to Japan's security and linked to the peace and stability of the international community.
The intensive Taiwan-related discussions also included remarks by LDP leadership contender Fumio Kishida on the same day. He told The Wall Street Journal that Taiwan was at the "front line of the clash between authoritarianism and democracy."
"We cannot respond except by cooperating with our ally, the U.S. It's important to conduct simulations for this," he said.