Jared Kushner Describes Steve Bannon's Threats: 'I Will Break You in Half'
Former senior adviser to the president Jared Kushner is laying out the details of his rocky relationship with former White House strategist Steve Bannon in his new memoir, including a time when Bannon threatened to to break him "in half" if he turned on him.
According to an excerpt from Breaking History: A White House Memoir obtained by CNN's Kaitlan Collins, Kushner described how Bannon once screamed at him in the Cabinet Room after he confronted Bannon about leaking negative information about other members of Trump's White House staff.
Kushner wrote that in response, Bannon accused him of being "the one undermining the President's agenda."
"If you go against me, I will break you in half. Don't f**k with me," Kushner recalled Bannon yelling at him.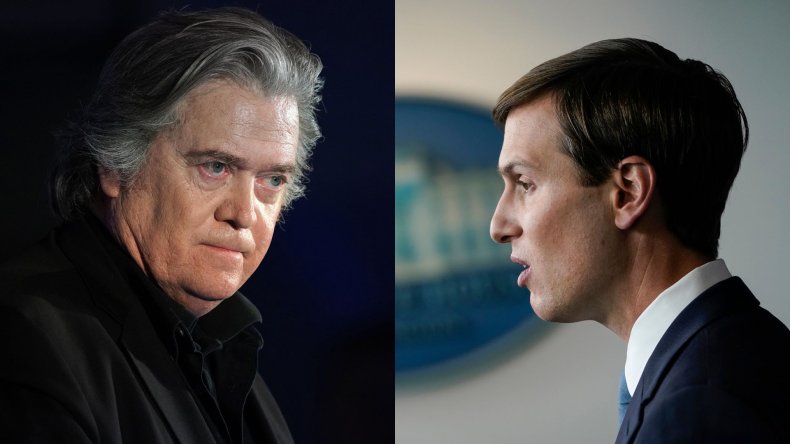 In his memoir, which is set to publish on August 23, Trump's son-in-law described Bannon as having "a black belt in the dark arts of media manipulation" and called his presence in the White House "toxic."
In another incident, Kushner said Bannon exploded at him after he spoke to the press at the behest of former White House Chief of Staff Reince Preibus.
"How f—ing dare you leak on me? If you leak out on me, I can leak out on you 28 ways from Sunday," Bannon reportedly said to Kushner.
Kushner described a culture in which Bannon repeatedly leaked information to the press, which "single-handedly caused more problems for me than anyone else in my time in Washington."
He said that it was so pervasive that when Bannon was fired by Trump in August of 2017, former Trump adviser Stephen Miller joked that they would split up Bannon's workload by giving Kushner and former White House Communications Director Hope Hicks each an outlet to leak information to.
Despite the "war" that Kushner described Bannon waging on him in the White House, Kushner said he still felt obligated to help Bannon secure a presidential pardon before Trump left office. Bannon had been charged with defrauding donors as part of a fundraising campaign related to Trump's border wall.
"[Bannon] probably leaked and lied about me more than everyone else combined. He played dirty and dragged me into the mud of the Russia investigation," Kushner wrote. "But now that he was in trouble, I felt like helping him was the right thing to do."
Kushner said that even Trump was shocked he didn't oppose the idea, asking his son-in-law, "Seriously? You would really be for that? After everything he did to you?"
Bannon was eventually granted a pardon in a last-minute decision made just hours before Trump left the White House for the last time.
"Mr. Bannon has been an important leader in the conservative movement and is known for his political acumen," White House Press Secretary Kayleigh McEnany said in a statement announcing the move.
Newsweek reached out to Bannon for comment.