"Shame on You, Jared Kushner": Former Classmates Slam Trump's Son-In-Law and Advisor
Former classmates have roasted Jared Kushner in an anniversary report book, according to political campaigner and fellow Harvard University class of 2003 alum, Ben Wikler.
Wikler posted images of what appear to be excerpts from the class's 15th Anniversary Report on Twitter. Comments in some images directly slam President Donald Trump's son-in-law, while others appear to allude to his involvement in policy decisions.
All classmates are invited to contribute to the report, but Kushner, Wikler stated, appears to have abstained. His fellow classmates, it seems, made up for his lack of comment.
According to the photographs, one student who describes herself as the granddaughter of "Holocaust-fleeing German immigrants" decried the current political state of the U.S. "Mostly, I feel low-grade, constant horror as I watch attacks on refugees, minorities, my most at-risk patients, women's rights, and the environment, and new threats of of nuclear war," one of the photographs reads. "Our classmate Jared Kushner surely knows that climate change is real, and yet he watches as regulations are dismantled daily. Shame on you, Jared Kushner."
Another student appears to be impressed by the diverse nature of their old class. One image reads: "I, for one, am actually glad our Class of '03 finally has a real, live fascist among us. Who says Harvard isn't diverse? I've always wanted to meet someone who is as unfamiliar with the principles of democratic self-government as he is with how to grow a beard."
Although the photograph doesn't specifically refer to Kushner, the senior advisor to Donald Trump is known to lack facial hair.
The comment continues: "Our most infamous class member probably won't even attend the Reunion; life's busy when you're unwittingly shooting the History Channel documentaries of tomorrow...By the time this is circulated, maybe this entire gangster administration will have jumped bail and taken up residence in the authoritarian regimes of their choice."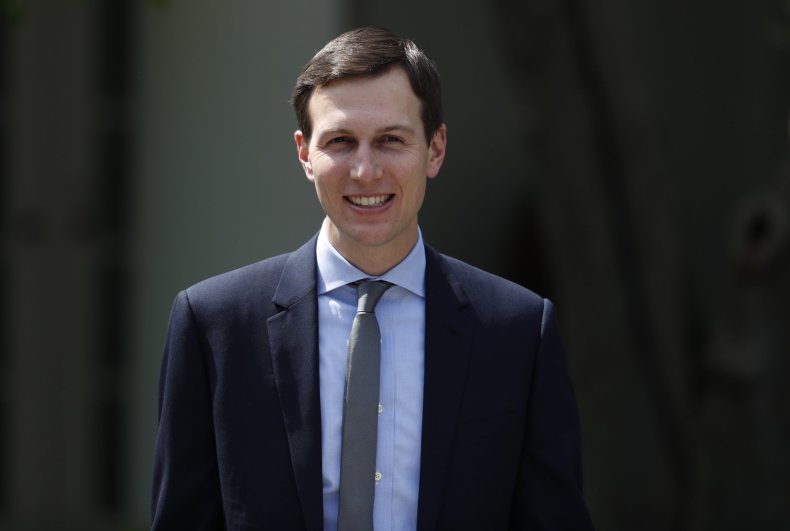 Although the following quote doesn't explicitly name Kushner, it's hard to imagine who else it could refer to: "I think what I'm most proud of...is what I've managed to avoid during the past five years. I haven't been accused of making false statements on or material submissions from security clearance disclosure forms. I haven't been accused of colluding with representatives of a foreign government to affect the outcome of an election. I haven't been accused of using my government position to sell visas to foreign investors in my family's businesses. I haven't been sued for mistreating tenants or violating rental laws," one image reads.
"I think we can all be better than that," it concludes.
One commentator used a haiku to express their discontent, according to an image which reads: "Real tough world right now / Our classmate involved??? / Get out of there now."
The class report website describes its anniversary reports as "historical chronicles of classes." They "encourage alumni to maintain connections with each other and the College through the sharing of current contact information, family and professional news, and in-depth life stories."
Wikler, who is Washington Director at campaign group MoveOn, hosted podcast "The Good Fight." The podcast, which has been reviewed by outlets including the Guardian, appears to be on hold.
Kushner graduated from Harvard University in 2003 with a Bachelor of Arts in government. It's hard to say how involved he is in alumni life, but, according to the university's alumni website, Kushner's not yet signed up for May 24's class reunion.
Wikler, the White House and Harvard University's Class Report Office did not immediately respond to Newsweek's requests for comment.