Jared Kushner Says Saudi Arabia Is 'Strong Ally' After It Admits to Killing Jamal Khashoggi
President Donald Trump's son-in-law and senior adviser defended ties between the United States and Saudi Arabia after the kingdom finally admitted that journalist Jamal Khashoggi had been killed inside its Istanbul consulate.
Jared Kushner, who has a close relationship with the Saudi royal family, declined to implicate Riyadh directly in the killing of Khashoggi, a Saudi writer and government critic who Saudi Arabia now claims died in a fistfight in its Istanbul consulate after initially denying any involvement in his disappearance earlier this month. In an interview Monday at a CNN event, Kushner said that Washington was "more in the fact-finding phase" of its own investigation.
"The Middle East is a rough place. It's been a rough place for a very long time," he said during an appearance on CNN's Citizen program. "We have to be able to pursue our strategic objectives. But we also have to deal with what is obviously a terrible situation.
"We have to be able to work with our allies, and Saudi Arabia has, I think, been a very strong ally in terms of pushing back on Iran's aggression," Kushner continued.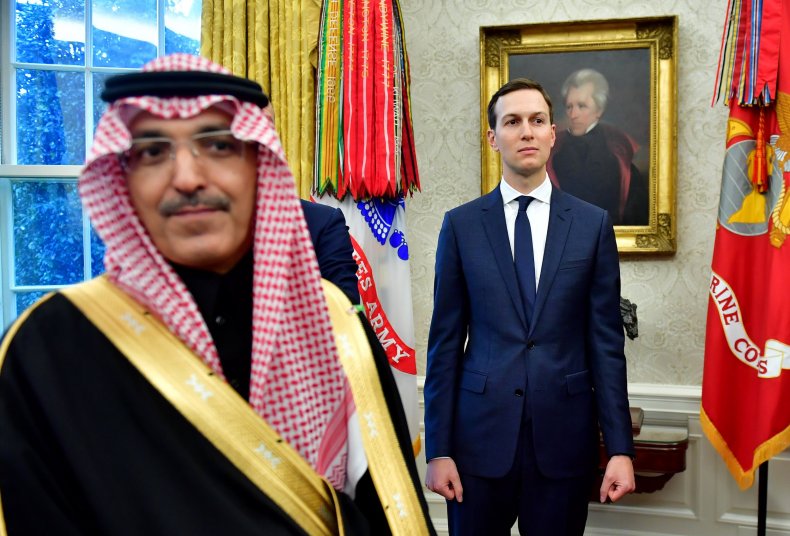 Saudi Arabia has long been a U.S. ally in the Middle East and is the country's leading weapons export partner. The U.S. and Saudi Arabia have grown even closer in recent years, joining Israel—another country in which Kushner has close ties—in forming an informal alliance against Iran. The Sunni Muslim monarchy in Riyadh and the revolutionary Shiite Muslim theocracy in Tehran have been at odds for decades, but the Trump administration's hardline stance against Iran has helped further empower Saudi Arabia.
Trump initially hesitated to indict Saudi Arabia when Khashoggi, a U.S. resident who wrote for The Washington Post, suspiciously went missing after entering Riyadh's consulate in Istanbul. The Saudi government initially denied any involvement but as Turkish authorities gathered mounting evidence that pointed toward foul play, the kingdom announced late Friday that 18 of its nationals had been arrested and top intelligence officials dismissed in connection with Khashoggi's death, which it claimed was the result of a fistfight.
Saudi Arabia maintained that its royal leadership, including King Salman and Crown Prince Mohammed bin Salman, had nothing to do with the killing. Already under pressure in Washington to condemn Riyadh, Trump initially said on Friday that he believed the Saudi account but told The Washington Post the following day that "obviously there's been deception, and there's been lies."
Asked whether he himself had observed any such behavior on the part of the Saudi leadership during the ongoing probe, Kushner told CNN, "I see things that are deceptive every day. I see them in the Middle East, I see them in Washington. I think our eyes are wide open.
"Again, the president's focused on what's good for America, what are our strategic interests, where do we share interests with other countries, let's work toward those," continued Kushner. "But yeah, every day we deal with people who are trying to deceive us in different ways. Our job is to see through it, but also to stay focused on what's best for the American people and the president is fully committed to doing that."
The relationship between the U.S. and Saudi Arabia has come under increased scrutiny, however, as a result of the Khashoggi case and accusations of widespread human rights abuses amid the kingdom's war against a Zaidi Shiite Muslim rebel group known as the Houthis or Ansar Allah in neighboring Yemen. Lawmakers have called for investigations into these alleged war crimes, as well as into allegations that Kushner has leaked classified information to Saudi Arabia.