Who Still Sells Weapons to Saudi Arabia? Spain Joins Others to Cancel Arms Deal, but Some Want to Sell More
Saudi Arabia's leading role in the war against a Zaidi Shiite Muslim rebel group known as the Houthis in Yemen has drawn allegations of widespread human rights abuse, alienating some nations on an extensive list of willing arms sellers to the kingdom.
Spain said on Monday it would begin contract talks with Saudi Arabia after last week Madrid became the latest Western government to cancel an arms sale to Riyadh amid mounting reports that the Saudi-led forces battling the Houthis, or Ansar Allah, were involved in deaths of potentially thousands of civilians.
The deal in question dealt with the sale of 400 laser-guided bombs, which Saudi Arabia and its allies argue they drop with precision against legitimate targets in Yemen.
"Decisions will be made according to a bilateral framework between two countries that are partners and have signed a contract and it will be resolved amicably," Spanish Defense Minister Margarita Robles told the country's senate, according to Reuters.
A number of other Western countries have also stepped back their military assistance to Saudi Arabia over its involvement in Yemen, which the United Nations has said is experiencing the world's worst humanitarian crisis.
However, Pieter Wezeman, a senior researcher of the Arms Transfers and Military Expenditure Programme at Stockholm International Peace Research Institute (SIPRI), told Newsweek that he did not anticipate seeing significant changes in the flow of arms to the Sunni Muslim monarchy.
"I don't expect that we see a really large amount of movement in order to restrict arms transfers to Saudi Arabia," Wezeman said, noting that even Spain would likely continue to supply crucial refueling aircraft to Saudi Arabia. "I think it will most likely remain limited to the countries that we see."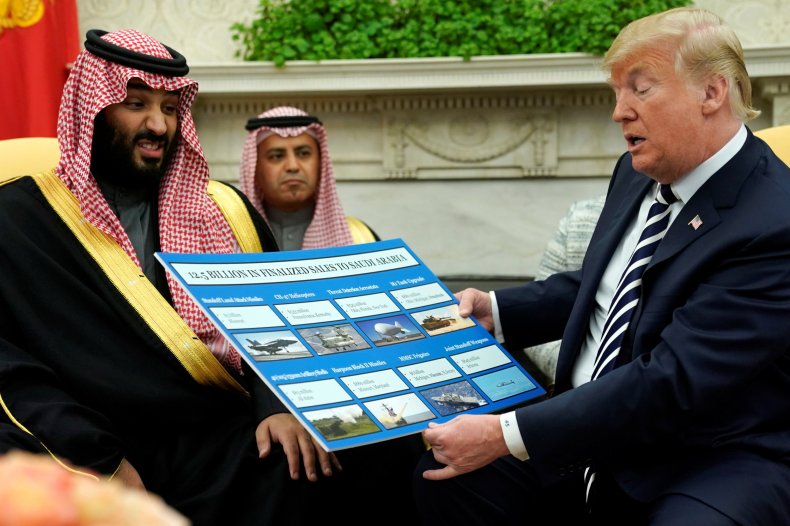 He noted that this list has grown in the years since the conflict in Yemen began. Saudi Arabia launched its military intervention in Yemen alongside mostly Arab allies and with U.S. support in 2015, shortly after the Houthis took advantage of popular protests against Yemeni President Abed Rabbo Mansour Hadi to oust him from the capital.
Saudi Arabia—along with regional allies the U.S. and Israel—view the group as a proxy for Iran, which has politically supported the rebels but denies supplying them directly with the ballistic missiles they routinely fire at the Saudi-led forces and the kingdom itself.
While the origin of Houthi weapons remains a matter of dispute, Saudi Arabia has boasted a wide range of international backers, some of which have expressed concern over the targeting methods employed by the Saudi-led coalition.
In one notable incident last month, Saudi Arabia bombed a bus that it initially said was full of enemy combatants. Yet just last week it admitted "mistakes in compliance to the Rules of Engagement" that it "expressed regret" for, according to the official Saudi Press Agency, suggesting reports that the bus was full of children, as featured on CNN, were credible.
This airstrike followed countless others that reportedly hit scores of Yemeni civilians at weddings, funeral processions and crowded markets, leaving Saudi Arabia's international sponsors concerned. Belgium, Finland, Germany, the Netherlands, Norway and Sweden have since canceled arms deals and cut assistance to varying degrees.
In light of a recent diplomatic spat, Canada and Saudi Arabia have ceased all trade, including military equipment, and Wezeman said that Italy had raised the discussion of ending such weapons sales.
Still, Saudi Arabia retains many supporters abroad. Some countries, such as the U.S., are even looking to increase their military ties to the Gulf state despite lawmakers increasingly questioning this relationship at home.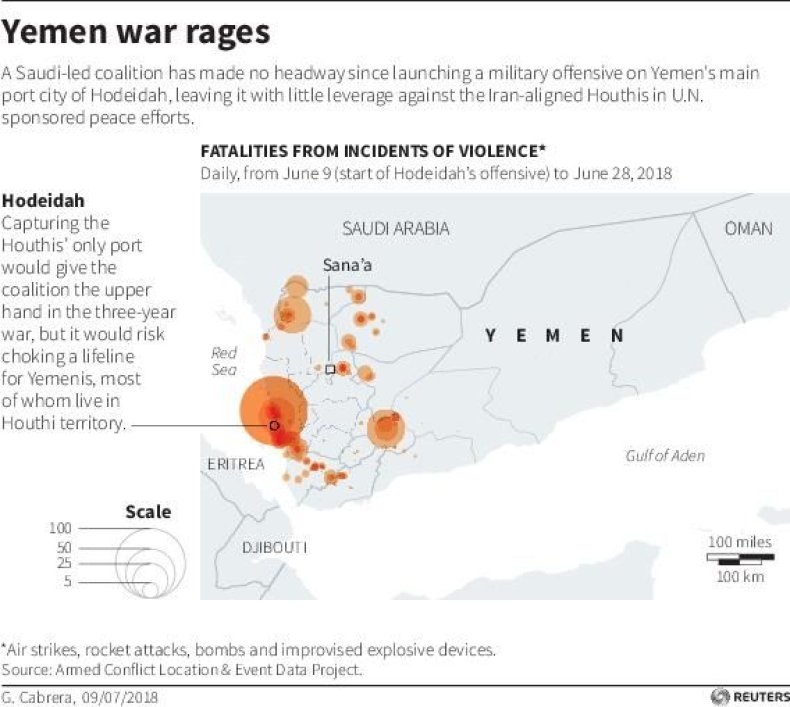 Despite the fact that it was likely a U.S. bomb that killed more than 50 people, including 40 children, in Saudi's bus bombing last month, Defense Secretary James Mattis claimed weeks later that the U.S. was only "watching" the conflict unfold.
He said the Pentagon was only interested in battling Al-Qaeda and the Islamic State militant group (ISIS), despite reports featured last month by the Associated Press and last year by Just Security in Newsweek suggesting that the U.S. was actually assisting Al-Qaeda fighters in spite of their mutual Houthi foe.
Trump has grown closer to Saudi Arabia and its crown prince, Mohammed bin Salman, and has pledged further weapons sales to the kingdom. And the U.S. is not alone in doing so: The U.K., France and China remain major sellers to Saudi Arabia, with South Korea recently joining by reportedly providing anti-tank missiles.
Turkey and a number of Eastern European countries also sent weapons and military equipment with others, such as Brazil, potentially joining the mix. Russia too has offered to cut a deal for weapons, including its S-400 missile defense system.
In fact, from 2013 to 2017, Saudi Arabia was the world's second largest arms importer—only behind India—with more than 98 percent of its imports coming from the U.S. and European states, according to SIPRI's March report.
Even with all these guns, Wezeman noted that "seeking a military solution to the situation in Yemen seems hopeless, especially the way Saudi Arabia seems to be going about it," and said restricting arms sales was a viable way to apply pressure and expedite a diplomatic framework that may ultimately end the conflict.