Jason Clarke on Going 'Too Far' With Jerry West's Anger in 'Winning Time'
NBA and LA Lakers legend Jerry West has demanded a retraction from the creators of Winning Time over how actor Jason Clarke portrays him in the HBO biopic.
Before the launch of the series, Clarke spoke to Newsweek about his performance as West in the show and specifically, about the rage-induced scenes which West seems to have a problem with.
A letter from West's lawyers, obtained by ESPN, has been supported by people who are also portrayed in Winning Time: Kareem Abdul-Jabbar, Claire Rothman and Michael Cooper. Each of them shared a character reference for West which contradicts his depiction in Winning Time: The Rise of the Lakers Dynasty on HBO.
Before the launch of the show in February, Clarke told Newsweek how it felt to be cast in the role. "Jerry West in the Lakers? I had no idea that Max [Borenstein] was going to give me a call and sit down and say, 'Listen, you're Jerry West'," Clarke said. "Then I went down the rabbit hole of who Jerry West was and didn't realize how lucky I was to get the call in the first place."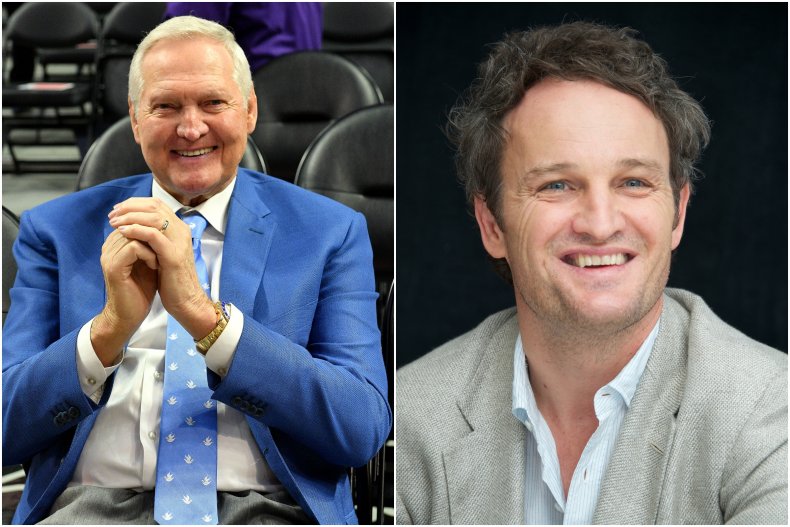 West played an integral part in the LA Lakers success throughout the 1980s despite stepping down as head coach. From the very first episode of the show, West is portrayed as a man with anger issues, as he smashes up his own office and throws his NBA trophy through a window.
Newsweek asked Clarke what direction he was given in these scenes where he's acting like a bull in a china shop. Clarke said each of the show's directors actually handled him with a light touch, allowing him to make his own decisions.
"Adam [McKay[ sets a very good style of like, 'here's the room, play' you know?" Clarke continued, "There's no need to over direct. It's so well written, you just put the boat on the water and wind it up, and see how far you want to go really.
"There's a scene with John [C. Reilly] and I, when I tell him I'm quitting, and he actually trashes the room, you know, and you find your boundaries."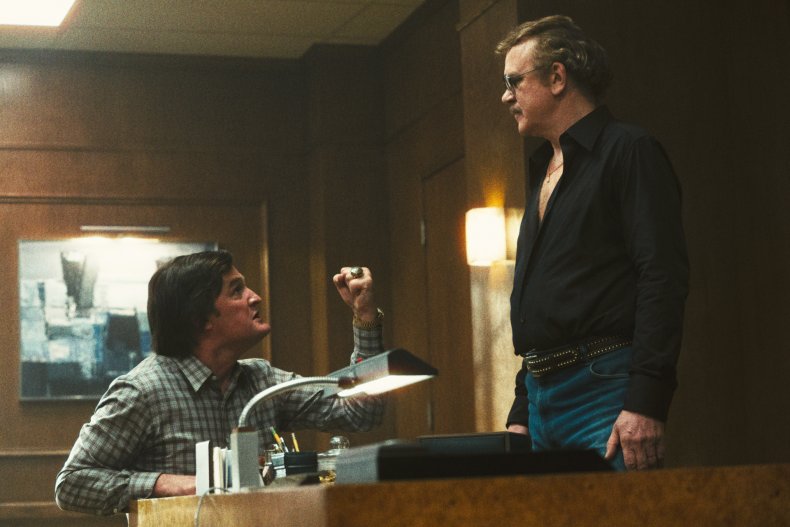 Don't Look Up director Adam McKay executive produces the show but directed the first episode while actor Jonah Hill came in to direct the second episode of Winning Time.
"That's the wonderful thing about a great director," Clarke said, "Jonah directed the second episode and he'll sort of say 'find it', that's the only way to own something is to find it yourself, rather than be told how to do this."
In the letter to HBO and McKay, West's lawyers take umbrage at what they call a "deliberately false characterization that has caused great distress to Jerry and his family." Skip Miller, a partner at the Miller Barondess LLP law firm in Los Angeles and attorney for West said, "Contrary to the baseless portrayal in the HBO series, Jerry had nothing but love for and harmony with the Lakers organization, and in particular owner Dr. Jerry Buss.
"It is a travesty that HBO has knowingly demeaned him for shock value and the pursuit of ratings. As an act of common decency, HBO and the producers owe Jerry a public apology and at the very least should retract their baseless and defamatory portrayal of him."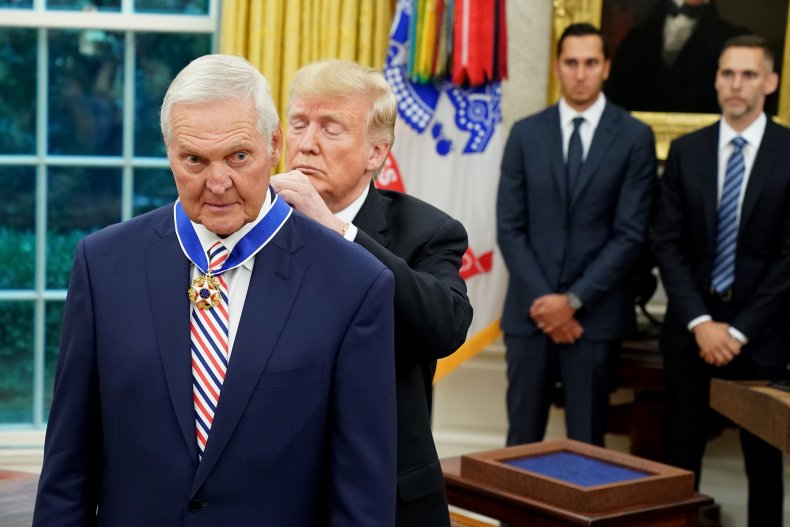 West, 83, was an LA Lakers player before becoming the team's coach, eventually moving on to become an executive at the franchise for over 20 years. West, whose likeness is used in the official NBA logo, is currently an executive board member at the Los Angeles Clippers.
On his screen portrayal as West, Clarke said he and the other actors on set were given the freedom to explore the characters until the point where they go "too far."
"I've been on sets where there's so much pressure, like someone's gonna get sacked because of this scene here, or this or that." he continued, "But you've got to be given that impetus to go and feel the edge of the frame or go 'okay. Well I've gone through now. Too far' and that was prevalent. That's what I'd say an Adam McKay set is."
While Clarke says he and the actors were allowed to find their own boundaries of their characters within the scene, the real Kareem Abdul-Jabbar (who is played by Solomon Hughes in the show) agreed with West that they did in fact go too far. "Instead of exploring his issues with compassion as a way to better understand the man, they turn him into a Wile E. Coyote cartoon to be laughed at," he said in a statement obtained by ESPN. "He never broke golf clubs, he didn't throw his trophy through the window. Sure, those actions make dramatic moments, but they reek of facile exploitation of the man rather than exploration of character."
Winning Time: The Rise of the Lakers Dynasty was created by Max Borenstein and Jim Hecht, and based on Jeff Pearlman's book Showtime: Magic, Kareem, Riley, and the Los Angeles Lakers Dynasty of the 1980s.
West's lawyers allege that the series creators acted with "legal malice" as the scenes involving West's rage did not appear in Pearlman's book and "did not happen."
Newsweek has contacted Warner Bros Discovery, HBO's parent company, and the show's co-creator Borenstein for comment.
Winning Time: The Rise of the Lakers Dynasty is currently airing the first season on HBO and HBO Max, with a second season already confirmed.
Season 1, Episode 8 will air on Sunday night on HBO at 9 p.m. ET. New episodes air every Sunday with the season finale scheduled for May 8, 2022.