Vincent Vermignon on Bringing Jean-Xavier de Lestrade to 'The Staircase'
The Staircase on HBO Max is the gripping true-crime series about the case of Michael Peterson that everybody is talking about.
On December 9, 2001, Michael Peterson's wife, Kathleen Peterson, was found dead at the bottom of the staircase in their North Carolina home. He was charged with her murder, convicted, and sentenced to life in prison until he walked a free man in 2017. Michael Peterson has always maintained his innocence.
You have probably heard of The Staircase before or are familiar with the trial of Michael Peterson ahead of the HBO Max series, all thanks to French writer, director, and producer Jean-Xavier de Lestrade who is behind Netflix's 13-part mega documentary series, The Staircase.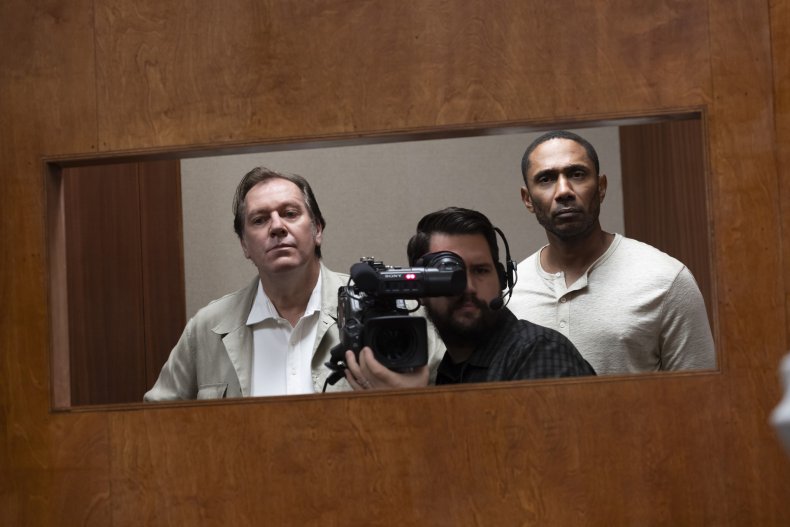 However, if you are new to the world of The Staircase, you may have been wondering why there is a documentary crew in the HBO series, and you may even recognize the name Jean-Xavier de Lestrade from the first few episodes.
Played by French actor and Luther star Vincent Vermignon, The Staircase creators decided to include Jean-Xavier de Lestrade in their vision of the Michael Peterson trial, as he was very much a presence and a focus in Peterson's life for 14 years.
His coverage in his documentary brought Peterson's case to worldwide attention, leading audiences to question if Michael Peterson did kill Kathleen Peterson or not, with the debate still ongoing today among true-crime enthusiasts.
Vermignon told Newsweek what it was like to embody the role of Jean Xavier de Lestrade in HBO Max's The Staircase. Of course, de Lestrade is a real person, so Vermignon had a lot of material to work with.
To prepare for the role, Vermignon was in contact with the real de Lestrade. He recalled: "I was lucky enough to spend enough time with them [de Lestrade], in order to prepare my character, he was very, generous, very open.
"He told me how he felt about all this experience on The Staircase, and some hidden facts and some hidden stories about what happened, and it was just amazing to be able to talk to the guy and you have so much material to prepare for that part."
The real de Lestrade began following Michael Peterson in the aftermath of his wife's death and during his trial between 2001 and 2003. Peterson's family and children appeared throughout the documentary and de Lestrade also had access to the courtroom and defense attorneys. In 2003, Michael Peterson was convicted of Kathleen Peterson's murder and sentenced to life in prison without parole.
In 2017, Peterson submitted an Alford plea to the reduced charge of voluntary manslaughter, meaning he admitted that the evidence against him would likely lead to a finding of guilty beyond a reasonable doubt, but he maintained his innocence. He was sentenced to time served and became a free man.
The first part of de Lestrade's (unplanned) 13-episode long documentary series was completed in September 2004 and premiered in October 2004 on Canal+, in January 2005 on BBC Four, and in April 2005 on the Sundance Channel.
De Lestrade then returned to film Peterson and his family in 2012 and 2013, following Peterson's release from prison on bond, ahead of a retrial. A two-hour special focusing on the events was released and up until 2017, de Lestrade continued to visit the Peterson family and film them, providing updates on the case.
One year later, Netflix released all 13 episodes onto the streaming platform and de Lestrade's documentary became one of the most memorable cases in the true-crime world.
Vermignon described his role as de Lestrade being like a "ghost on set," capturing everything taking place in the Peterson household.
He shared: "As a documentarian, you had to be very discreet and a bit like a ghost on set in order to catch as much true life as possible, but I also had to build rapport with the people involved. So, that was a very complex thing to do, to be very discreet but at the same time to be trusted enough to let people open up to him."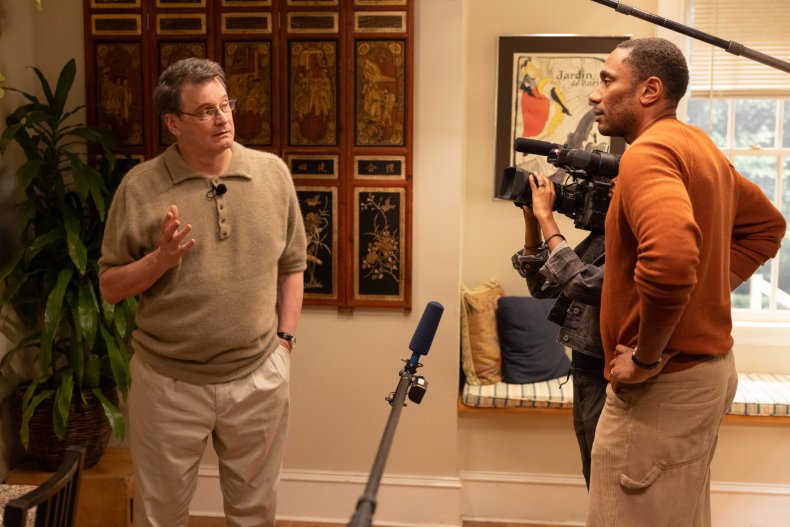 As The Staircase on HBO Max is a dramatized version of events and not a documentary, Vermignon explained how he had to find the "right balance" between fact and fiction to bring de Lestrade's role in Peterson's life to the small screen.
He explained: "The key thing was to find the right balance between the fact that he is a real character and is still alive and is real, but we also are in fiction, so I had to be inspired by him and to gather as much as much information as possible.
"I also had to discuss with [director] Antonio Campos, because they had an overall vision of the fiction. So I asked him many times, 'how close do you want me to be from actual Jean-Xavier?' We had all these conversations and we had to make some compromises. It really is like a recipe, 'I'm going to put 75 percent of that, and then you've got to put it with that then that,' and then we agreed on an overall vision of the character that will really serve the entire story."
Vermignon was also able to shed a light on what it was like for the real de Lestrade to work with Michael Peterson and how he embodied their inevitable real-life connection in The Staircase
He said: "That [relationship with Michael Peterson] was very, very tricky for Jean-Xavier because he was supposed to spend the same amount of time between the prosecution and the defense.
"He was supposed to spend time with Jim Hardin [Durham County prosecutor] and Freda Black [Durham County prosecutor], but they closed their doors so finally 80 percent of the documentary was about the Peterson family and when you spend two years with the same people all the time....we are humans. So sometimes we can get attached.
"So, it was really sometimes very, very difficult for him because you had to stay in his documentarian shoes, but he's a human being and filming this version of these people all the time. That was, I think, for him, the biggest challenge was to keep his objectivity.
"We don't realize, because when we watch the documentary, and when we watch TV drama show, he did 50 return trips to Paris, and Durham and the entire case lasts for 16 years, overall. So they spent so much time together, and there is so much material that within the in the documentary, this case changed his life."
The Staircase airs Thursdays on HBO Max and Sky Atlantic.