Billionaire Jeff Bezos has been slammed online after he attacked President Joe Biden for blaming gas companies for setting high prices at the pumps.
In a July 3 tweet, Biden said: "My message to the companies running gas stations and setting prices at the pump is simple: This is a time of war and global peril. Bring down the price you are charging at the pump to reflect the cost you're paying for the product. And do it now."
His comment came as Americans continue to navigate crippling inflation over the July 4 holiday weekend.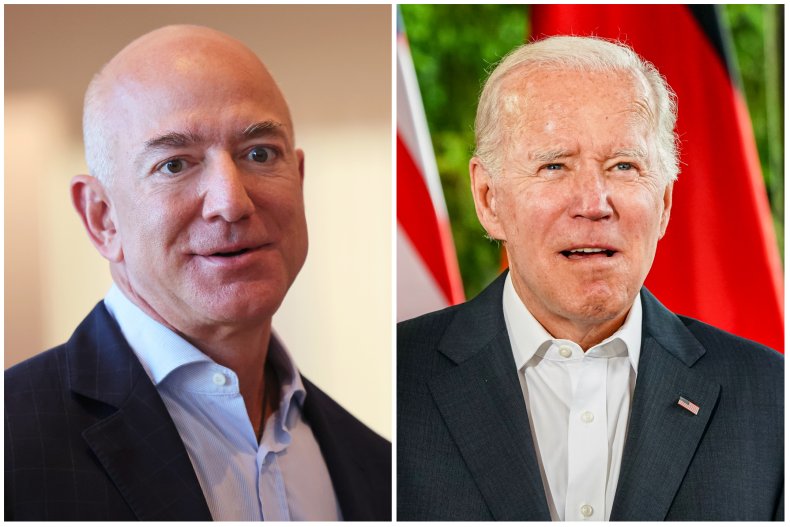 Americans face paying a staggering average of $4.812 for gas, according to gasprices.aaa.com. The website said in 2021 the national average for gas was $3.127.
The Amazon CEO soon stepped in and berated the Democrat for pleading with gas companies to bring down their prices.
Bezos said in a tweet shared the same day as Biden's: "Ouch. Inflation is far too important a problem for the White House to keep making statements like this. It's either straight ahead misdirection or a deep misunderstanding of basic market dynamics."
Bezos' comment did not go unnoticed, however, and while many praised the billionaire, there were many who hit out at him for his previous vocal support for Biden, including an Instagram post where he congratulated the Democrat for winning the 2020 presidential election.
Whistleblower Edward Snowden, who was granted asylum by Russia in 2013, simply tweeted: "Buyer's remorse."
Pedro L. Gonzalez, associate editor at Chronicles magazine, said: "Bezos criticizing is ironic because: as a company, Amazon overwhelmingly supports Biden.
"Bezos pours hundreds of millions of dollars into the Democratic Party's machine. Bezos owns the Washington Post, which does nothing but run cover for Biden."
Other commentators said they had no patience for a billionaire complaining about inflation and gas prices.
Aaron Huertas, former communications director for the U.S. House Select Committee on the Climate Crisis, said: "The billionaires are on Twitter and constantly setting themselves up to be trolled. @POTUS or @WHCOS (White House Chief of Staff) or @SecMartyWalsh should be dunking on this.
"Nobody wants to hear about gas prices from an out-of-touch union-busting wannabe space cowboy."
Newsweek has contacted Amazon and the White House for comment.
Bezos has shared his critical views on politicians and fellow billionaires on Twitter on multiple occasions.
Earlier this year, the second richest person in the world raised questions about Elon Musk's takeover of Twitter.
In a tweet responding to New York Times reporter Mike Forsythe listing the way Tesla is dependent on the Chinese market and raw materials produced in the country, the Amazon founder said: "Did the Chinese government just gain a bit of leverage over the town square?"