David Dobrik Accused of Endangering Jeff Wittek's Life With Dangerous Stunt
YouTuber David Dobrik has come under scrutiny again after fellow Vlog Squad member Jeff Wittek accused him of endangering his life during a prank.
On Sunday, Wittel launched a multi-video YouTube documentary series about his life, in which he discussed photos and videos showing him with a black eye and scars on his face.
The 31-year-old revealed that he had sustained a life-threatening injury—and blames Dobrik.
He shared footage of a prank showing the group of vloggers placing an excavator vehicle in a lake and swinging people around from a rope. Various individuals are seen taking part in the dangerous-looking stunt.
"I just jumped out of a plane 20 times. What's the worst that could happen if I swing from a rope over a one-foot deep lake?" Wittek said in the YouTube documentary.
However, Dobrik was operating the vehicle.
"I didn't know I was gonna go that fast," Wittek said. "So I grabbed the rope, and I tried to make a goddamn funny video for people. But this is where I made a mistake. I forgot that the biggest f****** idiot I know was driving it."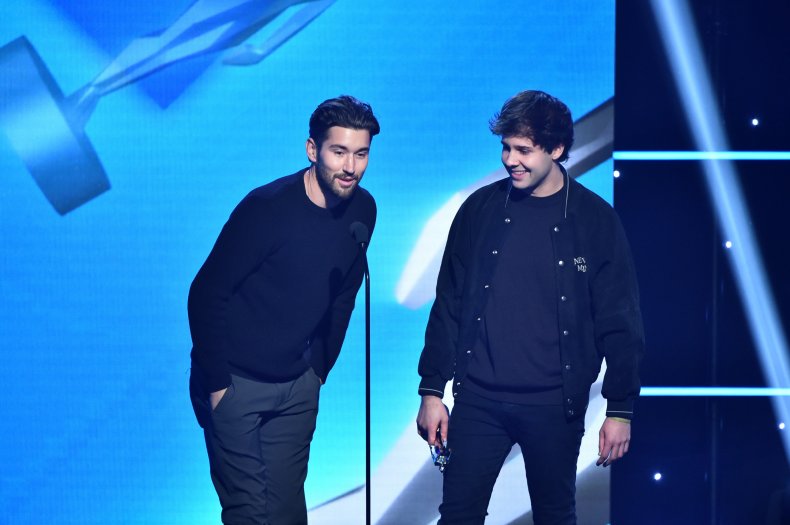 The distressing footage, which is being heavily circulated on Twitter, shows the rope spinning faster and going higher as Wittek seems to be struggling to hold on.
He then appears to fall and land headfirst in the shallow water. The clip cuts to dozens of people who were watching from the shore as they rush to help Wittek.
"The whole side of his face is just open," one of his friends says in the video. Another adds: "And nobody could do anything to stop it."
Wittek's injuries were first revealed in an Instagram post last June. His eye injury came from a separate incident while skydiving, but he explained that he "broke my face and skull in a few places" during another unspecified accident. It seems likely that this is the excavator prank involving Dobrik, which is set to be explored in upcoming episodes of Wittek's documentary.
In the documentary's teaser, Wittek details some of the injuries he sustained skydiving.
In the clip, a doctor tells the YouTuber: "If that would have entered 3 millimeters higher, and been on the same angle, it would have cut your eye right in half."
The doctor adds that Wittek "would have died" if the object was a few inches the other way.
In a recent appearance on the Frenemies podcast with Ethan Klein and Trisha Paytas, Wittek was asked about his injury but declined to comment.
The Vlog Squad has become embroiled in various controversies in recent months, with Dobrik being "demonetized" by YouTube and dropped by many of his sponsors as a result. A former member of the group, Dominykas Zeglaitis, has been accused of sexual assault, which he denies.
Dobrik has also been accused of sexual misconduct by Seth Francois and has released two apology videos in recent weeks.
"I just want to make videos where everyone who is participating is enjoying and having a good time. I missed the mark with that one," Dobrik said in a video posted on March 17. "I am really sorry."
Wittek himself came under fire recently when Paytas told Business Insider that Wittek supplied alcohol to underage teens—a claim he denies.