Jeffrey Epstein's death two years ago today shocked the world, robbed his victims of justice and sparked conspiracy theories about an assassination.
The New York financier was found dead in his cell at the Metropolitan Correctional Center (MCC) on August 10, 2019, weeks after being remanded on new sex abuse allegations.
Earlier, in 2008, he pleaded guilty to soliciting prostitution from a minor and was given an 18-month sentence, through a much criticized plea bargain. He was released on probation after 13 months. A fresh prosecution on sex trafficking charges was launched against him in 2019.
New York City's medical examiner ruled Epstein's death a suicide but questions over CCTV and his injuries have sparked vigorous debate.
On the second anniversary of his death many issues remain pressing.
Epstein's Death in Prison and Missing CCTV
Jeffrey Epstein's death in custody sparked feverish speculation after the MCC initially said CCTV of the area outside his cell on the night he died was missing.
However, the tapes were eventually found and revealed no-one entered his cell after him on the night he died, CNBC reported in December 2019.
By the time the video was unearthed, however, the feeling that things were not as they should be had already taken hold for many.
The situation was not helped when prison guards were accused of falsifying records to make it look like they had performed checks on Epstein, when in actual fact they had not.
Prison guards Tova Noel and Michael Thomas were charged with lying on prison records and accused of sleeping and browsing the internet when they should have been monitoring the New York financier.
The pair reached a deal with prosecutors which saw them avoid jail time.
Were Jeffrey Epstein's Injuries Consistent With a Suicide?
Jeffrey Epstein's brother requested a second autopsy after the death which was conducted by Dr. Michael Baden.
The forensic pathologist told Fox News the death appeared to be "more indicative of homicide."
David Schoen, Epstein's lawyer, told Newsweek in February 2021 how he has doubts over the official ruling that financier's death was a suicide, citing Dr. Baden's evidence.
Schoen described how "after examining Mr. Epstein following his death he concluded that in thousands of autopsies he had performed he never saw injuries like Mr. Epstein's consistent with suicide."
He told Newsweek: "That strikes me as a powerful assessment that cannot be discounted. Further he finds it inexplicable that immediately following the exam, the official medical examiner reported the cause of death as inconclusive and then changed it to suicide days later without further evidence.
"I place a good deal of stock in Dr. Baden's view and therefore think there is a significant question as to whether Mr. Epstein's death was a suicide."
Was Epstein Being Intimidated By Inmates?
Epstein was found unconscious in his cell after an apparent suicide attempt on July 23, 2019, two weeks before his death.
Fellow prisoner Michael "Miles" Tisdale later told biographer Barry Levine how he asked Epstein what had happened afterwards.
Quoted in book The Spider, he said: "All he [Epstein] did is make a strangling motion to himself with his hands around his neck and I said, 'Someone else tried to strangle you?' and he gave me a little nod."
Tisdale painted a picture of the final weeks of Epstein's life dominated by fear of other prisoners and attempts to extort him.
He added: "Other inmates tried to extort him... they tried to control him by selling him commissary items for way above what they're supposed to be sold for."
Was Epstein Pushed?
Schoen offered an alternative hypothesis about his client's death prior to his email exchange with Newsweek in an interview with The Spider.
He suggested Epstein may have died by his own hand but under pressure from other inmates at the MCC. He told Levine: "He told the MCC he couldn't remember what happened."
"I don't think it was a suicide attempt or an attempt by someone else to kill him. My conclusion is it was something he agreed to go along with," he added.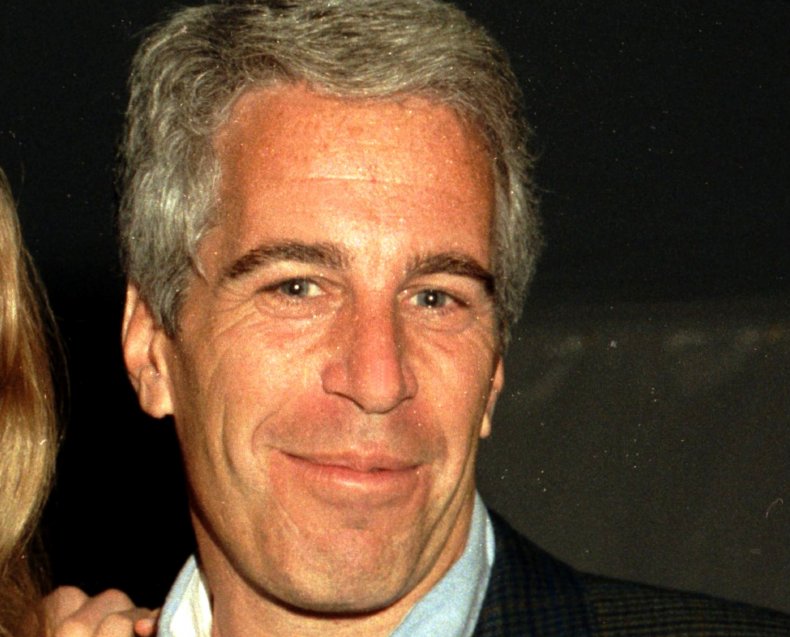 Would Epstein Have Named Names?
One of the biggest unanswered questions of the Epstein scandal, relates to the identities of the famous friends alleged to have joined him in abusing underage girls at his mansions.
Epstein's accusers never got a chance to find out whether he would turn and hand over names to save himself.
Rumours have long circulated that Epstein video taped America's rich and famous at his mansions across America and the U.S. Virgin Islands.
In a 2015 affidavit, Virginia Giuffre said she believed video tapes of abuse she received from Epstein and his friends existed.
In the court filing, she wrote: "Based on my knowledge of Epstein and his organisation, as well as discussions with the FBI, it is my belief that federal prosecutors likely possess videotapes and photographic images of me as an underage girl having sex with Epstein and some of his powerful friends."
However, the chances of his victims being given closure on what evidence exists about his network of famous contacts diminished significantly with his death.