Jen Shah's 'Innocent' Claim Leaves 'RHOSLC' Fans Confused
The Real Housewives of Salt Lake City fans have voiced their surprise and confusion over Jen Shah's claim in the latest episode that she is "innocent" of a fraud charge—despite having pleaded guilty.
The Bravo reality show returned on September 28. In the Season 3 premiere, Shah, 48, is seen protesting her innocence during a confessional.
However, she pleaded guilty to conspiracy to commit wire fraud in a New York court on July 11. She is due to be sentenced on November 28 and could face up to 30 years in prison.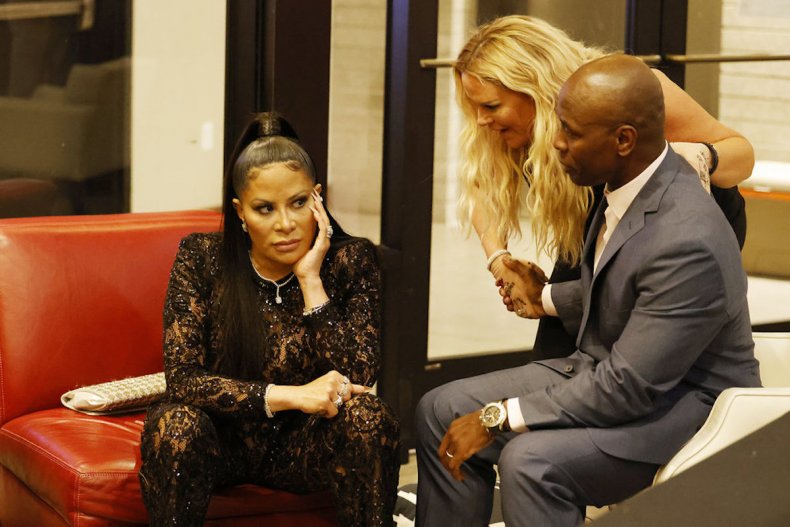 In a statement sent to Newsweek in July, Shah's lawyer, Priya Chaudhry, said: "Ms Shah is a good woman who crossed a line. She accepts full responsibility for her actions and deeply apologizes to all who have been harmed. Ms Shah is also sorry for disappointing her husband, children, family, friends, and supporters. Jen pled guilty because she wants to pay her debt to society and put this ordeal behind her and her family."
E! News has previously reported that RHOSLC Season 3 had finished filming before Shah's guilty plea. After the courtroom drama, producers captured new footage, including reactions from Shah's co-stars Lisa Barlow, Meredith Marks, Heather Gay and Whitney Rose. These scenes will be shown later in the season.
In the Episode 1 confessional, Shah said: "I'm the only defendant left that is still going to trial. I have no idea what is going on with the other defendants in this case. I have no idea why they have taken a plea deal.
"But I'm not going to take a plea deal when I'm not guilty. I'm innocent."
Her comment baffled many viewers, with some expressing their distaste for the "cringe inducing" moment on social media.
One unimpressed viewer wrote: "It's pretty obscene watching Jen Shah throw this extravagant party knowing months later she pled guilty to cheating thousands of people out of their life savings #RHOSLC."
Another asked if the season had been "filmed before her plea."
A third fan wrote: "The other defendants took a plea deal, but I'm not because I'm not guilty!! Wow that didn't age well."
A source told People magazine that the fraud case will be "a very big part of Jen's story" for Season 3, adding: "Producers don't want us to stop following it now. They'll keep filming with her as long as they can, just like they did with Teresa [Giudice]."
In the trailer for Season 3, which can be watched at the top of this article, Shah is seen discussing the legal battle.
She was arrested in Utah while filming Season 2 in March 2021, along with her then assistant Stuart Smith.
The pair were accused of involvement in a telemarketing scheme that defrauded "hundreds" of people, many over the age of 55, by selling "lead lists" for fictitious business opportunities.
Smith also pleaded guilty to the charges filed against him.
The Real Housewives of Salt Lake City Season 3 is scheduled to air on Bravo on Wednesdays at 9 p.m. ET. The previous two seasons are available to stream on Peacock.