Is Ken Jennings Leaving 'Jeopardy!' and Why Is Mayim Bialik Hosting?
Jeopardy! is about to go through another host change, with current presenter (and the show's G.O.A.T.) Ken Jennings about to leave the show for a time.
Jennings, who also worked on fellow game show The Chase, tweeted earlier in May: "I'm handing the keys back to the talented actor-producer-writer-director (!) Mayim Bialik for a few months."
This tweet has left Jeopardy! fans who have not been following the behind-the-scenes drama around the show wondering exactly why Jennings is no longer hosting the show, and why Bialik is taking his place. The game show's viewers have also been left asking exactly when the host will be back behind the podium.
Why is Ken Jennings leaving Jeopardy!?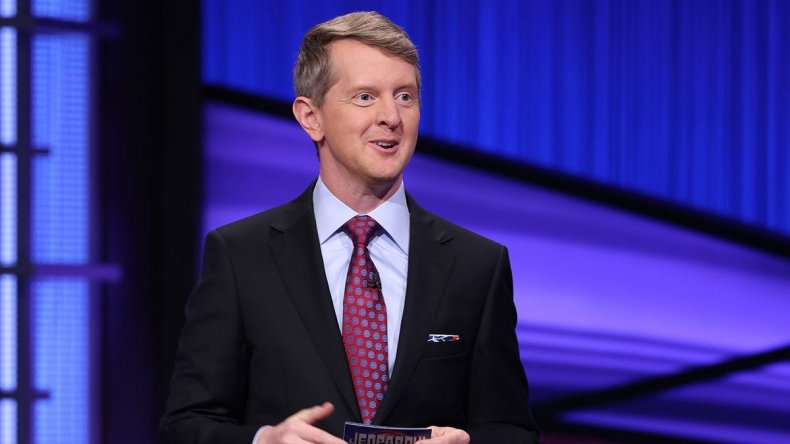 Viewers should not be too concerned—there is not Mike Richards-esque drama afoot this time.
In fact, the current set of circumstances were set up following that controversy. Following the former Jeopardy! producer's exit from the show, it was announced that his fellow host Bialik would effectively split the job with Jennings, with both alternating filming blocks of episodes.
The pair have already alternated on the show before, with Jennings first taking over from The Big Bang Theory star (and neuroscientist) Bialik in November 2021. He tweeted at the time: "I'm tagging in from @missmayim and hosting some @Jeopardy again starting this week. Always an honor and a real joy to be back where it all started. (Also, it's been a minute so I hope I'm not too rusty out there.)"
Speaking to Newsweek in September 2021, Bialik said of sharing the role: "So far, Ken Jennings—who I am sharing hosting duties with for the rest of 2021—and I have only had the chance to interact once at a press conference, he is much taller than I thought he would be! I look forward to the opportunity to talk to him more. I'll certainly take any pointers he's got!"
When will Ken Jennings return to Jeopardy!?
The host's tweet confirmed: "Thanks for watching, and I'll be back before the end of the season."
Season 38 of the show is expected to conclude around the end of July 2022, suggesting that Jennings will be back by mid-summer. This would make sense: Should Bialik's sitcom Call Me Kat be picked up for Season 3, filming would have to begin on it around that time in order for the show to be ready for September.
Though that show has not been renewed just yet, it is Fox's most-watched comedy of the season (and third in the important 18 to 49 demographic), meaning a Season 3 pickup is very likely.
The makers of Jeopardy! have previously confirmed that the pair would alternate for the entirety of the current Season 38. So far they have not confirmed who will take over when the series returns in fall 2022—though Jennings has sparked rumors he will be taking over when he left his role on The Chase earlier this year.