Jerome Corsi Claims Roger Stone Tried to Give Him a Heart Attack to Prevent Trial Testimony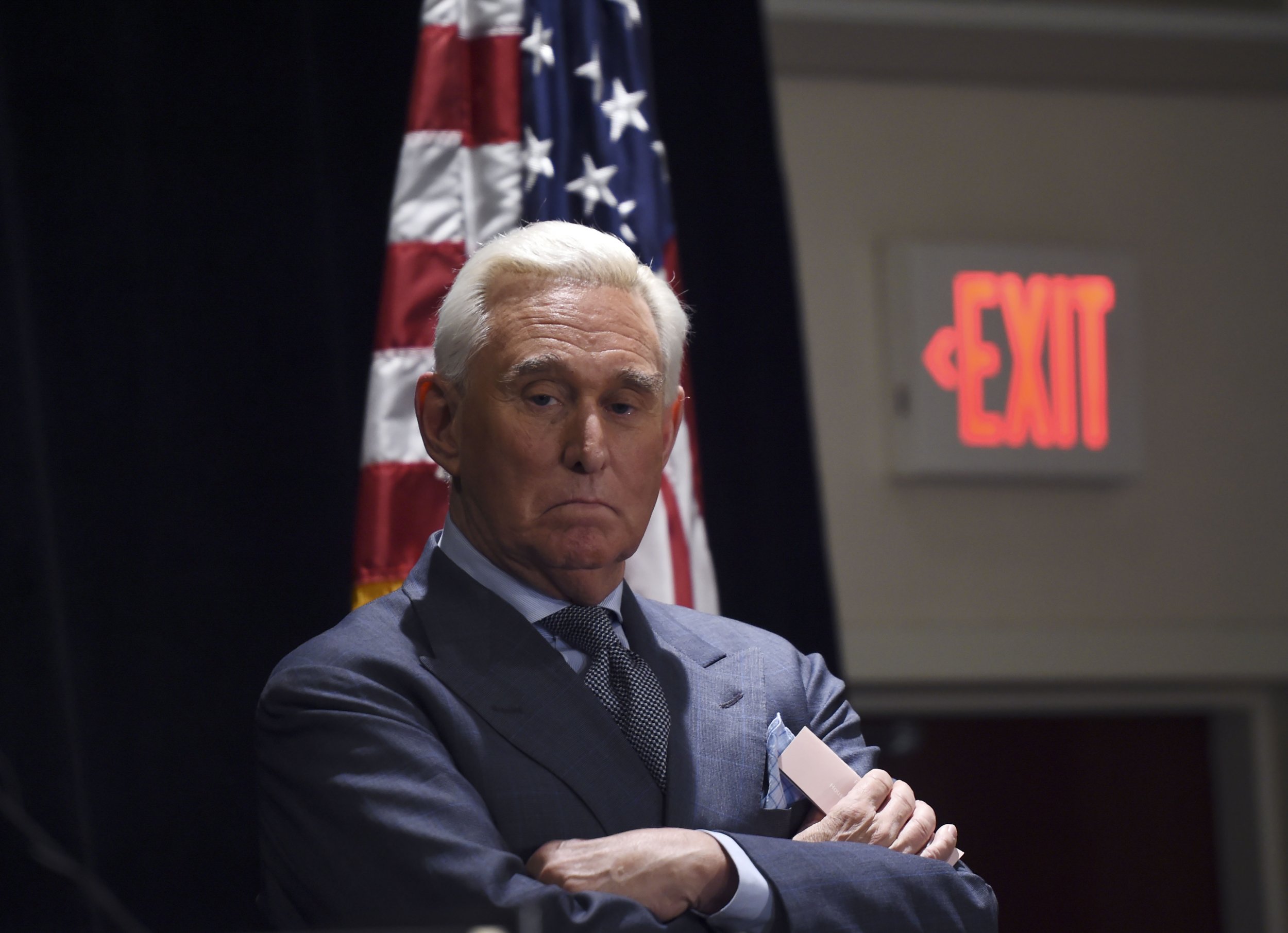 Conservative political commentator and author Jerome Corsi has sued Roger Stone, claiming his former associate had waged a campaign against him to ultimately bring on a heart attack that would prevent Corsi from testifying at Stone's upcoming trial.
According to the lawsuit, obtained by the Washington Examiner, Corsi, 72, seeks $25 million in damages, accusing President Donald Trump's former adviser of "defamation, intentional infliction of emotional distress and assault."
The suit claims that Stone, who was recently indicted as part of special counsel Robert Mueller's Russia investigation, carried out a campaign of threats against Corsi to cause him to "have heart attacks and strokes, in order that plaintiff will be unable to testify at Stone's criminal trial."
The suit claims that as a result of Stone's conduct, Corsi suffered "conscious pain, suffering, severe emotional distress and the fear of imminent serious bodily injury or death, and other mental and physical injuries."
The lawsuit alleges that Stone's threats against Corsi stemmed from Stone's admiration for the Mafia. The suit claims that Stone liked to portray himself as a Mafia figure and frequently referred to "Mafia figures who he admires." The documents cited Stone's alleged threat to "take away" the dog of radio host Randy Credico as an example of his Mafia-style intimidation tactics.
The suit also noted Stone's admiration for other "unsavory types" alleged to have committed crimes, most notably former President Richard Nixon. Stone worked for Nixon's re-election campaign and famously has a tattoo of the former president on his back.
Stone has not responded to Newsweek's request for comment on Corsi's lawsuit.
The suit is the latest twist to unfold between the pair following Stone's arrest on suspicion of witness tampering and lying to Congress in relation to the Trump campaign team's alleged communications with WikiLeaks. Stone has denied all the charges against him.
Corsi, who could yet face charges resulting from the Mueller probe, confirmed that he was the witness identified as "Person 1" in Stone's indictment. He claimed to have worked as a middle man between Stone and Julian Assange's whistleblowing website, which publicly released emails allegedly stolen by Russian hackers from the Democratic National Committee in 2016.
In a statement posted to Instagram, Stone accused Corsi of working with Mueller to "sandbag me on a fabricated perjury charge. Mueller's minion even promised Corsi no jail time if he would lie and say he gave me [Hillary Clinton campaign chairman John] Podesta's stolen e-mails (which he did NOT). Then they were going to say I passed them on to Trump (which I did NOT)," Stone added.
"Jerry was willing to LIE about me but not himself! Now Jerry is lying about legitimate research he did for me regarding the Podesta brothers' lucrative business in Russia. Jerry Corsi is starting to make Michael Cohen look like a stand up."