Jesse Jackson Says Officers Involved in Breonna Taylor's Death Should Be Prosecuted and Charged With Murder
Reverend Jesse Jackson said Friday the officers involved in the death of Breonna Taylor should "absolutely" be held accountable and charged with murder.
The civil rights activist addressed Taylor's death during an interview with the Louisville Courier Journal on the day the former EMT would have turned 27.
"They murdered her," Jackson told the paper. "Nobody has the right to murder anybody. Especially those that have a badge and a gun on."
Taylor was home with her partner on March 13 when Louisville Metro Police officers conducting a drug raid delivered a "no-knock warrant" and entered Taylor's apartment, though the officers later said they didn't find any drugs inside. Taylor's partner said he opened fire on the people coming into the apartment because he believed they were intruders. Taylor was fatally struck in the gunfight that ensued.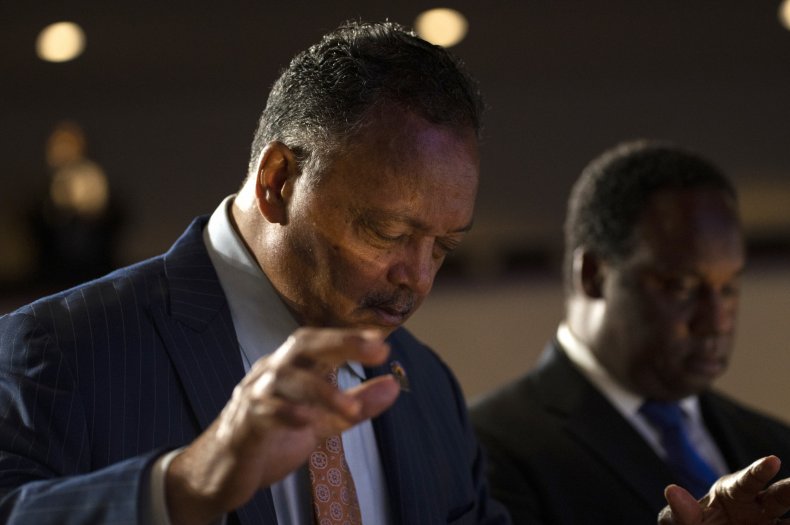 As protesters around the country demanded justice over the last two weeks for George Floyd, a black man who died while in police custody in Minneapolis on May 25, Taylor's name became a rallying cry alongside Floyd's and that of Ahmaud Arbery, a 25-year-old who was fatally shot by a former law enforcement officer in Georgia.
Louisville has become another focal point for the protests that erupted after Floyd's death—and not just because of Taylor's death. During one protest earlier this week, a Louisville restaurant owner was killed as police exchanged gunfire with demonstrators.
Though Mayor Greg Fischer has in the days since announced a review of policing policies and practices—including a suspension of the no-knock warrant—the mayor and other state leaders have come under fire for what many have called systemic racism within the state's legislative and criminal justice systems.
Even so, Jackson commended the actions Fischer has taken since Taylor's death during his interview with the paper, calling him a "public servant who is doing the right thing."
At the national level, Jackson also criticized Kentucky Senator Rand Paul for prolonging a bill designed to officially declare lynching a hate crime. The "form of terrorism" that existed in southern states like Kentucky for centuries "has brought shame upon the face of America," Jackson told the paper, adding that he hoped the senator would reconsider his position and allow the bill to move forward.
Paul's office did not respond to Newsweek's request for comment Saturday in time for publication.
While four officers now face charges in Floyd's death, the three officers involved in Taylor's death were placed on administrative leave shortly after the incident and have not been arrested or charged. According to Jackson, immunity protections for police officers should not be in place for cases like Taylor's.
"When [police officers] violate people and kill people, they should be held personally liable," Jackson told the Courier Journal. "They should not hide behind immunity and do things that are unlawful."
Newsweek reached out to Jackson for further comment but did not hear back in time for publication.