Jewish Doctor Admits He 'Hesitated' Over Treating Man With Nazi Tattoos Amid COVID Stress
A Jewish doctor in California has described how his compassion was tested while he treated a man covered with Nazi tattoos amid the spiraling COVID-19 pandemic.
Dr. Taylor Nichols, an emergency room physician at Mercy San Juan Hospital, near Sacramento, shared a story on Twitter about the conflict he experienced treating a man who was having difficulty breathing, while he dealt with the fallout of people not listening, or flat out refusing to follow, health guidelines to protect against the virus.
"He looked sick. Uncomfortable. Scared," Nichols tweeted.
"As we got him over to the gurney and his shirt off to switch to a hospital gown, we all noticed the number of Nazi tattoos."
Nichols added that the "solidly built" man also showed signs of years of methamphetamine use, including his teeth being "all but gone."
But the medical staff treating the man—which also included a Black nurse, and an Asian respiratory therapist—also noticed the tattoos on the patient's body.
"The swastika stood out boldly on his chest. SS tattoos and other insignia that had previously been covered by his shirt were now obvious to the room," Nichols said.
"'Don't let me die, doc.' He said breathlessly as the RT switched him over from CPAP (a breathing aid) by EMS (ambulance services) to our mask and machine. I reassured him that we were all going to work hard to take care of him and keep him alive as best as we could."
Nichols added: "We all saw. The symbols of hate on his body outwardly and proudly announced his views. We all knew what he thought of us. How he valued our lives.
"Yet here we were, working seamlessly as a team to make sure we gave him the best chance to survive that we could. All while wearing masks, gowns, face shields, gloves.
"The moment perfectly captured what we are going though [sic] as healthcare workers as this pandemic accelerates."
Nichols also spoke of the "cycle of fear and isolation" that he and others working on the front line have experienced as California and the entire country continues to struggle with the rising COVID cases.
The physician described how he faced continuing fear and stress on a daily basis because society has "proven unwilling to listen to the science or to our pleas" to wear masks or stay at home.
"Instead, people who have referred to the pandemic as a hoax or medical experts liars have "stopped caring about our lives, our families, our fears, [and] worried only about their own."
Discussing the man with the Nazi tattoos in need of medical help, Nichols said his mantra of "they came here needing a doctor, and dammit Taylor, you're a doctor" is one that usually helped get him through dilemmas when dealing with problematic patients and when his "empathetic core wanes."
Speaking to the San Francisco Chronicle, he added: "It's hard to go from one room where somebody dies on you and go into the next room of the one who killed them.
"I've always been able to keep going, close my eyes for a second and say to myself, 'If you're not going to do it, who will?'"
However, he said that while going through the plan of treatment with his team, Nichols thought about how much the patient with far-right tattoos would have cared about his life if the roles were reversed.
"For the first time, I recognize that I hesitated, ambivalent," he wrote.
"The pandemic has worn on me, and my mantra isn't having the same impact in the moment. All this time soldiering on against the headwinds, gladiators in the pit.
"And I realize that maybe I'm not OK."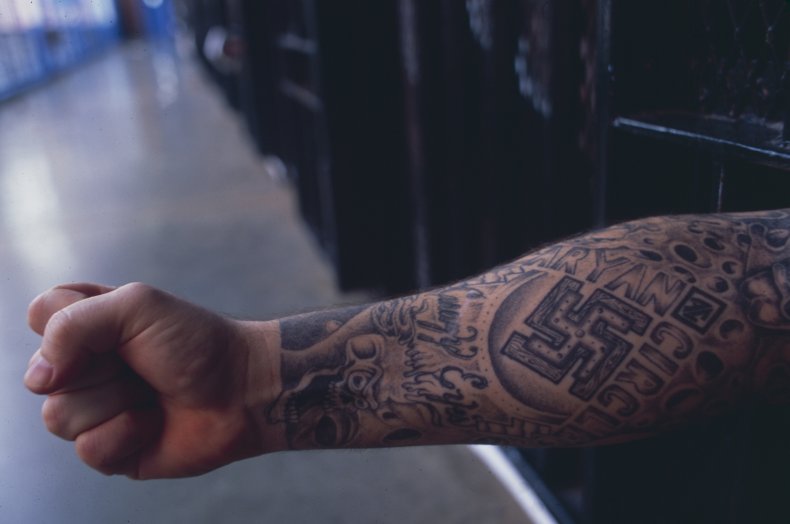 Nichols does not know if the tattooed man survived or tested positive for the virus because he had to immediately move on to his next patient.
"None of what he wrote is unfamiliar to us in medicine," UCSF emergency room physician Dr. Jahan Fahimi, a mentor to Nichols, added to The Chronicle.
"When you make it infinitely harder to do that job, now all of a sudden it doesn't take very much to make you feel a little broken at times.
"I worry about how are we going to sustain people for a number of more months."
Oscar-winning actress Patricia Arquette was one of those who praised and thanked Nichols after he shared his story.
"I am so, so grateful for your commitment and bravery dying this very brutal time. I am sorry you have to overcome the harsh reality of racism as you risk your own life," Arquette tweeted. "May you and all the healthcare workers and cleaners and support staff be protected."
This map, provided by Statista, shows the spread of COVID-19 across the country.