Coach Jim Harbaugh Tells Anti-Abortion Event 'Let the Unborn Be Born'
Jim Harbaugh, the head coach of the University of Michigan's football team, recently appeared at an anti-abortion event and told the crowd, "To me, the right choice is to have the courage to let the unborn be born."
According to the Detroit Free Press, Harbaugh spoke at a Plymouth Right to Life event at St. John's in Plymouth, Michigan, where he spoke about his views on abortion.
"I believe in having the courage to let the unborn be born," Harbaugh said to the crowd at the event, the Detroit Catholic news outlet reported. "I love life. I believe in having a loving care and respect for life and death. My faith and my science are what drives these beliefs in me. Quoting from Jeremiah, 'Before I formed you in the womb, I knew you. Before you were born, I set you apart. I appointed you as a prophet to the nations.'"
The remarks by Harbaugh came after the Supreme Court overturned the 1973 decision made in Roe v. Wade, which acknowledged a nationwide right to get an abortion. However, the Supreme Court's decision in June allows states to make their own rules regarding abortion, with several states already making the procedure illegal.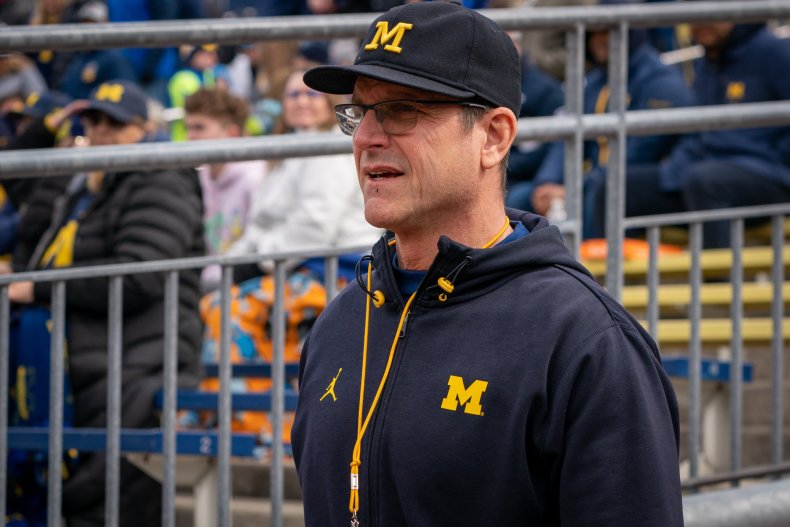 In the Supreme Court's opinion, Justice Samuel Alito wrote that Roe v. Wade "must be overruled" and that "the Constitution does not confer a right to abortion."
According to the Detroit Catholic, Harbaugh also spoke about the Supreme Court's recent ruling at the event.
"Passions can make the process messy, but when combined with respect, it ultimately produces the best outcomes," he said. "This process has been passionate and messy, but I have faith in the American people to ultimately develop the right policies and laws for all lives involved. I recognize one's personal thinking regarding morality of a particular action may differ from their thinking on whether government should make that action illegal. There are many things one may hold to be immoral, but the government appropriately allows because of some greater good or personal or constitutional right."
"Ultimately, I don't believe that is the case with abortion," Harbaugh was quoted by the Detroit Catholic. "Yes, there are conflicts between the legitimate rights of the mother and the rights of the unborn child. One resolution might involve incredible hardship for the mother, family and society. Another results in the death of an unborn person."
Earlier this month, Michigan Governor Gretchen Whitmer signed an executive order "refusing to extradite women who come to Michigan seeking reproductive health care," her office said.
"I will stand up for all women, even if their local and statewide leaders refuse to. Michigan must remain a place where a person's basic rights are preserved. In this existential moment for fundamental rights, it is incumbent on every elected official who believes that health—not politics—should guide medical decisions to take bold action," Whitmer said.
In a statement sent to Newsweek, a spokesperson for Michigan football said, "Jim Harbaugh attended an event and shared his personal views as any citizen has the constitutional right to do. He was sharing his personal beliefs and was not speaking on behalf of the university."
Update 7/19/22, 3:37 p.m. ET: This story was updated with comments from a spokesperson for the Michigan football team.