Rep. Jim Jordan (R-Ohio) has blamed the current conflict in Israel and the Gaza Strip on the "weakness" of President Joe Biden.
Jordan praised former President Donald Trump for maintaining "peace in the Middle East" while insisting that the current president was responsible for the latest Israeli-Palestinian conflict during a Wednesday night appearance on Fox News' Hannity. He said that he believes the conflict will be a significant factor in Republicans taking back control of the House during the 2022 midterm elections.
"We went from peace in the Middle East to hundreds of rockets fired by terrorists on our best ally—actually, over 1,000 rockets being fired on our best ally Israel," Jordan said. "This is exactly what happens, as you said, when we project weakness from the Oval Office. It is not a good situation."
"The American people see it for what it is and that's why they're demanding change," he added. "Frankly, you're going to see the Republicans take back the House next year because of all of the turmoil they see coming as a result of this administration's policies."
Newsweek reached out to the White House for comment.
The most recent escalation of the decades long conflict was sparked by a land ownership dispute in East Jerusalem. It has since resulted in the heaviest exchanges of fire since 2014.
On Monday, the Israeli army conducted airstrikes across the Gaza strip targeting Hamas operatives and equipment after Hamas militants launched rockets at Jerusalem. That followed clashes with Israeli police at Jerusalem's Al-Aqsa mosque, which left hundreds of Palestinians injured.
The riots have intensified and the Israeli military was deposited in the city of Lod on Tuesday. Hamas launched 130 rockets and Israel airstrikes earlier today flattened a building in Gaza that housed the offices of top Hamas officials.
Israel Defense Forces airstrikes have killed at least 69 people in the Palestinian Gaza Strip, including 16 children. Rockets and missile fire from Palestinian militants have killed at least seven people in Israel, including one 6-year-old child, according to the Associated Press.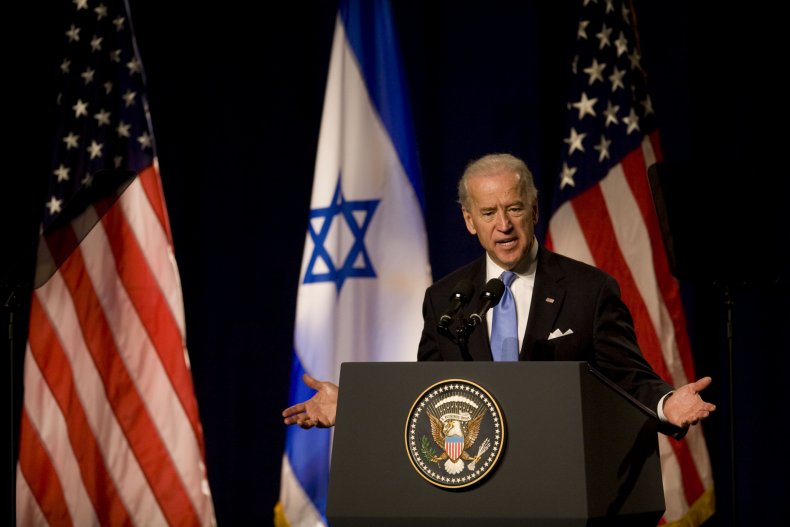 Biden has been largely silent about the escalating violence amid increasing pressure to weigh in, especially from progressives in his party's left wing who want the president to advocate for the Palestinian cause and rein in Israel.
Biden offered "his unwavering support for Israel's security and for Israel's legitimate right to defend itself and its people" during a phone call with Israeli Prime Minister Benjamin Netanyahu on Wednesday, according to a White House readout of the call. He has ignored progressives demanding to know whether he believes the same is true for Palestinians.
As the violence worsened on Tuesday, Democratic Minnesota Representative Ilhan Omar criticized State Department spokesperson Ned Price as "devoid of empathy and concern for human suffering." During a Tuesday press briefing, Price dodged questions about Palestinian child casualties and the country's right to self-defense.
"He can't even condemn the killing of children," Omar said. She later signed a joint statement calling out the Biden Administration to change course in the United States' support of Israel.
"We continue to provide the Israeli government with over $3 billion in military aid every year—with no conditions or accountability for wanton human rights abuses and continuing illegal seizures of Palestinian land," the statement said.
"It is long past time we finally take action to protect Palestinian human rights and save lives," it concluded.
In a Wednesday tweet, Democratic Massachusetts Senator Elizabeth Warren wrote, "The US must immediately work with our partners to stop Hamas's rocket attacks and Israel's airstrikes, then get to work on ending the illegal settlement expansion and impending forced removal of Palestinian families from E. Jerusalem and bringing about a two-state solution."
Independent Vermont Senator Bernie Sanders openly criticized America's alliance with Israel during his run as a 2020 Democratic presidential candidate.
Sanders wrote on Twitter Tuesday: "I am extremely concerned by the growing conflict in Israel and Palestine. Once again we are seeing how the irresponsible actions of government-allied right-wing extremists in Jerusalem can escalate quickly into devastating war."
He added: "The United States must call for an immediate cease-fire and an end to provocative and illegal settlement activity. And we must also recommit to working with Israelis and Palestinians to finally end this conflict."