Jim Jordan Slammed Over House Judiciary GOP Tweet Claiming COVID Boosters Don't Work
Critics slammed Representative Jim Jordan, an Ohio Republican, over a House Judiciary GOP tweet claiming COVID-19 booster vaccine shots don't work.
Jordan is the top Republican on the House Judiciary Committee, and the official Twitter account for the GOP members of the committee shared a controversial post on Thursday regarding COVID-19 booster shots. "If the booster shots work, why don't they work?" the tweet asked.
Many quickly attacked the tweet and called out Jordan for allowing it to be posted. The conservative lawmaker also retweeted the post, which some critics noted as they warned against the misinformation being spread by the Republican Twitter account.
"Even *Trump* now realizes that killing off your own base is probably not a great long-term strategy. But apparently Jim Jordan and his clones on the House Judiciary GOP don't seem to mind the deaths," political commentator Brian Tyler Cohen wrote in a tweet, sharing a screenshot of the House Judiciary GOP post.
"Someone should ask @Jim_Jordan why he retweeted it yesterday," tweeted John Favreau, co-host of Pod Save America. He included a screenshot that showed the GOP congressman had retweeted the misinformation.
"And again is there accountability for attorneys who engage in this conduct? The leader of the House Judiciary GOP, Rep. Jim Jordan, is an attorney. So is Rep. Steve Chabot. Rep. Louie Gohmert, also a member of House Judiciary GOP, is an atty and former judge," Sherrilyn Ifill, president and director-counsel of the NAACP Legal Defense and Educational Fund, wrote in a post. Ifill shared a tweet from author Jeff Scarlett, who suggested the House Judiciary GOP post would result in more Americans dying from COVID-19.
The House Judiciary GOP account eventually deleted the tweet.
Jeffrey Sites, a Democratic candidate in the running for Jordan's seat, cheered the removal of the controversial post. "Congrats, everyone. We got Jim Jordan and company to back down," he wrote.
"Tagging this for future #historians: As Omicron #COVID19 cases mount nationwide, the @GOP House Judiciary Committee tweeted that 'boosters don't work' (they've since erased it.) The Republican Party is objectively pro-death, pro-virus, pro-contagion," author Steve Silberman wrote in a Friday tweet, including a link to an article featuring Jordan's photo.
Representative Eric Swallwell, a California Democrat, slammed Republicans over the controversial post as well.
"As we end 2021, mired in a deadly pandemic, you should know who has prolonged it. THESE GUYS. Republican liars. Your vacation cancelled. Your kids back to virtual learning. And back to masks everywhere. For blame look no farther than #TheseGuys," he wrote.
Jordan, who has strongly opposed vaccine mandates and other measures to curb the COVID-19 pandemic, said in November that he had the novel coronavirus and recovered.
"I don't talk about my health status with reporters, but I've had the coronavirus and recovered, and actually had that antibody test done, and it showed my antibodies were strong," the Republican congressman told a reporter from Spectrum News. He has not said whether he was vaccinated.
Public health experts and doctors—as well as former President Donald Trump—have repeatedly explained that those being hospitalized and dying of COVID-19 are largely unvaccinated. Scientific data shows that boosters shots provide most people with greater protection against severe disease from the novel coronavirus.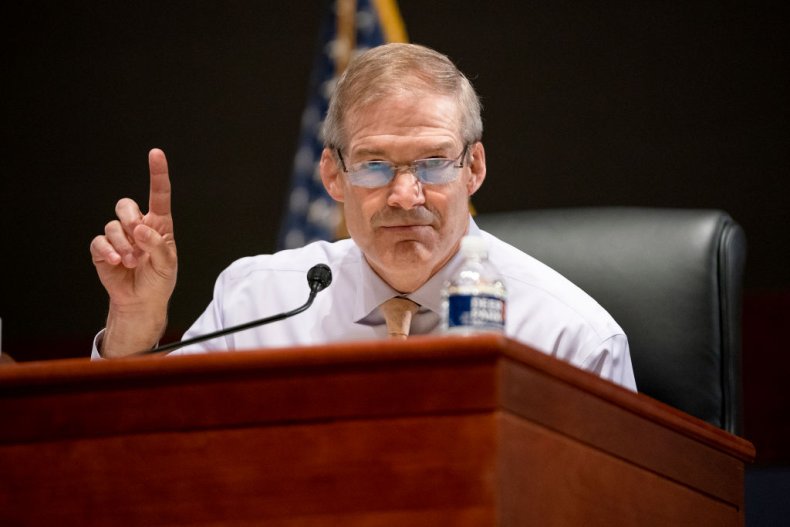 "The vaccine[s] work, but some people aren't taking them," Trump told conservative Daily Wire host Candace Owens in December. "The ones that get very sick and go to the hospital are the ones who don't take their vaccine. But it's still their choice, and if you take the vaccine you're protected. Look, the results of the vaccine are very good. And if you do get it, it's a very minor form. People aren't dying when they take the vaccine."
The former president confirmed last month that he received a vaccine booster shot as well.
Newsweek reached out to Jordan's office for comment.