Jimin Superfan Who Spent $250K To Look Like BTS Star Shares Get Well Message
Oli London has shared a special message for Jimin, after learning that the BTS star has been hospitalized with appendicitis and tested positive for COVID-19.
On Monday, it was revealed by the K-pop sensation's management company, Big Hit Entertainment, that he is currently "recuperating" in hospital after an operation.
"Jimin experienced sudden abdominal pain along with a mild sore throat on January 30 in the afternoon," read a statement shared on Twitter. "He visited a hospital emergency room for thorough examination, and also took a PCR test."
"Jimin was diagnosed with acute appendicitis, and was tested positive for COVID-19," the statement went on. "He underwent surgery following physician advice early morning on Monday, January 31.
"According to the medical staff, the surgery was successful and Jimin is currently recuperating after his procedure. He will be receiving a few days of in-patient treatment for COVID-19 in conjunction with postoperative care.
"He is currently experiencing a mild sore throat but is making a speedy recovery, and had no contact with the other [band] members during the infectious stage."
Over the Christmas holiday, it was revealed that BTS members RM, Jin and Suga had been diagnosed with COVID-19 after returning to South Korea from the U.S.
Reacting to the latest news, London, who has spent an estimated $250,000 on cosmetic procedures in a bid to resemble Jimin, told Newsweek that he is praying for the star.
"If Jimin is reading this, I would just tell him to stay strong," he said. "I love you so much... You are my inspiration. Everybody is praying for you around the world. The BTS ARMY are so strong and all of our prayers will make you feel better.
"I will also go to church and pray for you today as well. I know you will get through this. And I love you. We the BTS ARMY love you and we are all praying for you now."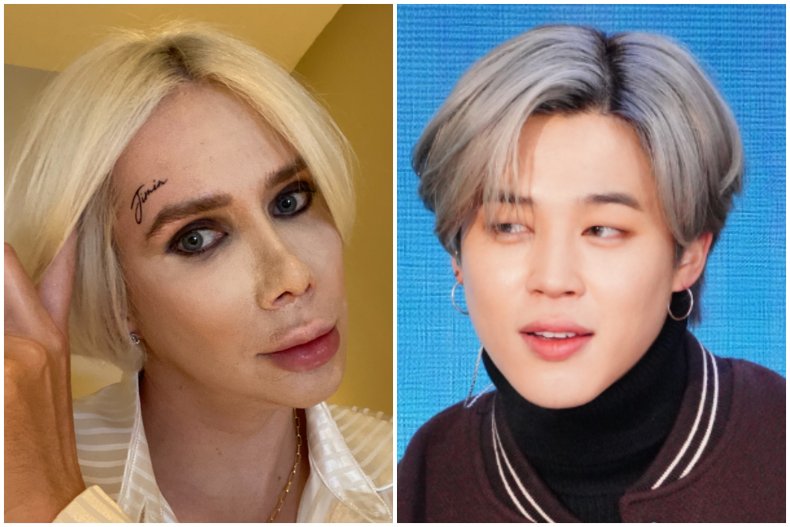 London—who was born white and British, but stated in 2021 that he is "transracial" and now identifies as Korean— added: "If I was in Korea, I would send them some flowers. I would look after him and I would play nurse. But I hope he's going to be OK."
"I know he's going to be looked after by the best teams of doctors and nurses because Korea has literally the best hospitals in the world," he added.
Over the weekend, London had announced on Twitter that he was going to "divorce" a cardboard cut-out of Jimin that he tied the knot with in Las Vegas in January 2020.
He wrote: "It is with a heavy heart that I announce myself and my husband, Cardboard Jimin, have filed for divorce due to 'irreconcilable differences in our marriage.'"
However, London explained to Newsweek that his love for Jimin had not in any way waned, and that he has made the announcement in a bid to find love in the real world.
"I just thought, look, it's a cardboard cut-out. Let me just get divorced," he told Newsweek. "Because I actually want to find love in the real world now. It's like, no one wants to date me and I'm dating a cardboard cut-out that I still love. I still love Jimin and he's my idol. But I actually want to find that real love."
In a recent interview with Newsweek, London revealed that he's looking into penis reduction surgery as he continues to transform his body.
He also shared that the trolling he faced after declaring himself Korean last year pushed him into becoming a recluse.