Jimmy Fallon, Caught in Blackface Controversy, Previously Urged All White People to Speak out Against Racism
Resurfaced footage of Jimmy Fallon performing in blackface has been unearthed leading to calls on Twitter for the TV host to be "canceled."
The internet turned on the NBC late-night host as footage emerged of him doing a comedy sketch on Saturday Night Live in 2000. It shows the presenter impersonating comedian Chris Rock, with his face darkened with makeup.
The 20-year-old clip has seen the hashtag #JimmyFallonIsOverParty gain traction on the social media platform.
Newsweek has contacted Fallon's representatives for comment.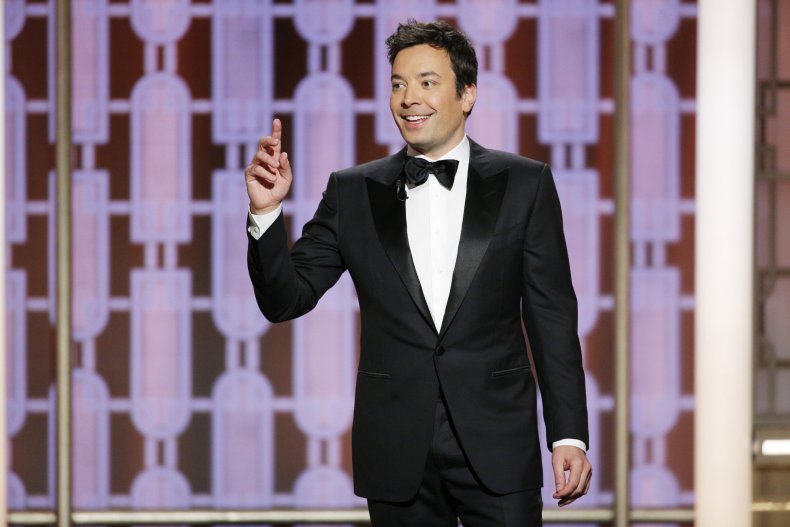 The video initially resurfaced two years ago following the controversy surrounding Megyn Kelly's departure from the Today show after her comments about blackface, though it is unclear what caused it to reemerge today.
Fallon, 45, previously urged all white people to speak out against racism in 2017 in a tearful, joke-free, address on his show after events in Charlottesville, Virginia.
The host's monologue on The Tonight Show on August 15, 2017 focused on the violent clash between white nationalists and counterprotesters which culminated in the death of campaigner Heather Heyer.
"What happened over the weekend in Charlottesville, Virginia, was just disgusting," Fallon said at the time. "I was watching the news like everyone else, and you're seeing Nazi flags and torches and white supremacists and I was sick to my stomach."
Despite not being a political pundit, Fallon said it was his "responsibility to stand up against intolerance and extremism as a human being" and he questioned how he could explain racism to his two young daughters.
"How can I explain to them that there is so much hatred in this world?" he said.
The tragic events in Charlottesville, Virginia saw James Alex Fields Jr, 22, drive his car into people protesting against a white nationalist rally in August 2017. Fields was sentenced to life in prison for numerous federal hate crimes and the murder of 32-year-old Heyer.
The host previously faced criticism for his use of blackface, when comedian Nick Canon took to Instagram to call out Fallon along with Jimmy Kimmel, Sarah Silverman and brands Gucci, Prada and Moncler.
Canon uploaded a collage and two videos of the hosts in blackface with the caption: "happy BLACKFACE history month."
Fallon isn't the only celebrity to face criticism in recent days. Controversy surrounds singer and rapper Doja Cat who addressed allegations of past racism as footage of her emerged taking part in alleged white supremacist chat rooms.