Jimmy Fallon Cracks Chinese Spy Balloon Joke After More Objects Shot Down
Jimmy Fallon cracked a joke about Chinese spy balloons on his show on Monday, following the revelation that U.S. fighter jets have shot down four objects over American and Canadian airspace in recent days.
Fears have been heightened in recent days amid a barrage of what may be spy balloons passing over the U.S. after President Joe Biden ordered the shooting down of a suspected Chinese aircraft off the coast of South Carolina on February 4.
The administration faced criticism for not taking it out sooner, allowing it to pass over Alaska, western Canada and much of the continental U.S. Three more objects have since been shot down by joint-U.S. and Canadian operations. Objects were shot out of the sky over Alaska on Friday, the Yukon on Saturday and the latest, over Lake Huron between the two countries, on Sunday.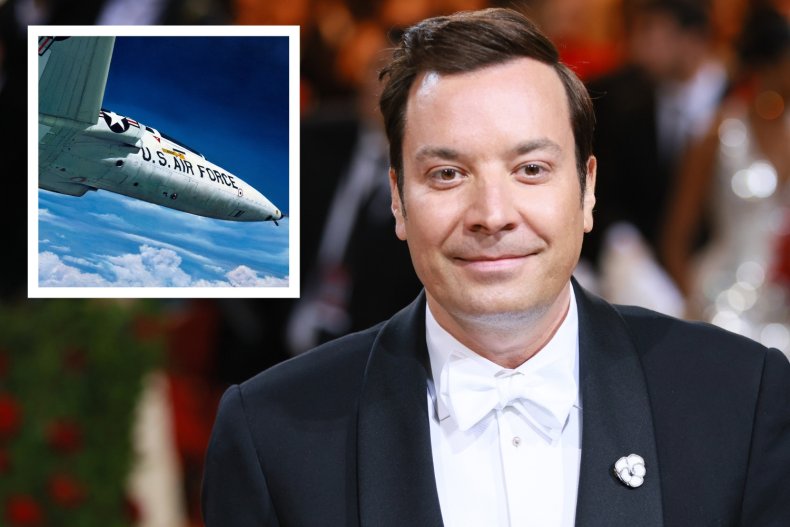 U.S. officials haven't identified what the objects, or their likely source of origin, and the recovery of some of the debris is likely to be harder in the colder, icier waters. China has maintained the first aircraft was a wayward weather balloon and said the U.S. had overreacted by shooting it down.
With public interest remaining high, Fallon tackled the subject on his NBC show The Tonight Show Starring Jimmy Fallon, as he discussed how millions of Americans were expected to call in sick the day after watching the Super Bowl LVII.
"Today, a record 19 million Americans were expected to miss work," Fallon said, the day after the Kansas City Chiefs had defeated the Philadelphia Eagles. "Yep. We all woke up this morning and chugged Gatorade as if we actually played in the game.
"That's right. Patrick Mahomes won the Super Bowl on an injured ankle, but fans can't show up to work because they drank too much White Claw."
He then mocked up a scenario where those who were ditching work after Sunday night's sporting revelry had used a special excuse generator that told them how to explain their absence.
"For example," explained comedian Fallon, "when your boss asks, 'Why didn't you come in today?' it tells you to say, 'I tried, but on my way in my Tesla exploded.'
"Next up, when your boss asks, 'Well then, why aren't you working remotely?' just say, 'My internet is being blocked by a Chinese spy balloon.'"
Defense officials have taken a cautious approach to identifying the objects publicly, not describing them as balloons.
Referring to the objects, General Glen VanHerck, head of the North American Aerospace Defense Command (NORAD) and U.S. Northern Command, told reporters on Sunday: "Certainly the event off the South Carolina coast, the Chinese spy balloon, that was clearly a balloon. These are objects. I'm not able to categorize how they stay aloft."
He said he believed it was the first time his defense outfits had taken "kinetic action against an airborne object" within U.S. or Canadian airspace, both of which NORAD protects, according to the Associated Press.
Asked if defense officials had ruled out the presence of extraterrestrials, VanHerck said: "I haven't ruled out anything at this point."
However, a senior unnamed U.S. official told ABC that there was no reason to believe that the three objects shot down over the weekend were anything but meteorological balloons.
The U.S. Department of Defense declined to comment. Newsweek also contacted NORAD for comment.
The Pentagon said on Wednesday that China's spy balloon program was part of a global surveillance effort that had been running for several years. Another balloon was tracked passing over South America at the same time as the first, and on Sunday the U.K.'s transport minister said it was "possible" they had been deployed over British airspace.
Also on Sunday, Chuck Schumer, the Senate Majority Leader, told ABC that the objects were balloons, adding that China had a "crew of balloons."
The U.S. blacklisted six Chinese entities it said were linked to the Beijing government's aerospace program in apparent retaliation for the spy balloon shot down on February 4.
Pentagon officials said on Sunday that the latest object had first been detected on Saturday evening over Montana, but it was first thought to be an anomaly. It appeared on radar again on Sunday, over Michigan, moving towards Lake Huron, where it was shot down.