Jimmy Fallon Mocks Biden's Ratings As Late Night Hosts Turn On President
The Tonight Show's Jimmy Fallon has mocked Joe Biden over his falling approval ratings in the latest example of late night hosts poking fun at the president.
On Thursday night's show, Fallon was discussing how Senator Joe Manchin had finally agreed to support the Democrat's major energy and health care bill following months of stalled negotiations.
"This is a huge victory for Biden. In fact, right after the announcement, his approval rating skyrocketed to 11 percent," Fallon said.
"Switching gears. Apparently, this year, Hershey doesn't think they're going to be able to meet the demand for Halloween. On a related story, Biden's approval rating just fell back under 10 percent."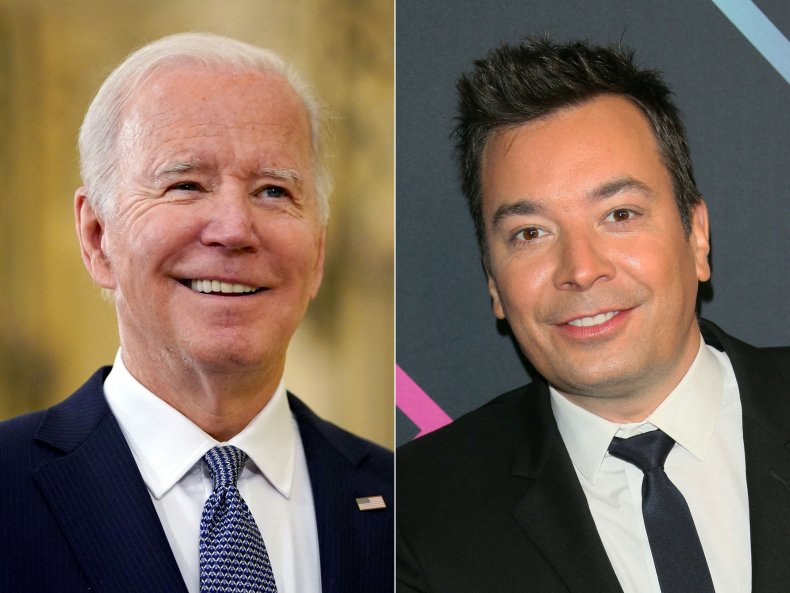 This is the second time in a matter of days that Fallon has made fun of the president on his show.
On Wednesday night, Fallon discussed Biden making a return to public life after isolating for nearly a week after testing positive for COVID-19.
"Even though he tested negative, not that much changes for Biden. He still works from home, avoids crowds, and takes 20 pills a day," Fallon said.
Fallon added that Biden appeared to be "back to his old self" while playing a clip of his speech from Rose Garden where he repeatedly mispronounces Paxlovid, the antiviral medicine the president took during his recovery from COVID.
When the camera cuts back to Fallon, the host shook his head and mockingly said "welcome back, Mr President, welcome back."
Stephen Colbert mocked the president over his mispronunciation of the drug, while Seth Meyers has also made fun of him.
Also on Wednesday, The Daily Show host Trevor Noah took a dig at Biden and the Democratic Party while discussing Manchin's turnaround in supporting the multi billion dollar Inflation Reduction Act of 2022.
"I can't believe it. Joe Manchin decided to vote for a bill? Which means Democrats might actually get something done? Am I dreaming? And if so, what a boring dream," Noah said.
"And also, what a week for Joe Biden! First he defeated COVID, then he defeated low expectations."
Noah also previously mocked Biden for his plummeting approval rating, saying his popularity currently is "between Long Covid and the Uvalde Police Department"— the police force heavily criticized for their response to the school shooting at Robb Elementary School shooting on May 24.
"Making matters worse for him is runaway inflation, especially when it comes to gas prices," Noah added. "Until gas prices improve neither will Joe Biden's approval rating."
According to FiveThirtyEight, Biden's national average approval rating currently stands at 39.4 percent, an improvement on his all time low of 37.5 percent recorded July 21, but way down from the mid 50s he was enjoying during the first several months of his presidency.
Newsweek has contacted the White House for comment.