Jimmy Kimmel Lambasts Rudy Giuliani for Getting Snubbed by Donald Trump
Jimmy Kimmel has ripped into Rudy Giuliani, mocking the attorney for getting stiffed by Donald Trump.
Commenting on a "sullen" and "vengeful" president in the dying days of his term, the late-night host turned his attention to the former New York City mayor, gleefully telling his audience that Trump is "even lashing out at his No. 1 dirty deeds-doer Rudy Giuliani."
"Working for Trump and expecting to get paid is like having dinner with Chris Christie and expecting a doggie bag," Kimmel joked.
The comedian was referring to a report by the Washington Post that claims Trump instructed his staff not to pay Giuliani—whose rate is reportedly $20,000 per day—because he failed to overturn the election results.
Commenting on the article, former Giuliani press secretary Ken Frydman said: "Lay down with dogs. Wake up with fleas and without $20,000 a day".
Trump has now, historically, been impeached for a second time.
"Money well spent," Kimmel joked of Giuliani's legal fees.
"He could've hired Gary Busey for a hundred bucks to do the same thing," he added. "That's a lot for an incompetent attorney. I wonder who leaked this story... Maybe it was Giuliani's head!"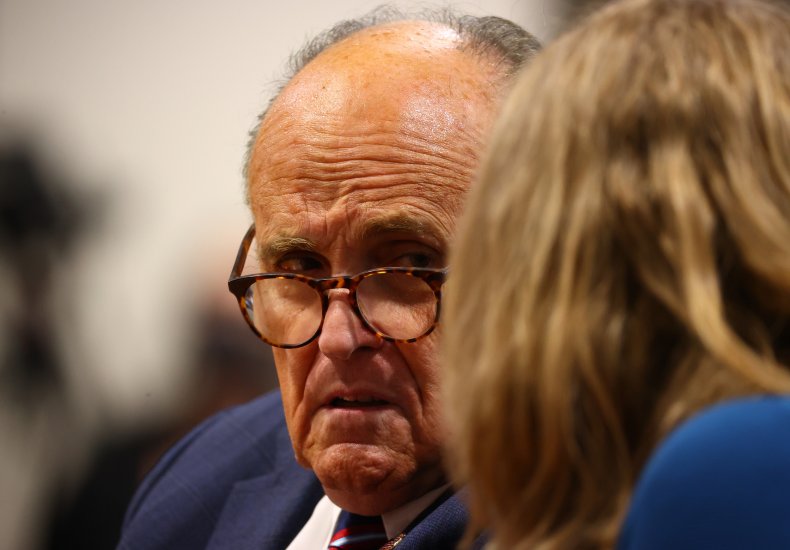 Giuliani, one of Trump's most ardent supporters, has found himself the butt of the joke several times over the last few months due to his association with the flailing Trump administration.
From the doomed press conference in a sex shop parking lot to being recorded breaking wind at a baseless election fraud hearing and, of course, when black liquid starting running down his face on live television.
And who could forget his appearance in Sacha Baron Cohen's recent Borat movie, where he was caught with his hands down his pants when being interviewed by an actress posing as a young conservative journalist.
"Rudy Giuliani traveled around the world," Kimmel continued. "He went from being America's mayor to the parking lot of a dildo store trying to dig up dirt for Trump. The only dirt he could find was coming out of his hair, but what does he get for his troubles? Not paid for the work he did."
Giuliani may soon face disbarment in the state of New York following his call for "trial by combat" at a rally just before the riot at the Capitol on January 6, with the state's Bar Association opening an investigation into removing him.