Jimmy Kimmel Rips Roy Moore as Celebrities React to Doug Jones Senate Win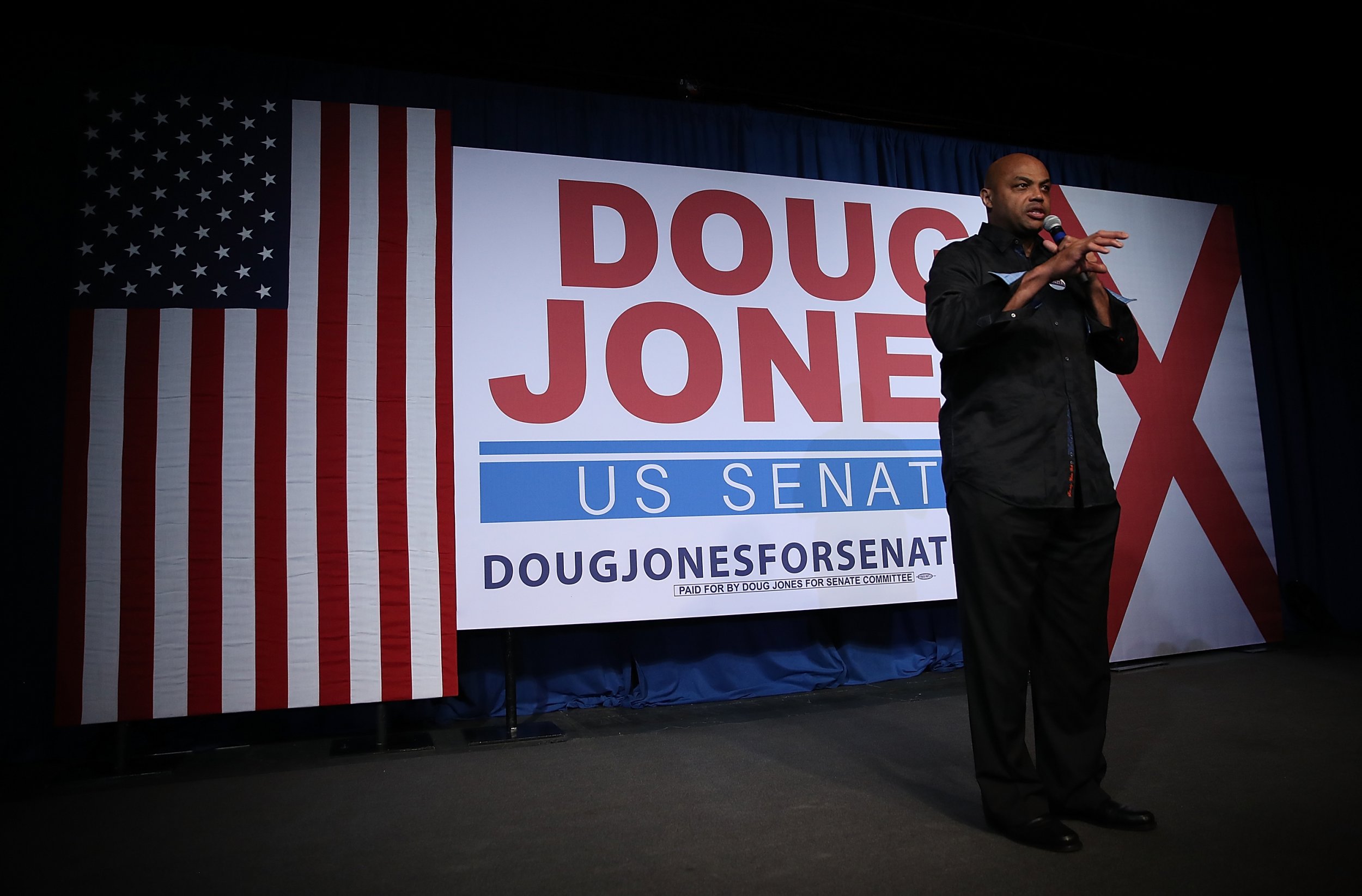 Shortly after 10 p.m. ET Tuesday, the Associated Press and New York Times called the special Senate election in Alabama for Democrat Doug Jones. Even after numerous women accused Roy Moore, Jones's Republican opponent, of molesting them when they were teenagers, a Jones win was seen as something of a longshot. So when he won, the reaction on Twitter was immediate—especially from celebrities.
Jones's victory occurred too late in the day for the nation's late-night hosts to react to the news. (You can be sure they will be all over it, though, on Wednesday.) But Jimmy Kimmel—who famously incurred the ire of Roy Moore, only to turn around and torch him in a monologue—couldn't wait to twist the knife:
As a reminder, Moore was allegedly banned from a mall in Alabama for harrassing teenage girls.
Kimmel was only one of the many celebrities who could barely contain their enthusiasm at Jones's surprise win.
Chris Evans, Captain America himself, spoke for many when he tweeted: "Holy shit!!!!! Does this mean I DON'T have to bury 2017 in the back yard?? Thank you, Alabama!!!!"
Director Ava DuVernay, whose film Selma recreated Martin Luther King Jr.'s iconic march from Selma, Alabama, to Montgomery, also praised Alabamians for how they voted: "Love to the patriots of Selma. My heart is overflowing with hope and happiness for the citizens of this complicated and proud city. Heroes."
Another excited celebrity was Barbra Streisand who, like Evans, saw Jones's victory as a glimmer of hope in an otherwise difficult year: "So excited!! I believe this is the beginning of a real turning point for our country. Doug Jones is a man of integrity who will serve Alabama well."
And then there's Cher—an outspoken Twitter user who isn't shy to share her opinion, especially on matters of politics. And share she did once the election was called for Jones, firing off three tweets as full of optimism and excitement as they are emoji: "I can't breathe. Thank you. I was going to jump on my bed, dance around, but I can't move. Oh God he won," one of her tweets reads.
Jones has had plenty of celebrity support on social media throughout the campaign. But in the days leading up to the election, one of the most visible famous faces around the Jones campaign was NBA Hall of Famer Charles Barkley.
Sir Charles, an Alabama native, campaigned for Jones the night before the election and implored his fellow Alabamians to make the right choice. "I am begging and urging everybody to get out, call all your friends. We've got to, at some point, we've got stop looking like idiots to the nation," he said.
Naturally, Barkley was at Jones's side during his victory speech. And, once again in his unique way, praised his state's voters. "Yeah, we got a bunch of rednecks and ignorant people," he said, "but we got some amazing people here, and they rose up today."
The Daily Show also got a swipe in—it won't be able to react on-air until Wednesday's show—confirming that things are about to get even more unpleasant for Moore once the late-night shows sink their teeth in: