Jimmy Kimmel Compares Trump's Exit to Being Told a Tumor is 'Benign'
Jimmy Kimmel has likened Donald Trump leaving the White House to being told a tumor is benign.
The late-night host expressed his relief at the end of the Trump era in a scathing monologue that reflected on how he questioned how Americans could survive the last four years.
"We have a new president of the United States," Kimmel began on his Wednesday night's Jimmy Kimmel Live.
"It was inauguration day here in the U.S.A. Joseph 'Rapunzel' Biden is our 46th president. It feels like—I have to imagine this is what it feels like when the oncologist calls and tells you the tumor is benign," he said.
"You know, I remember going back to the day Trump was inaugurated, such a terrible day, and wondering, can our country even survive four years of this? And now we know the answer, not really. Just barely."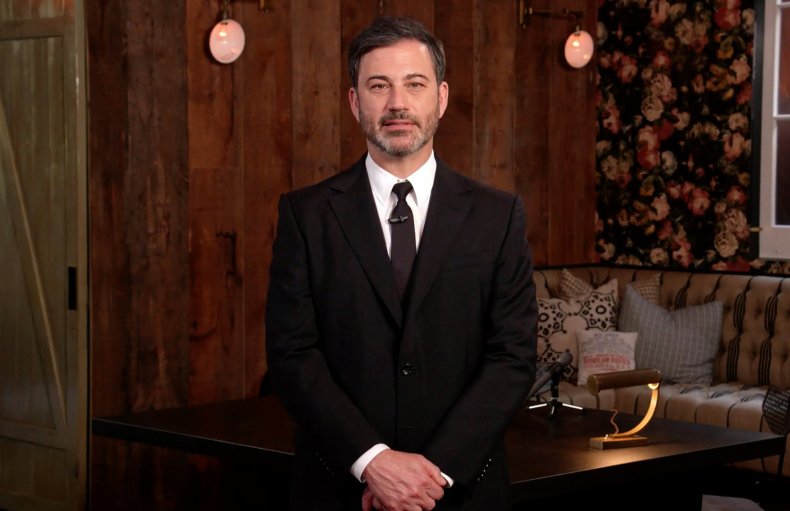 Kimmel also wondered if Trump's stint as president was really worth it in the end.
"Six years ago, we were all perfectly fine to let him keep bumbling around New York pretending to be a billionaire," Kimmel joked. "He could've been hosting golf tournaments, making T.G.I. Friday's commercials, playing this role he created of the wealthy tycoon...
"But now, most of the country despises him, most of the world despises him, we found out he pays no taxes, he has no money, he's likely to face criminal charges in New York, nobody'll do business with him, he can't host a golf tournament, can't even operate a carousel in his hometown anymore."
He also joked: "Today, this country showed the world that there is no My Pillow large enough to smother our democracy."
Meanwhile, over on The Late Show, a giddy Stephen Colbert mused that "it's so nice to have a President with a soul again."
He added: "The previous one sold his to the devil and didn't even get Georgia out of the deal," he said. "It was moving to watch Vice President Harris be sworn in by Supreme Court Justice [Sonia] Sotomayor and it got a very excited reaction from Joe Biden.
"That's refreshing. In just two short weeks that dais has gone from alt-right to 'all right,'" he added.
On Late Night, Seth Meyers bluntly remarked that Trump will "go down in history as a disgraced, sadistic con artist who left the nation in ruins."
"He's less popular than Bush, he's broken more laws than Nixon, he's got a worse jobs record than Hoover and he leans like a house blown over in a storm that Jimmy Carter would have to fix," he added.