J.K. Rowling Slams Putin After He Defends Her in Rant About Cancel Culture
Author J.K. Rowling blasted Russian President Vladimir Putin on Friday, after he defended her in a speech condemning "cancel culture" on Thursday.
"Critiques of Western cancel culture are possibly not best made by those currently slaughtering civilians for the crime of resistance, or who jail and poison their critics. #IStandWithUkraine," Rowling tweeted Friday.
The Harry Potter author also posted a link of a BBC story about Alexei Navalny, one of Putin's most vocal critics. Navalny has accused the Kremlin of poisoning him, and was recently sentenced to nine years in prison after being convicted of fraud in a trial he condemned as politically motivated.
Rowling's comments came after Putin gave a speech in which he denounced cancel culture, and argued that the West is trying to cancel the work of Russian artists including Pyotr Tchaikovsky, Dmitri Shostakovich and Sergei Rachmaninov.
"They canceled Joanne Rowling recently—the children's author, her books are published all over the world—just because she didn't satisfy the demands of gender rights," Putin said during a televised speech on Friday.
"They are now trying to cancel our country," he continued. "I'm talking about the progressive discrimination of everything to do with Russia."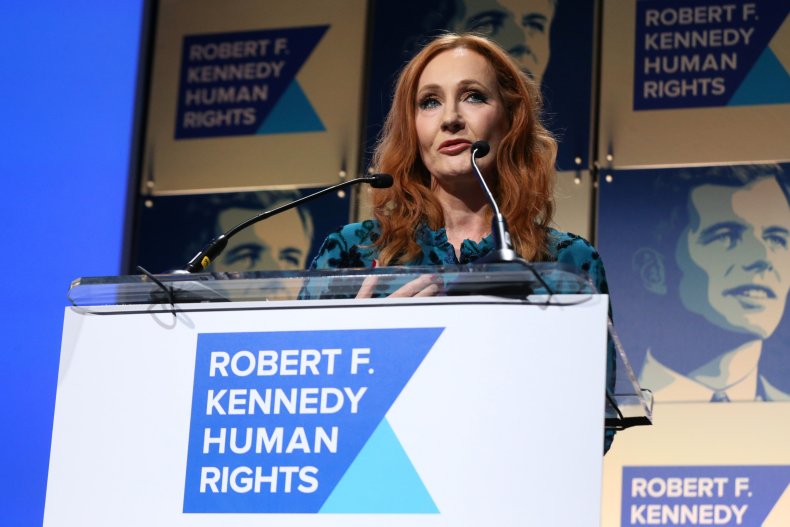 In recent years, Rowling has been accused of transphobia, and the author became involved in a controversy earlier this month after tweeting about International Women's Day while alluding to past comments she's made that have been criticized as transphobic.
In his speech on Friday, Putin compared cancel culture to Nazi book burning.
"We remember the footage when they were burning books," he said. "It is impossible to imagine such a thing in our country, and we are insured against this, thanks to our culture.
"And it's inseparable for us from our motherland, from Russia, where there is no place for ethnic intolerance, where for centuries representatives from dozens of ethnic groups have been living together," the Russian president added.
Newsweek reached out to Putin's press office for comment but did not receive a comment before publication on Friday afternoon.
Rowling's comments criticizing Putin come as Russia's invasion of Ukraine continues, and the country faces accusations of committing war crimes.
Last week, President Joe Biden called Putin a "war criminal," and the American leader had previously called out Russian troops for intentionally targeting Ukrainian civilians.
U.S. Secretary of Antony Blinken on Wednesday said Russia has committed war crimes in Ukraine, citing intelligence and reports of attacks on civilians and journalists.