Job Hunter Praised for Rejecting Company's Low Salary Offer: 'I Walked Out'
An applicant has been applauded for turning down a job after they were offered $6,000 below the advertised range because they were currently unemployed.
Redditor u/Jasoncav82 shared the interview process to the site's AntiWork forum, where they revealed they had been looking for work since June, after leaving their job.
The Redditor's stance highlights an issue affecting increasing numbers of Americans. During the so-called Great Resignation, many workers left their jobs over pay and conditions but some are now looking to return, figures from the U.S. Bureau of Labor Statistics suggest.
LinkedIn, the job search site, advises its users against disclosing their salary, although in a post it said that how long job seekers can survive without income would affect their bottom line. Victoria Pynchon, founder of She Negotiates Consulting, told the site: "The first thing people should do is find out what their market value is."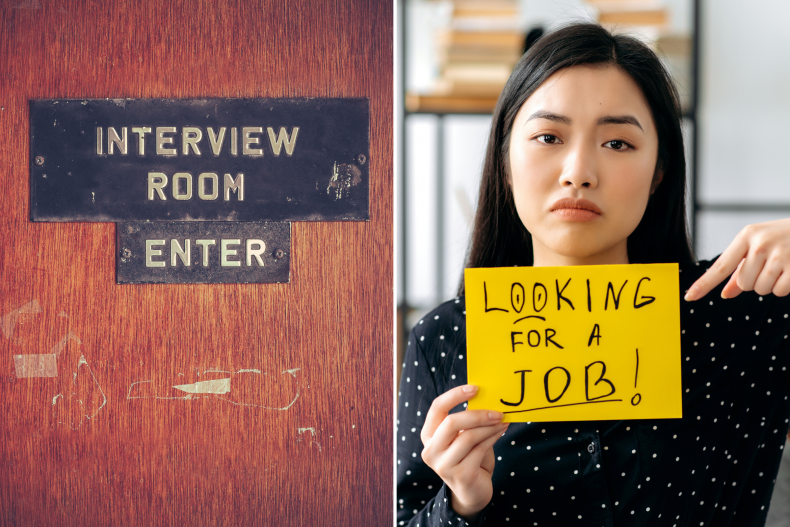 According to the Social Security Agency (SSA) the national average wage for 2020 was $55,628, up 2.8 percent from the year before, when it stood at $54,099.
Kwame Christian, director at the American Negotiation Institute, who also offered advice in the LinkedIn post, urges applicants to be firm and say they "expect to be compensated at a level commensurate with your experience and skills." He said applicants should avoid mentioning what their pay was in their last job.
Some states and localities have banned discussion of pay history in the job application process. While the Reddit user didn't specify where they are based, HR Dive, a website specializing in human resources news, said there are 21 statewide bans in place, with the same number of local bans, aimed at "aimed at ending the cycle of pay discrimination."
It said: "A few also prohibit an employer from relying on an applicant's pay history to set compensation if discovered or volunteered; others prohibit an employer from taking disciplinary action against employees who discuss pay with coworkers."
Among the states with laws in place are Alabama, California, Georgia and Illinois, with the latter's Governor JB Pritzker announcing the move in 2019.
The chart below, provided by Statista, charts the trend of the so-called Great Resignation.
In the Reddit post, the prospective employee explained the interview was going well and they had made it to the second round, and were meeting the owner and upper management.
"They liked that I brought more to the table than the job description required. I didn't update my resume to show an end date for the job I had left two months prior," they explained.
But it seemed they aced that round, as they were soon made an offer, but it was much lower than what they had expected - or hoped for.
After being quizzed over what they made in their current position, u/Jasoncav82 told the interviewees they made "within their advertised compensation."
The panel picked up on that, saying: "They immediately questioned my past tense, and I stated that I left the job in June to explore other options where I could use my skills more.
"After knowing that, they made an offer that would have meant $6,000/yr below their advertised range. I countered with a number that would have still put me on the lower end of the range."
In a followup comment they explained they "didn't get fired," and they had a "reference" from their old job.
Despite pointing out the experience they had "just gushed over," and an understanding to prove themselves in the role, their protestations fell on deaf ears.
They recalled: "The owner immediately cut me off and said 'This isn't negotiable. You haven't been working for two months. You should be happy to get an offer willing to pay you anything. It's infinitely more than you're making now.'"
But the applicant stood their ground, and refused to accept the low-ball offer.
"I told them if $6,000 under their own advertised range was the best they could do that it would be a better use of my time to go back to school to finish up my degree program and I walked out. They've called twice already. Didn't even listen to the voicemail before I deleted it," they added.
They signed off the post by claiming they started their first day of class, adding: "I'm done being toyed with and undervalued because I'm not desperate."
Since being shared on Monday, the post has amassed more than 14,000 views as people overwhelmingly applauded the applicant for rejecting the remuneration.
Darkgamer000 wrote: "Damn, what a tactic. Being unemployed means you're worthless apparently."
Olionajudah commented: "Imagine working for a guy who literally told you you were worth nothing because you'd left a job two months previous. They would be wise to keep this idiot out of interviews. Good for you OP."
Fromwayuphigh said: "Great reminder that you go into any interview not as a supplicant, but as a negotiator. You have skills they want, and you can walk just as easily as they can blow you off."
Virtual-Stranger pointed out: "An employer who even consciously considers 'having leverage' over an employee is a s**t employer."
In the comment, u/Jasoncav82 added: "Stand up for yourself. If you're able to financially, walking away from bad faith companies it will change the way workers everywhere are treated.
"This is what the anti-work movement is all about. It doesn't always have to be about not working. It can be about improving conditions for all so that work is more tolerable."
Speaking to Newsweek, u/Jasoncav82 confirmed the company, based in the U.S., offered them $44,000, when the original salary range was $50K to $60K.
They claimed the "entire job atmosphere has shifted," adding: "I think it resonates with a bunch of people because there's been a recent shift in the power dynamic between companies and workers due to almost every company being short on labor."
Do you have a similar monetary dilemma? Let us know via life@newsweek.com. We can ask experts for advice, and your story could be featured on Newsweek.
Update 9/6/22, 8:20 a.m. ET: This article was updated with comment from u/Jasoncav82.