Jobless Claims Set to Skyrocket by 700 Percent in One Week as U.S. Sees 'Unprecedented Surge in Layoffs'—Goldman Sachs
U.S. unemployment claims could surge by 700 percent and hit 2.25 million by the end of Saturday as American industry continues to be rocked by the COVID-19 pandemic, a Goldman Sachs note said.
The investment bank's economist David Choi wrote on Thursday evening that initial jobless claims may rise to their "highest level on record," far surpassing anything seen during the 2008 financial crash.
In the note shared on social media by the Wall Street Journal reporter Michael Derby, the investment bank said its estimate was based on "anecdotes" from press reports and company announcements from various sectors.
The ongoing spread of the novel coronavirus has already seen initial unemployment insurance claims spike, with the Department of Labor revealing on Thursday that 281,000 claims were recorded in the week ending March 14, up from 211,000 the previous week.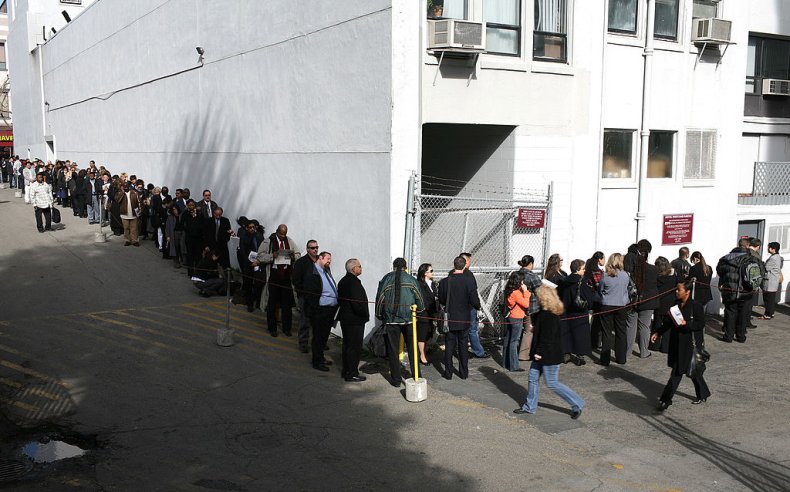 It added that the initial jobless claims were "clearly attributable to impacts from the COVID-19 virus," adding that many states talked of layoffs related to the novel coronavirus.
"State-level anecdotes point to an unprecedented surge in layoffs this week," Choi wrote in his Thursday note. "These anecdotes suggest that the next jobless claims report covering the week of March 15-21 will show that initial claims rose to roughly 2.25 million, the largest increase in initial jobless claims and the highest level on record."
The economist added: "Anecdotes from a wide range of sectors also suggest an unprecedented decline in revenues across many industries. Consumer spending on sports and entertainment, hotels, restaurants, and public transportation in particular have already dropped dramatically."
Bloomberg also reported that Choi went on to say that even "conservative assumptions" indicated that jobless claims would likely top the one million mark this week.
Newsweek has contacted Goldman Sachs for further comment and will update this article with any response.
Speaking about the investment bank's note, Ioana Marinescu, an assistant professor of economics at the University of Pennsylvania, said the prediction seemed "plausible" based on existing jobless claims data.
"There is no sugar-coating it, unemployment is going to be very high, much higher than during the Great Recession," she told Newsweek. "This makes sense because of the closures induced by Covid-19 so mechanically lots of businesses (restaurants, etc.) must close.
"What is more interesting is how many of the newly unemployed are in industries that are not directly affected by closures, for example in business services. These numbers would measure the spread of the recession beyond the sectors exposed to closures."
Should initial jobless claims rise above 1 million, the number of people seeking unemployment insurance in the U.S. would dwarf the amount recorded during the aftermath of the last financial crash.
The New York Times reported last night that Trump administration officials had asked state authorities to postpone releasing exact unemployment claim numbers in the wake of sharp spike reported last week.
An email seen by the newspaper reportedly told state labor officials to report initial unemployment claims in "generalities" until next Thursday, when the federal government is expected to publish figures for this week in full.
President Donald Trump and Republican lawmakers have proposed plans for easing the economic impact of the coronavirus pandemic, with a Senate GOP stimulus package detailed yesterday offering $1,200 checks to Americans making less than $75,000.
Travel industry bailouts and payroll tax cuts have also been considered as the administration seeks to keep businesses and workers afloat.