Joe Biden Accuser Lucy Flores Says 'It's Not Even a Question' She Would Vote For Former Vice President Over Donald Trump
The first woman to step forward and recount an alleged experience of inappropriate touching from former Vice President Joe Biden said Monday that their interaction in 2014 would not keep her from voting for Biden in the 2020 presidential election.
Lucy Flores spoke to CBSN, the live-streaming news network operated by CBS News, where news anchor Tanya Rivero asked the former Nevada lawmaker if she would vote for Biden should he earn the Democratic nomination and run against President Donald Trump.
"That's not even a question, of course I would support Biden," Flores replied.
But Flores said she would not vote for Biden in a Democratic primary, as there are things she does not "agree with in his history, positions he has taken," such as Biden's actions during the 1991 Senate Judiciary hearings to confirm Clarence Thomas as Supreme Court Justice.
At the time, Anita Hill accused Thomas, her former supervisor, of sexual harassment. Biden, who chaired the Senate Judiciary Committee from 1987 to 1995 and oversaw Thomas's confirmation hearings, said last week that he wished he "could have done something" to help Hill.
"You actually could have done more," Flores said to CBSN. "You were the chair." She also pointed to previous anti-abortion rights stances Biden had taken, as well as her personal experience with Biden at a 2014 campaign rally where she said Biden put his hands on her shoulders, smelled her hair and kissed the back of her head, as other reasons she would not vote for him in a primary election.
After Flores's allegations were published on Friday, Biden released a statement saying he had no recollection of the interaction described by Flores and did not believe he had acted inappropriately with her.
Rivero replied to ask if Flores believed Biden's alleged interaction with her, and with other women, should disqualify him from the election. Flores did not say yes or no, but that "everybody else" would have to decide "given the totality of everything that he has done, if they believe that this is someone that they want to support in the Democratic primary if he gets in."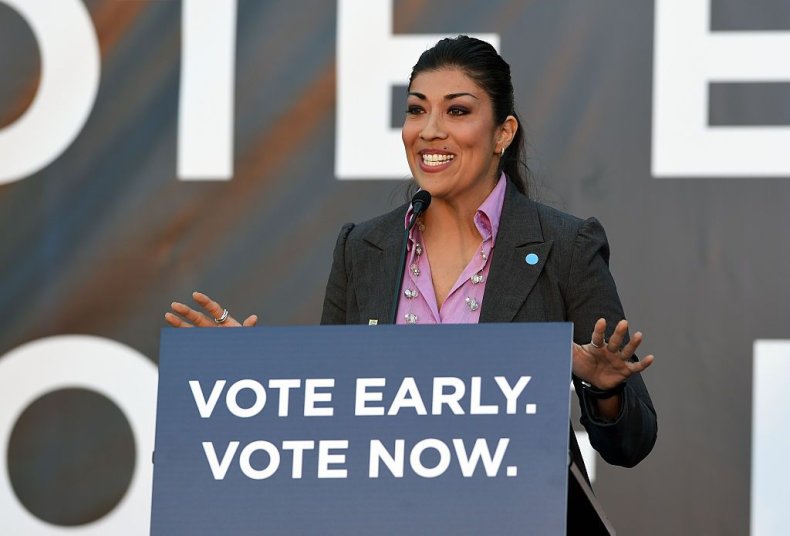 When asked if she thought former President Barack Obama should speak out about Biden's alleged behavior, Flores replied that people "should weigh in where they feel it's appropriate.
"This isn't, again, just about Joe Biden," she said. "This is about the larger conversation. Part of the reason we are having this conversation now is because his behavior wasn't taken seriously. This isn't new. I'm not bringing up something that people have not been aware of. It was considered an open secret that he behaved inappropriately with women, but it was because we didn't treat it with the seriousness that it deserved. And this applies to all men in powerful positions. This is about ensuring that women have an autonomy to their own bodies and they have their own space. And this is about consent."
On Monday, Amy Lappos detailed her experience with Biden at a campaign event for a U.S. Representative where she said the former vice president touched her neck and rubbed his nose against hers, and made her think that Biden was going to kiss her.
"There's absolutely a line of decency. There's a line of respect. Crossing that line is not grandfatherly. It's not cultural. It's not affection. It's sexism or misogyny," Lappos said.
On Sunday evening, however, Stephanie Carter, the wife of former Secretary of Defense Ash Carter, called a photo of Biden with his hands on her shoulders "misleading."
"After the swearing in, as Ash was giving remarks, he leaned in to tell me, 'thank you for letting him do this' and kept his hands on my shoulders as a means of offering his support," Carter wrote. "But a still shot taken from a video—misleadingly extracted from what was a longer moment between close friends—sent out in a snarky tweet—came to be the lasting image of that day."
When asked about Carter's account of her interaction with Biden, Flores said the issue was about "the person that receives that behavior and whether or not it was unwelcome and whether or not there was a relationship there. She clearly had a personal relationship with him; they've probably interacted in that way before.
"I did not have a personal relationship with him. I had never interacted that way with him in that way before," Flores said. "And when you have someone that powerful who just feels entitled to behave that way with any woman, regardless of the type of relationship he has with her, that's wrong."