Joe Biden Says Amy Coney Barrett's Confirmation to Supreme Court Threatens Affordable Health Care
Democratic presidential candidate Joe Biden has criticized Amy Coney Barrett's "rushed and unprecedented" Supreme Court confirmation while raising concerns over what it could mean for the future of the Affordable Care Act.
President Donald Trump has persisted with his critiques of the act, also known as "Obamacare," recently saying he hopes the Supreme Court will end it.
The court will hear a case seeking to dismantle it just a week after Election Day, with Barrett's appointment seen as boosting the prospect of a challenge to the act being successful.
"The rushed and unprecedented confirmation of Amy Coney Barrett as Associate Justice to the Supreme Court, in the middle of an ongoing election, should be a stark reminder to every American that your vote matters," Biden said in a statement on her confirmation.
"Just a few days after Election Day next week, the Supreme Court will hear the case on the Affordable Care Act. While panicked and erratic in mishandling the pandemic, Donald Trump has been crystal clear on one thing — for the past four years, and again just last night on 60 Minutes — he wants to tear down the Affordable Care Act in its entirety and take away your health care and protections for pre-existing conditions."
Biden said the Republicans' goal of doing this was a "litmus test" in their selection for replacing the late Justice Ruth Bader Ginsburg.
"This goal—the goal of the Republican Party for ten years—was a litmus test in selecting this nominee, regardless of the damage done to the U.S. Senate, to Americans' faith in the legitimacy of the Supreme Court, and to our democracy, and regardless of how the Affordable Care Act has protected hundreds of millions of people before and during the pandemic," Biden said.
Newsweek has contacted the Biden campaign and the White House for comment.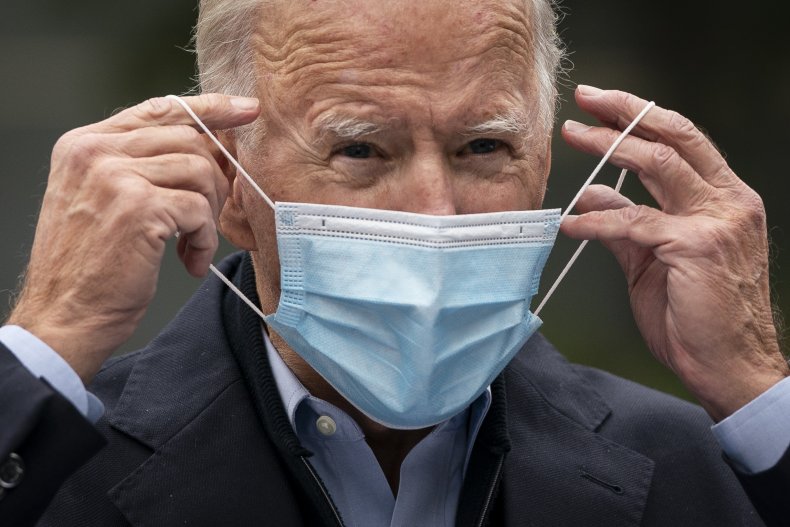 Trump, speaking about the Supreme Court and Obamacare, told 60 Minutes that he wants to see the act ended. "I hope that they end it. It will be so good if they end it," he said.
Trump has said he wants it to be ended and then to come up with his own health care plan to replace it, though he has been criticized over the lack of details on this.
The potential impact on health care provision was a major focus of Barrett's confirmation hearings, with Democrats insisting the Affordable Care Act is under threat due to Barrett's confirmation. Barrett has previously signed a petition against part of the act insisting employers provide access to birth control in insurance plans and also questioned aspects of a decision which saw it upheld against a court challenge in 2012.
Barrett refused to preface what her decisions might be when pressed in her hearings and insisted her decisions would be made based upon interpretations of law.
In an exchange regarding Obamacare, she said: "I am not here on a mission to destroy the Affordable Care Act. I'm just here to apply the law and adhere to the rule of law."
As well as the Affordable Care Act being raised, Barrett was also pressed on her position on Medicare. The prospect of her appointment facilitating challenges to this has also been raised.
She was questioned on the constitutionality of Medicare in her confirmation hearings and refused to answer. However, Medicare's widespread popularity with the public would appear to make it a less likely target than Obamacare.