Joe Biden Says He's Not Bothered Barack Obama Hasn't Defended Him: 'I Want to Win This Fair and Square'
Former Vice President Joe Biden said he's unfazed that Barack Obama has not weighed in yet on the 2020 Democratic primary race, saying that he wants to win the nomination on his own merit.
"I would rather him not get engaged," Biden told The New York Times when asked if he was disappointed Obama didn't defend him on the issue of busing that drew attention last month. "I want to win this fair and square."
During the first round of Democratic debates inJune, Biden came under fire for his past voting record on busing and civil rights. Senator Kamala Harris slammed the former vice president for touting his ability to work with segregationist senators to oppose busing for black students. Biden called her attack a "mischaracterization of my position across the board."
Defending his record in a speech after the debate, Biden invoked his work with President Obama on racial justice issues. He noted how they worked together to reduce the national prison population, commuting more sentences than the past 13 presidents combined. "My president gets much too little credit for all that he did," Biden said of Obama.
Biden still seems like a shoo-in to receive Obama's highly coveted endorsement. In early 2017, the former president surprised Biden by awarding him the Presidential Medal of Freedom. In his speech, Obama said Biden was "the best vice president America's ever had" and a "lion of American history."
According to The Times, Biden's aides regard the former vice president's friendship with Obama as one of his strongest attributes. His campaign has not shied away from highlighting the relationship on the 2020 trail.
"Know what I was most proud of?" Biden said during an Iowa campaign speech in June in reference to the Obama administration. "For eight years, there wasn't one single hint of a scandal or a lie."
Biden says that he is not interested in "recreating the past" but has struggled to say how his administration would be different than that of Obama's. When pressed on the issue during an appearance on The View in April, Biden said his presidency will be about "taking the same decency and philosophy" he and Obama had and "moving the country forward."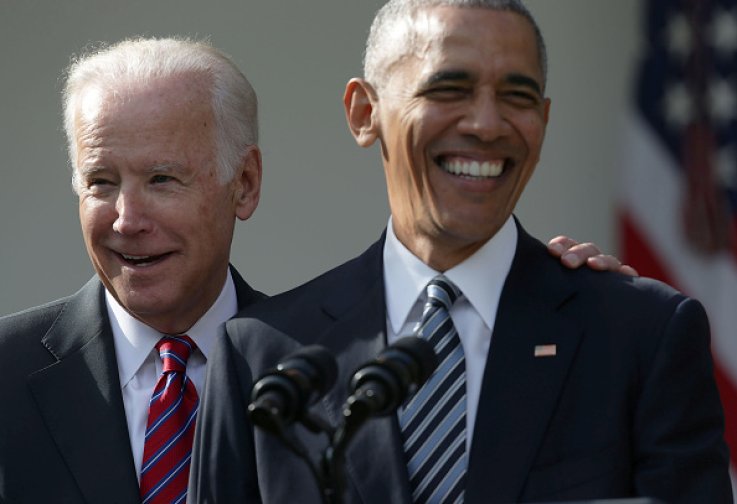 Shortly after throwing his hat into the presidential race in April, Biden told reporters that he had specifically asked Obama not to endorse him. He said that "whoever wins this nomination should win it on their own merits."
In response to the former vice president's White House bid, Obama spokeswoman Katie Hill said that the former president "has long said that selecting Joe Biden as his running mate in 2008 was one of the best decisions he ever made."
Hill added that Obama often relied on Biden's "knowledge, insight and judgment" throughout the presidency. "The two forged a special bond over the last 10 years and remain close today," she added.
2020 polling shows Biden far ahead of his Democratic rivals, though that gap has been closing. A new CBS News poll released on Sunday had the former vice president up by 7 points in New Hampshire. He was the top choice of 27 percent of likely Democratic primary voters. Senators Bernie Sanders and Elizabeth Warren were in a close race for second, earning 20 percent and 18 percent of the vote, respectively.
Joe Biden Says He's Not Bothered Barack Obama Hasn't Defended Him: 'I Want to Win This Fair and Square' | U.S.