Is Joe Biden Unbeatable? Ex-Vice President Opens Huge Poll Lead Over Bernie Sanders—but There's a Catch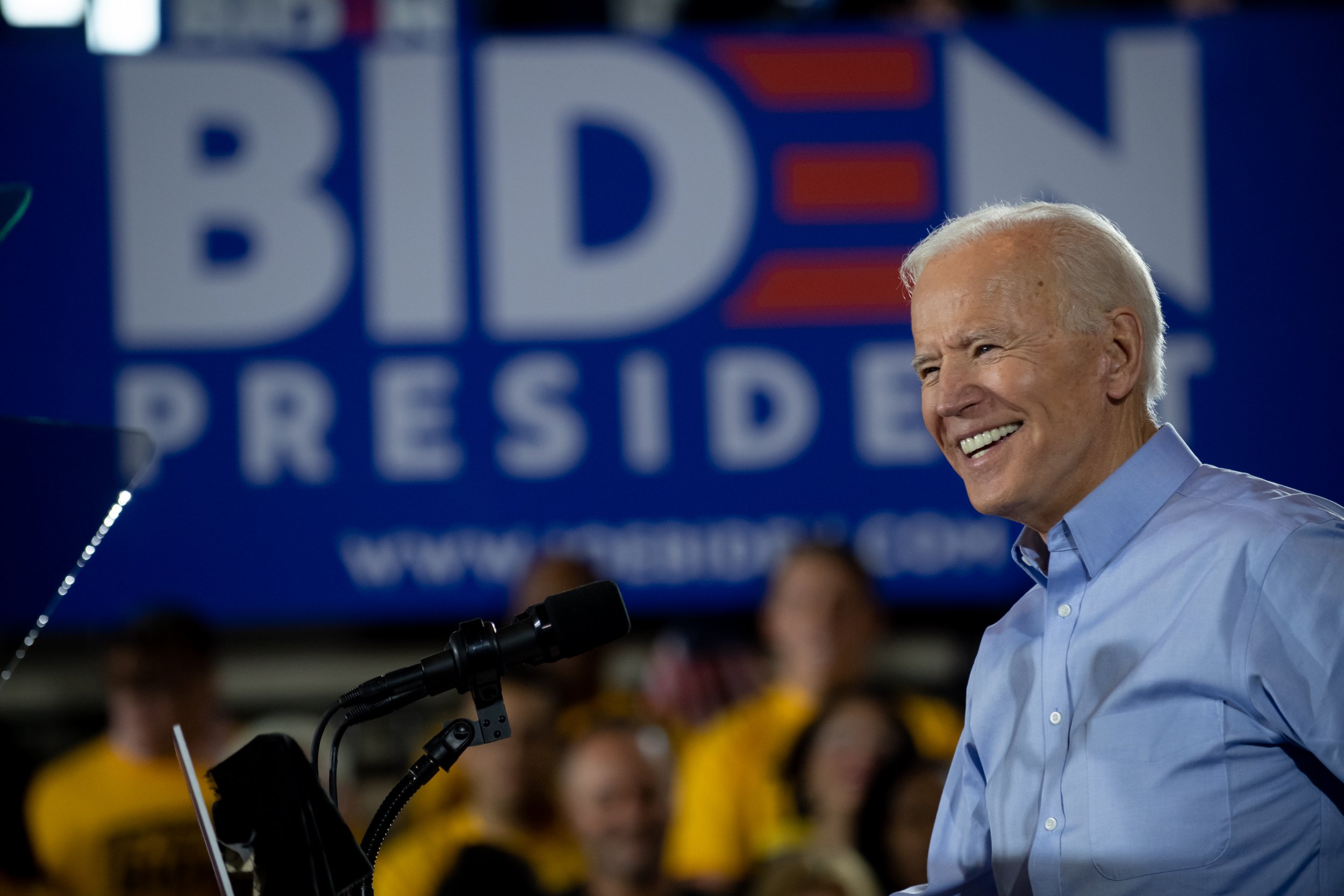 Former Vice President Joe Biden opened up a 14-point lead over his main rival for the Democratic presidential nomination, Bernie Sanders, after Biden officially entered the race last week—but there was a catch.
Other polling suggested there was a substantial number of undecided voters waiting to be won over by the various campaigns. Biden's early advantage—his name recognition among voters—will likely soften over time as other candidates come to the fore in the race.
According to Morning Consult's latest poll of 15,475 likely primary voters, published Monday, Biden is the front-runner at 36 percent, up six points since before he announced his candidacy, and is his best number yet.
Sanders, who's an independent, was in second place at 22 percent, down two points and below the 27 percent peak he polled in February and March. In third spot was Senator Elizabeth Warren, at 9 percent, up one point.
"Despite the recent news coverage of Joe Biden's past, he is a well-known candidate that continues to gain momentum with voters," Kyle Dropp, chief research officer and co-founder at Morning Consult, told Newsweek.
"That being said, we are still a long way from the Iowa caucuses, and over time we will see many more unknown candidates begin to build their national profile."
A Washington Post-ABC News poll of 427 Democrats published Monday also found that 54 percent of Democratic-leaning voters had not decided on any particular candidate, suggesting the field was still wide open with months left in the 2020 primary campaign.
Among those who did declare a candidate, Biden came out on top at 13 percent, ahead of Sanders, at 9 percent. The poll was conducted largely before Biden's official announcement.
Morning Consult prompts undecided voters to choose a candidate they lean toward.
The Washington Post-ABC News poll, which did not provide voters with a list of candidates to choose from, allowed voters to say they had no opinion, or to volunteer answers such as none of them or any of them.
Lee Miringoff, director of the Marist College Institute for Public Opinion, told Newsweek it is still way too early to crown anyone as a certainty to win.
"The political graveyards are full with candidates who got off to an early lead but failed to win the nomination. Clinton in '08 and Giuliani in '08. Jeb last time," Miringoff said.
"Biden is establishing a lane that might be his—experience and electability—but the debates will provide an opportunity for a lesser known to emerge from the pack and then there's, of course, the treacherous caucus/primary route.
"Biden has had problems as a presidential candidate two previous times. Will he fare better this time? That's still an open proposition."
Cornell Belcher, a former Democratic National Committee pollster who now runs the Brilliant Corners Research & Strategies consultancy, told the Pod Save America podcast that there was a big difference between public polling and that done by campaigns.
Belcher explained that public polling was about the horse race and favorability, whereas campaign polling was geared toward developing a strategy to target specific voters and to build messages on particular issues that will resonate—as well as suss out opponents' weaknesses.
He described public polls as "completely meaningless," particularly so early in the primary process.
"The history of Democratic primaries says that the candidate who is in the lead right now is usually not in the lead six, seven months from now. It is often the kiss of death to be in the lead at this point," Belcher said.
The pollster said Biden's lead could be partly explained by name identification, because he has a significantly higher public profile from his time first as a senator from Delaware, and as vice president in the Obama administration.
Biden's status as front-runner also makes him a target, as he has a long history of gaffes, and controversial Senate votes.
"That's just politics 101. So a lot of the campaigns right now, that's what their polling is doing and trying to figure out, and that's their internal polling that we'll never see, because it lays out this strategy," Belcher said.
Biden does have an early advantage, Belcher added: "But there are a lot of voters out there shopping around and looking for candidates... I think he and his campaign know they're going to have to work very hard to hold on to a lead and expand and break away from the pack."
This article was updated with comments by Kyle Dropp and Lee Miringoff.