Joe Biden Releases Campaign Ad Against Trump: 'The Death Toll is Rising. The President is Playing Golf'
Joe Biden, the presumptive Democratic nominee in the 2020 presidential race, released a new campaign ad on Saturday night criticizing President Donald Trump for spending the day golfing while the death toll from the coronavirus in the U.S. neared 100,000.
"Nearly 100,000 lives have been lost, and tens of millions are out of work. Meanwhile, the president spent his day golfing," Biden wrote on Twitter alongside the 30-second clip, which has been viewed more than 1.6 million times since.
The ad spliced footage of healthcare workers on the front line of the pandemic with clips of Trump on the course at his private Trump National Golf Club in Sterling, Virginia.
Ominous music plays as a graph superimposed over thee footage shows the death toll rapidly rising to 100,000, twice what Trump predicted the U.S. total over the entire course of the pandemic would be at a press briefing a month ago.
The ad ends with the words: "Nearly 100,000 Americans have died. The death toll is still rising. The President is playing golf." The White House has been contacted for comment.
More than 96,000 people have died of COVID-19, the disease caused by the novel coronavirus, in the U.S., according to a tally by Johns Hopkins University, the highest by far of anywhere in the world. More than 1.6 million people have tested positive for the virus.
But Saturday saw Trump play golf for the first time since he declared the coronavirus pandemic a national emergency more than two months ago.
His last golf outing was to the Trump International Golf Club in West Palm Beach on March 8, following a visit to the Centers for Disease Control and Prevention (CDC) in Atlanta during which he downplayed the threat of the virus. The World Health Organization (WHO) declared the coronavirus a global pandemic three days later on March 11. Two days later, Trump declared it a national emergency.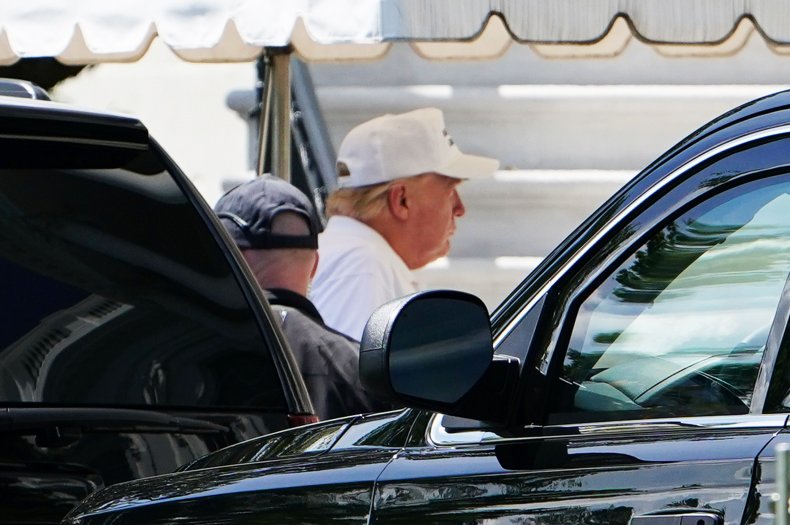 Saturday's trip came after Dr. Deborah Birx, the coordinator of the White House Coronavirus Task Force, repeatedly said during a press briefing that it was fine for people to be outdoors, including playing golf, over the holiday weekend if they took precautions.
"You can all make your decisions about going outside and social distancing, potentially playing golf if you're very careful and you don't touch the flags, and all of those issues," she said.
Trump has played golf at last 218 times as president, according to The Washington Post.
He frequently criticized Barack Obama's regular golf outings when he was president. "Can you believe that with all of the problems and difficulties facing the U.S., President Obama spent the day playing golf. Worse than Carter," Trump tweeted in October 2014 during the Ebola epidemic in West Africa.